Photo courtesy of Riot Games.
The League of Legends Championship Series continues with Week 2, and a real ranking is finally appearing.
Cloud9 remains the only team undefeated, while Dignitas and FlyQuest are now battling for the second place. Behind the pole position, Immortals, Team Liquid, 100 Thieves and Team SoloMid are still occupying the middle of the standings, without a single dominant team truly emerging.
Golden Guardians and Evil Geniuses are struggling in the bottom, but at least they have won a match. This isn't the case for Counter Logic Gaming which are probably experiencing the worst start to an LCS season in their history.
Based on statistics, relativity, but also on our own instinct, the following rankings are only taking Week 2 into account. They are obviously destined to evolve along the season.

1 — Cloud9
Week 2 Score: 2 - 0
Previous Ranking: 1 (=)
There can be no doubt about it now, as Cloud9 got the season off to a near-perfect start and are claiming first place without a challenge.
They crushed all their opponents during their first two matches, and this week made no exception. Cloud9 dominated both of them, only conceding five kills to 100 Thieves and three to Immortals.
Shoutout to Jasper "Zven" Svenningsen who carried both these matches and still remains deathless after Week 2.

2 — FlyQuest
Week 2 Score: 1 - 1
Previous Ranking: 4 (+2)
FlyQuest keep surprising everyone.
Completely dominated by Team Liquid during their first game of the week, they managed to take down Dignitas thanks to an incredible performance by Tristan "PowerOfEvil" Schrage and
Jason "WildTurtle" Tran.
FlyQuest certainly sign a week of mixed results, and yet they showed their superiority over Dignitas, allowing them to move up one place in our ranking.

3 — Dignitas
Week 2 Score: 1 - 1
Previous Ranking: 2 (-1)
Within the first week, Dignitas proved to us that the veterans of their roster are still hungry for victory. While they lost in a quite humiliating way against FlyQuest, their victory over Team Liquid was enough to keep them on the podium of our ranking.
This is something that might change with Week 3 since their victory to Liquid came after a very contested game. Overall, Zaqueri "Aphromoo" Black and Johnson "Johnsun" Nguyen dominated Liquid's botlane, and it makes no doubt that Henrik "Froggen" Hansen carried the game, but the performance of Heo "Huni" Seung-hoon and Jonathan "Grig" Armao was slightly under the rest of the team.
It remains to be seen if Dignitas can keep their place in the standings, but we're pretty sure that their deep experience of the game will help to do so.

4 — Team Liquid
Week 2 Score: 1 - 1
Previous Ranking: 3 (-1)
Team Liquid has never really got us used to such a bad start to a season, but we can feel that the failure of the first week has rekindled their desire to return to the top of the standings.
Since their loss against Dignitas, Team Liquid proved they're not a good match yet to the top teams. However, their victory against FlyQuest has questioned that logic, and they find themselves in this somewhat half-baked fourth place.
Although their score is the same as Immortals, 100 Thieves, or Team SoloMid, Liquid have the experience and credit of four LCS championship titles behind them.
It's still hard to figure if they will be able to restore their previous glory, especially since their new recruit Mads "Broxah" Brock-Pedersen hasn't played a single match yet because of visa issues.

5 — Team SoloMid
Week 2 Score: 2 - 0
Previous Ranking: 10 (+5)
After a terrible Week 1, Team SoloMid seems to be back on the track. Their score at the outcome of Week 2 combined with the reputation of the organization allow them to regain an honorable place in our ranking.
Still, it's still not enough to challenge for a place on the podium. TSM has won twice this week, but the current ranking of its two opponents tarnishes this success.
Their match against Counter Logic Gaming was actually very contested, and it took them almost 40 minutes to defeat Evil Geniuses.
It's hard to deny that TSM seem to be ready to move up the rankings again, although it will take a lot more if they want to be able to catch up with the leading pack.

6 — 100 Thieves
Week 2 Score: 1 - 1
Previous Ranking: 6 (=)
100 Thieves don't fall in the rankings this week, but they're not going up either.
Completely dominated by Cloud9, without that being a real surprise, Thieves nevertheless managed to snatch the victory against Golden Guardians.
While the performance of Sun "Cody Sun" Li-Yu and Tommy "ry0ma" Le remained excellent over the course of these two matches, the rest of their team seems unable to achieve their consistency and regularity.

7 — Immortals
Score: 1 - 1
Previous Ranking: 7 (=)
Immortals are ending this week in a strange way. Completely dominated by Cloud9, the team managed to get back on their feet after their sparkling victory over Golden Guardians.
After these two games, Immortals tend to build up the image of a team capable of the best and the worst. However, because they can't achieve consistency yet, we cannot move them up in our ranking.

8 — Golden Guardians
Week 2 Score: 1 - 1
Previous Ranking: 8 (=)
The current situation of the Golden Guardians seems to be exactly the same as that of Immortals, except that their opponents were far from being the same.
In fact, they were clearly expected to dominate Evil Geniuses, yet they only managed to snatch victory. What's more, their defeat against Immortals was absolutely total.
Golden Guardians haven't proved to us yet that they deserve a better place in our ranking, and unfortunately, it will take a lot for them to get back up there.

9 — Evil Geniuses
Week 2 Score: 0 - 2
Previous Ranking: 5 (-4)
It's a sad week for Evil Geniuses. Although they fought well against Golden Guardians, they were clearly unable to perform when they faced Team SoloMid.
After a mixed first week, we had decided to give them the benefit of the doubt, but their recent results, unfortunately, invite us to drop them in our ranking.

10 — Counter Logic Gaming
Week 2 Score: 0 - 2
Previous Ranking: 9 (-1)
Counter Logic Gaming are certainly experiencing the worst start to the season in their history. With four defeats to their credit, they seem completely unable to perform, and their individual results only confirm this sad observation.
Trevor "Stixxay" Hayes and Andy "Smoothie" Ta played two catastrophic games this week, and despite Raymond "Wiggly" Griffin's success against TSM, the team seems to be at its lowest level at the moment.
What do you feel about this power ranking? Do you feel we misplace a team? Feel free to drop a comment in the section below!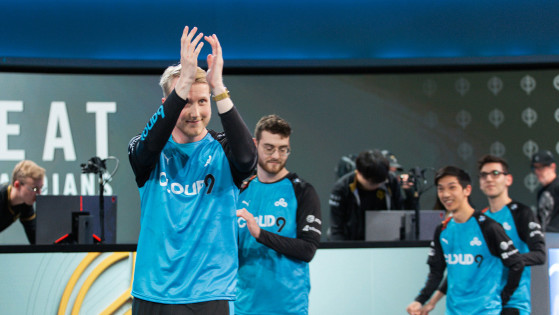 lolesports
Cloud9 proved they were the best LCS team, defeating FlyQuest in a clean sweep. It also meant they ended Playoffs with just two losses on their record.