Photo courtesy of Riot Games.
Is anyone capable of stopping Cloud9's win streak? Currently sitting on a 6-0 record in the League of Legends Championship Series — and their domination is now quite unquestionable. Will they manage to stay undefeated during the whole Split?
Crippled by the continuing absence of Broxah, Team Liquid their current position is far from reflecting the level of a four-time LCS champion squad. Their weakness during these first three weeks directly benefited Team SoloMid — who, after a difficult first week, made up for it by a wide margin.
Meanwhile, Immortals defeated both CLG and 100 Thieves, drawing level with TSM in second place in the LCS table.
Week 3 was certainly full of surprises, meaning our power rankings have drastically changed!

1 — Cloud9
Week 3 Score: 2 - 0
Previous Ranking: 1 (=)
Still undefeated, Cloud9 appear more than capable of continuing their winning streak until the end of the split.
Their match against FlyQuest was pretty much a lesson in how to play professional League — 17 kills, a 13k gold lead, and only two kills conceded, it was as savage as it sounds.
Against Dignitas it was even more obvious that Cloud9 couldn't be stopped. Once again, they only conceded two kills to their opponents, while Yasin "Nisqy" Dinçer and Robert "Blaber" Huang led the charge, finishing 6/0/4 and 7/1/6 respectively.
Dignitas' sole consolation was in taking down Jasper "Zven" Svenningsen for the first time this season. However, it was far from enough to make Cloud9 fall.
As a result, first place in our power rankings is a no-brainer.

2 — Team SoloMid
Week 3 Score: 2 - 0
Previous Ranking: 5 (+3)
Streak: 4 Wins
Team SoloMid seem to have found their pace, and they add two other victories to their record at the outcome of Week 3.
Their match against the Golden Guardians seemed a mere formality, and the victory that followed came as no surprise.
What was surprising, however, was to see Søren "Bjergsen" Bjerg playing Ornn with the Unsealed Spellbook rune. The midlaner didn't chase kills, but rather supported his team — ending the game with 11 assists and zero deaths.
It was a completely different story against Dignitas, with Bjergsen carrying the team on Syndra — taking six out of the 13 kills secured by his team.
After such a week, TSM certainly proved they deserve to be included in the leading pack, hence their current place in our rankings.

3 — Immortals
Week 3 Score: 2 - 0
Previous Ranking: 7 (+4)
Streak: 3 Wins
Immortals keep surprising everyone, and their score this week proves that they're capable of being more than just a mid-table team.
Completely dominant against 100 Thieves, they managed to snowball efficiently from a very-well managed early game, preventing 100T from regaining control of the match.
Going into the mid-game, Immortals secured a Baron buff and quickly took down two inhibitors before sieging 100T's Nexus without resistance.
Their match against CLG was quite different. Under pressure for the entire game, Immortals conceded the first Baron and couldn't prevent their opponents from securing the Ocean Soul.
However, they defended well and managed to stall until a second Baron spawned. Both teams met in the pit, but Jérémy "Eika" Valdenaire teleported away and went straight for CLG's Nexus.
Quickly joined by Johnny "Altec" Ru, the two players snatched victory while the rest of their team prevented CLG from getting back to their base.
With the same record as TSM and a demonstrated desire to be among the top teams, Immortals have climbed in our rankings.

4 — 100 Thieves
Week 3 Score: 1 - 1
Previous Ranking: 6 (+2)
Streak: 1 Win
100 Thieves have climbed our rankings, not because they performed extremely well, but rather because the teams that were previously above them had a pretty disastrous week.
It took them more than forty minutes to defeat Team Liquid, and while their final score appears to show total dominance, the reality is altogether different.
In fact, 100 Thieves needed the Fire Soul as well as two Elder Dragon buffs to eventually secure victory.
Given the current state of Team Liquid, this game doesn't say much about the performance of 100T, while the match against Immortals speaks volumes — the Thieves clearly underperformed.
Admittedly, 100 Thieves have the same overall record as FlyQuest and Dignitas, but they have managed to achieve a certain consistency over the past three weeks.
However, they will have to excel next week to maintain their current spot in our rankings.

5 — FlyQuest
Week 3 Score: 0-2
Previous Ranking: 2 (-3)
Streak: 2 Losses
After a good start to the split, it seemed that FlyQuest had what it takes do well. However, now we're seriously starting to doubt it.
Their match against Cloud9 was a complete farce, as they only managed to secure two kills and two turrets.
Overall, it just felt like they never had any control over the game — not only because they seemed unable to stop the momentum of Cloud9, but also because they appeared more reactionary than ever being able to take the initiative.
Their match against Evil Geniuses was much more closely contested, but FlyQuest couldn't stop their opponents snowballing into the mid-game.
Overall, FlyQuest end Week 3 with a disappointing record, forcing us to demote  them in our rankings.

6 — Dignitas
Week 3 Score: 0 - 2
Previous Ranking: 3 (-3)
Streak: 3 Losses
Beaten by TSM and almost humiliated by Cloud9, Dignitas took a heavy blow this week.
Their match against Cloud9 wasn't even a contest, but we can't really blame them for that since no team seems capable of beating the leaders.
However, the stats were highly significant, since Dignitas only managed to secure two kills — and not even a single turret.
They fought much better against Team SoloMid, but the outcome of the game was the same. Every time Dignitas seemed to regain the upper hand, TSM took it back.
This week certainly says a lot about Dignitas' current state. While they played an incredible first week, it seems that the experience of their three veterans isn't enough anymore to guarantee the success of the whole team.

7 — Golden Guardians
Week 3 Score: 1 - 1
Previous Ranking: 8 (+1)
This week, Golden Guardians directly benefited from Team Liquid's current failings, while also being completely obliterated by Team SoloMid.
Against TSM, they had quite a decent early game, securing the Rift Herald, the First Tower as well as a Cloud Dragon, but they couldn't snowball from there.
Admittedly, Golden Guardians' focus on objectives was pretty good, but they just seemed unable to actually contest any of the teamfights.
Overall, their match against Team Liquid felt one-sided, as the underdogs clearly used the hesitation of the still struggling Liquid squad to their advantage.
The game felt pretty even until Golden Guardians secured a Baron without even letting Liquid contesting it.
Already in control of the game, Golden Guardians took a considerable lead thanks to the buff, allowing them to finish the game relatively easily.
Golden Guardians are still full of potential, but don't seem able to translate their good early game management into victories. While they've gone up in our rankings this week, they certainly need to do much more to deserve a higher placement.

8 — Evil Geniuses
Week 3 Score: 1 - 1
Previous Ranking: 9 (+1)
Streak: 1 Win
Evil Geniuses sprang a big surprise this week in beating FlyQuest, but the team seems to be clearly underperforming as highlighted by their loss against Counter Logic Gaming.
They opened Week 3 by giving CLG their first win of the season. While the match seemed contested in the early game, EG fell behind after the initial teamfights.
At this point, CLG's composition was absurdly powerful, and Trevor "Stixxay" Hayes's Aphelios chained kills alongside Lee "Crown" Min-ho's Syndra. CLG aced EG twice in a row and proceeded to demolish their Nexus.
However, EG showed another playstyle against FlyQuest, notably thanks to the incredible performance of Dennis "Svenskeren" Johnsen.
Dominant throughout the game, EG closed it out with four dragons and 16 kills to their credit — only conceding one turret to their opponents.
EG gain one place in our rankings this week, but more because of Team Liquid's epic slide than anything else.

9 — Team Liquid
Week 3 Score: 0 - 2
Previous Ranking: 4 (-5)
Streak: 2 Loss
Team Liquid are beyond recognition but, without first-choice jungler Mads "Broxah" Brock-Pedersen, you can hardly blame them.
Defeated by both 100 Thieves and Golden Guardians, this Liquid squad seem unable to find the cohesion necessary to play in the LCS.
It seems impossible to consider that their current results actually reflect the real level of the team, and they can only hope that Broxah's upcoming arrival will solve their problems.
In the meantime, it's difficult to give them a better ranking.

10 — Counter Logic Gaming
Week 3 Score: 1 - 1
Previous Ranking: 10 (=)
Streak: 1 Loss
This week, Counter Logic Gaming finally managed to get their first victory of the season. However, it will take much more for them to climb our rankings.
Both of their matches were actually close contests, but our rankings ultimately reflect the current situation. Until they can translate that win into more wins, they remain bottom of the pile.
Do you agree with our power rankings? Do you feel we've ranked a team incorrectly?
Feel free to drop us a comment in the section below!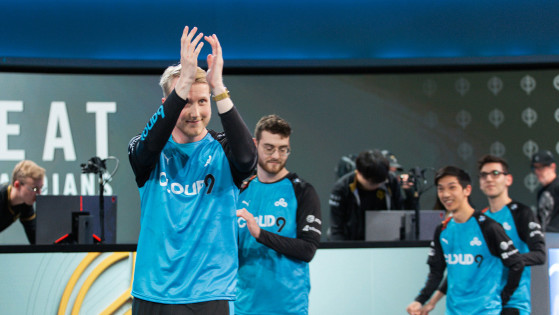 lolesports
Cloud9 proved they were the best LCS team, defeating FlyQuest in a clean sweep. It also meant they ended Playoffs with just two losses on their record.