When we talked about transfers at the end of 2019, we mainly talked about players, coaches and teams. But a woman with a career path as surprising as it was exciting marked the transfer window by joining the most successful team in League history. Hajinsun, an esports enthusiast with many different hats, returned to T1 at the dawn of an expected revival for Korea.
I met Hajin in 2015, during the League of Legends World Championship in Paris, at a viewing party organized by [French League broadcaster] O'Gaming for the event. Fascinated and amazed by esports, she arrived in the ecosystem for the first time as a Franco-Korean translator for Riot Games, with a brilliant background.
"I arrived in France when I was nine years old. I had a fairly classic career path: a top Parisian Grand Lycée, Baccalauréat Scientifique, then I joined Centrale Paris [a top engineering university] in 2012. My future was already a little bit mapped out," she says.
It was also in 2012 that Hajin began to take an interest League of Legends. "First in the game, then esports came rather late, in 2014."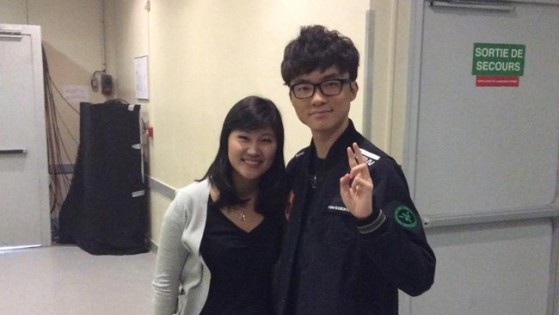 It is this curiosity for the game and its discipline that led Hajin to work on the 2015 World Championships. However, at the time, she had no idea that the future she thought she had mapped out would take her elsewhere. With humility, she explains how her career has brought her a lot of credibility at a time when degrees in esports were being put on the back burner.
"The school didn't teach me any of the hard skills that helped me in esports. In the end, what they teach you at school is to work with other people, to know how to find your place within a project."
It is certainly this last element that corresponds the most to Hajin's background in esports today.
For her, 2015 was a pivotal year in esports, and although the road was full of adventures, it was not easy. As a graduate engineer looking for her place in a growing esports sphere, Hajin has been curious and experimental in finding her way.
"After Worlds in 2015, I worked with the PSG Esports' League of Legends team the following year. I did my end-of-study internship at Canal+ in 2017 — it was in relation to engineering, but it was also the launch year of their esports programme, to which I was able to contribute. That year, it was a lot of work, but also my first StarCraft experience with the Home Story Cup XVI."
At the end of 2017, Hajin finished her studies and decided to open the doors of her esports adventure. "I decided to go freelance, and in 2018 I participated in MSI, and NationWars as a host in three different languages. Then, at the end of 2018, I had the chance to host the WCS Group Stage at BlizzCon."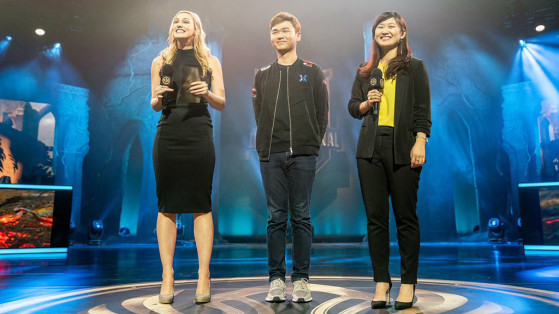 It was a busy year, but one from which Hyunseon wasn't entirely confident. Being a freelancer and the instability that can imply made her doubt herself, and she found it difficult to envisage a similar path for 2019.
"I made my debut on new stages with all the criticism that comes with that, and not being fully satisfied and confident about my performance at WCS, I couldn't see myself continuing to freelance for the following years."
Learning the lessons of 2018 and what didn't suit her, she nevertheless remained open to everything, applying at various places. This is how she came to join Misfits' LEC team, helping Kang "Gorilla" Beom-hyun and Lee "PoohManDu" Jeong-hyeon — the organization's Korean recruits for the 2019 season.
It was a new adventure and new challenge. Misfits' experiment is one that sadly will be remembered for the wrong reasons — the disappointment of a team that promised great things. All while Hajin fought in the shadows, trying to cope in the midst of all the chaos.
"I came out of this experience wondering what I wanted to do. Working for a team, yes, but I wasn't interested in the 'players' mother' side of being a team manager. I was also considering the option of going to China, working for the LPL, learning Chinese. In short, to try a new adventure."
Despite Hajin's move to T1 still being in progress, she is nevertheless proactive, making contact with teams, broadcasters and various organisations for interviews. However, the question everyone asks when they see her latest step is simple — how on earth did you join T1?!
From a contact, she learned that SKT — recently renamed T1 — were looking to recruit. She spontaneously sent off her CV. Armed with a wealth of solid experience, her profile appealed to the three-time world champions, who were in search of renewal and change.
"What I liked was that I saw T1's willingness to rebuild. They were in a period of transition, and they were recruiting massively," she says.
And so, this is how Hajinsun came to join the legendary Korean organization, and be part of this transformation. With Korean teams, and T1 in particular, keen to open up to the West*, Hajin explains that she acts as a bridge between the team based in Seoul and CEO Joe Marsh in Philadelphia.
( * By this, we can look to T1's brand activations, social media and media production strategy, which have all been more oriented towards a western fanbase since the announcement of a joint venture with Comcast Spectacor in October 2019.)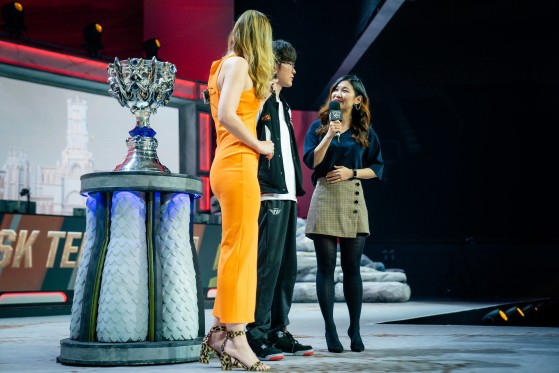 Before Hyunseon flew to Seoul, she had appeared on the French esports show Le Skell [of which Laure is a contributor - Ed.] to talk about Korean teams, their habits, and how they have been losing ground in recent years in terms of international results. From her position as a spectator and professional in Europe, she arrived in the LCK with goals, and from that, certain expectations.
"I expected the players to train hard, and the training to be millimetric, but also that the players would be quite closed-minded as a result. That turned out to be exactly as I thought — there's not a lot of flexibility in the way we train, which I think is due to Korean culture."
When I spoke to Hajin on Le Skell about the impact of Korean culture in competition, I often heard her say "when something is entrenched, it's hard to turn it upside down overnight". This can now be understood, when you look at a country that has shone for more than a decade in several disciplines.
If it worked for so long, why is it no longer the case? These are questions and issues that the new management would like to answer, and it is on this change that Hajin is now working.
"It's about changing living conditions, organising things outside the game for the players. Why not think about new ways of looking at feedback? But right now it's difficult — the word that comes up quite often is patience."
With that in mind, you also have to understand that the way Korean teams and Western teams work is completely different.
"Here, I'm more on the administrative side of things, so to speak. I'm still an analyst, but I work more in the offices than in the field."
As an analyst, Hajin has some groundwork to do on the week's opponents, meta trends and scrims and stats, but she also explains that she would like to eventually create a link and a real dialogue with the team.
"There is little feedback," she says me, but also tells me that she smiles when she sees certain elements of her work used in games later in the week. Historically, Korean teams don't work closely with analysts, and this is a new role that will have to find its place in the changes initiated by T1.

"We see this desire to implement changes on the side of T1, but Korean culture and its habits mean that it will take time to be applied in competitive life. We hope that with time and our efforts, they will see what we can bring."
Step by step, Hyunseon is making a comeback in her homeland, as part of a T1 team that aims to write a new page in the history of League of Legends. While the team are shining at home — they currently lead the LCK — it is the changes the youngster describes that will lead T1 to its former glory.
It is as an actor in this movement that Hajinsun will continue to evolve — until the new chapter of her esports adventure.
[The views and opinions in this portrait reflect those of Hajinsun only, and are no way representative of those of the T1 organization.]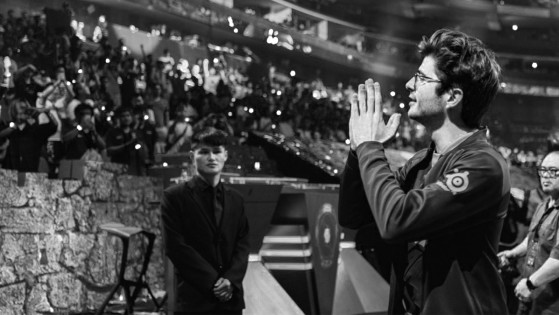 esports
Sébastian "Ceb" Debs is one of the world's most recognisable Dota 2 players. With his team OG, the Frenchman is among a very select group — a two-time, back-to-back winner of the richest prize in esports, The International. In this exclusive piece for Millenium, Ceb talks Dota, in his own words.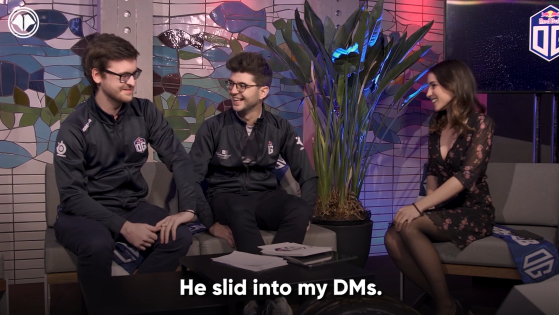 esports
At the recent OG Night event in Berlin, Laure Valée spoke with Dota 2 star Sebastian "Ceb" Debs and Nathan "NBK" Schmitt for Millenium. The three discussed Ceb's retirement from the DotA 2 roster and the arrival of former Vitality pro NBK on the organization's brand new CS: GO roster.