Photo courtesy of Riot Games.
Fort the first time for a while, neither G2 Esports nor Fnatic are leading the League of Legends European Championship. Considering the fact that they won altogether 14 of the last titles, this 2020 Summer Split feels weird for most League of Legends fans.
This, added to the fact that Luka "Perkz" Perković will be replaced by Kristoffer "P1noy" Albao Lund Pedersen, will make Week 4 quite different to watch. Whereas it's Fnatic or G2, both teams seem to be weaker than they were during the Spring Split. Some might even say that the last Playoffs actually revealed some flaws and weaknesses of these two rosters and that other teams took the advantage out of it.
The current standings are telling: MAD Lions won six matches in a row and are now leading, quickly followed by Rogue. Last split, Gabriël "Bwipo" Rau explained in a post-match interview that the Lion cubs were trying to replicate the style of FunPlus Phoenix — and everything seems to suggest that they managed to find their own in the process.
On the third step of the podium, neck and neck with G2, Misfits Gaming, Origen and SK Gaming performed pretty well over the past three weeks. This Summer Split might very well be an opportunity for all these teams to shine and to finally emerge from G2 and Fnatic's shadows.
Fnatic and Team Vitality are only one victory behind the chasing pack, and Week 4 will surely offer them an opportunity to secure a better placement in the LEC Standings — especially since both teams should theoretically have a free win this week.
Indeed, Fnatic will meet FC Schalke 04 while Vitality will encounter Excel Esports — and both of those teams aren't in good shape. The German team lost seven matches in a row, and their hope to qualify for Worlds as the fourth European seed vanished in the process. Considering the fact they grabbed two wins, Excel Esports aren't actually that far from the chasing pack — but they'll surely need quite a miracle to book their ticket for Shanghai.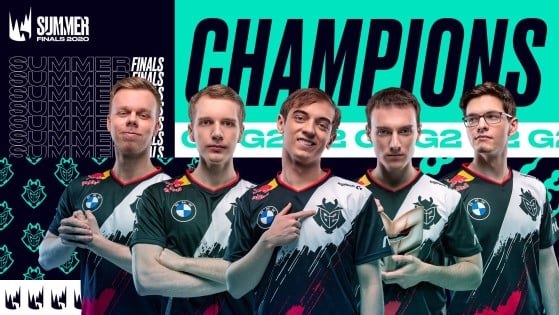 lolesports
G2 Esports continued their dominance of European League of Legends, dominating Fnatic in a 3-0 series win. With four titles in a row, and eighth overall, they seize the mantle of most successful team in LEC history.
Original content from Millenium FR by "Fabvison".