The pill is hard to swallow, but there will be no LEC this week, and all the League of Legends fans out there — including ourselves — will have to wait until the competition resumes with Week 5 on July 17.
With this free time, you might consider watching the League of Legends Championship Series, or even the Korean or the Chinese leagues.
However, if you're curious about the rising stars of the League, if you want to glance at the players who'll someday climb on the LEC stage, you can also watch the different European Regional Leagues.
Ultraliga
If you followed the previous EU Masters, you certainly heard of the Polish team K1CK Neosurf. They're currently third, with Rogue's Academy team currently leading the pack. However, Week 5 kicks off on July 7, 8:30 AM PST, and the EU Masters finalists will have two opportunities to grab more wins and climb the standings back...
Where to watch: 

Greeks Legend League
The GLL enters the last week of its Summer Season, with Intrepid Fox Gaming leading the pack. A spot in playoffs, as well as a seed in EU Masters is still at stake.
If you're curious about this league, Week 6 continues on July 7, 9:00 AM PST.
Where to watch: Twitch

Prime League
The Prime League is currently a tight race for playoffs seeds as two teams are currently tied in second place, with three other teams right on their heels. Team GamerLegion are leading the pack, but they're only one victory ahead and everything could change at the outcome of Week 5 — which kicks off on July 7, 9:00 AM PST.
Where to watch: Twitch

Baltic Masters
The fifth season of the Baltic Masters is kicking off on July 7, 9:00 AM PST. For the first time, the whole competition will be streamed with English commentary.
Where to watch: Twitch

NLC
Born from the merger between the UKLC and the Nordic Championship, the NLC entered is very first season its early June. The competition resumes for Week 4 on July 7, 10:00 AM.
Where to watch: Twitch
Dutch League
The Dutch League also resumes on July 7, 10:00 AM, but the competition is a bit less interesting as Team THRLL already locked the first place as well as their spot in Playoffs.
Where to watch: Twitch

LPLOL
The Portugues league is concluding its fifth week of competition on July 7, 12:00 PM PST.
Where to watch: Twitch

Super Liga Orange
Week 4 resumes for its second day of competition on July 8, 9:00 AM PST, notably featuring GIANTS facing MAD Lions' Academy roster.
Where to watch: Twitch

LFL
Although the French league hasn't started yet, they're organizing a Demacia Cup/Kespa Cup tournament called "Underdogs", featuring teams from the first and second division. The finals between Team Vitality's Academy roster and EU Masters returning champions LDLC OL are happening on July 8, 9:00 AM PST.
Where to watch Underdogs: O'Gaming (Twitch)

PG Nationals
The Italian league is entering its last week of competition on July 8, 10:00 AM PST, and the newly formed team Mkers that includes legendary Moscow5 support player Edward "Edward" Abgaryan are currently leading with a 10-2 record. They should confirm their ascendency without that much difficulty and secure their spot for playoffs,  but two teams are tied for second place and they might spring a surprise.
Where to watch: Twitch

Balkan EBL
Week 3 resumes on July 9, 10:00 AM PST with one heavy-league match on the schedule: Crvena zvezda Esports vs SuppUp eSports. Both teams are currently chasing the leaders, CR4ZY, and their duel will determine which of them will stay at the top of the table.
Where to watch: Twitch & YouTube

Hitpoint Masters
The Czech and Slovakian Hitpoint Masters are halfway through their fourteenth season, with multiple times EUM representatives eSuba currently sitting on a 6-0 record. Right on their heels, SINNERS Esports are on 5-1, and both teams will face each other in the first match of Week 4, on July 12, 5:30 AM PST.

Belgian League
The Belgian League is entering Week 7 on July 13, 10 AM PST. Sector One are holding tight in first place, but their winning streak ended last week and they're facing the second-place team KV Mechelen Esports this week — meaning the whole standings could change in a blink of an eye.
Where to watch: Twitch (Dutch & French)
Hold tight, you now have thirteen different leagues to watch until the LEC returns on July 17!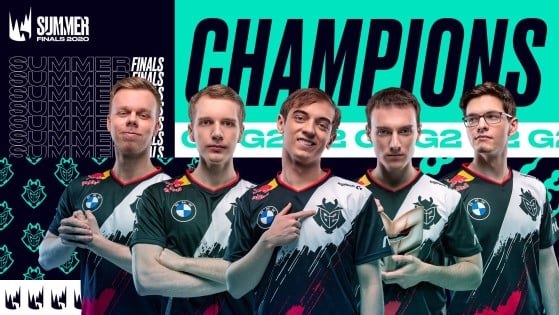 lolesports
G2 Esports continued their dominance of European League of Legends, dominating Fnatic in a 3-0 series win. With four titles in a row, and eighth overall, they seize the mantle of most successful team in LEC history.