After eight weeks of online competition, the League of Legends European Championship saw its regular season come to an end in early August. It had overcome the pandemic that has paralyzed most events in the esports world, but it would be dishonest to claim that nothing happened — that League of Legends was not affected, or that COVID-19 and the health measures it caused didn't have an impact on teams and championship players.
Thje season saw league veterans tumble from their thrones and rookies took advantage of their weaknesses. Despite a home win at the end of Spring Split, G2 Esports appeared hesitant, some would say unrecognizable. Drawing on the last ounces of their past glories, the Samurai managed to add another title to their collection, but didn't manage to conceal their loss of speed. This became all the more visible during Summer Split, with a series defeats placing them in a particularly uncomfortable position — for the first time in several years, G2 almost missed Playoffs.
"Struggling to get to the Playoffs was never the case in our team" explains Marcin "Jankos" Jankowski, G2's Polish jungler. "It got to a point where it was extremely stressful [...] because we just had every single game in the last two weeks. So I'm really happy that happened."
After weeks of mixed results, G2 rebounded in Weeks 7 and 8, recording a perfect 4-0 record to propel themselves from fifth to third place, ejecting Origen and Excel from Playoffs contention in the process.

However, the reigning champions are not the only ones to have suffered from inconsistency during the Split — long-time rivals Fnatic also suffered. Although they pocketed three more victories after the Super Week, the supremacy of Fnatic was gradually eaten away by Rogue and MAD Lions. They went on to oscillate between the top and middle of the table, although Playoffs qualification was never really questioned like with G2.
Where the rookie teams have, it seems, benefited from playing online, the LEC veterans have visibly faltered in the absence of fans. Like G2, Fnatic looked unrecognisable.
"For me, that has been the toughest part of the summer." says Martin "Rekkles" Larsson, Fnatic's iconic ADC. "It's just been not good for us as a team to play from home."
These last two weekends of Playoffs, Fnatic left their gaming house for a nearby location, just to change up the atmosphere. This change, as simple as it may be, seems to have boosted the team — they went on to stomp Rogue 3-0, before facing off against G2 Esports in a semi-final best-of-five series for the ages.
Going down to the wire in Game 5, this series will have had fans of each team sweating as the outcome seemed unpredictable. However, in the eyes of the players and their coaches, the match only served to reveal the mistakes and weaknesses of both teams.
"I think we misplayed some scenarios," explains Fabian "GrabbZ" Lohmann, G2's coach. "I think that Mithy [the Fnatic coach] would say the same for his team; that they didn't play perfectly."
"For sure," Jankos adds. "Fnatic did play a good game against us. I do think they inted quite a lot though. It's always an excuse, right, but in my opinion we lost the games more than they won them. [...] I just think we choked a lot, and after rewatching them I think we made a lot of mistakes that were cringe to watch."
Fnatic hadn't won a best-of-five series against G2 for 874 days. That said, beyond the result delivering them from almost three years of defeats, Jankos echoes Rekkles in that their now-legendary rivalry gives their clashes a special flavor.
"Every time we meet Fnatic, you really want to win," Jankos laughs. "This team is…special. You absolutely want to win, and it hurts twice as much when you lose to them."
In the background of the Zoom conversation which makes up the press conference, we can hear Rekkles muttering a single word — "same" — showing once again that the rivalry between the two teams really takes root in the spirit of camaraderie. If on social networks the two players provoke each other with arrogance, the Rift has become the secret space for their bromance.
"I enjoy the best-of-five versus G2 more than other best-of-fives," Rekkles says. "Last year, even though we lost in the semi and final of the Summer Split, we still had two incredible series. Even though it hurts in the moment, I've always felt it's something amazing to be a part of. So, I don't really mind losing that much at the end of it."
"It's always more entertaining," continues Jankos, "especially when it goes to a fifth game, because there's so much stress and so much emotion going through your head, but you really want to focus on the game. This week I was happy, and I wanted to puke at the same time, cry... I was like, 'end my misery,' you know?"
"Whenever you make a good play and you take the lead," he goes on, "and you feel a bit happier in the inside, it's so rewarding... I'd say it's pretty fun up until your Nexus explodes for the third time, then it really blows."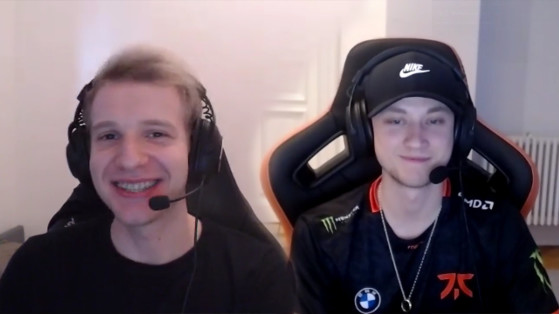 In reality, even if the LEC veterans have gone through a bad patch, that does not fully justify their rankings at the end of the Summer Split. Their weaknesses alone are not enough to explain the stalemate in which they found themselves. While G2 and Fnatic demonstrated an unusually poor level of play, MAD Lions, Rogue, and even SK Gaming displayed exceptional form.
"It's very evident that the lower-tier teams, MAD and Rogue, are stronger than last year," Grabbz says. "At the same time, I believe that Fnatic and ourselves looked to find kind of their identity [...]. Ultimately though, I do believe it was more us and Fnatic didn't show our peak performance. [...] We definitely didn't have a 100% showing throughout the Split."
As strange as it may sound, G2 and Fnatic have been going through an identity crisis, unable to respond to the new styles of play and the ardor of MAD Lions and Rogue. Faced with defeats, and always in the context of a pandemic, they had to completely question their organization, which in turn gave rise to new problems. However, the fact of having overcome this major challenge is a source of pride today.
"After we lost the Spring Finals to G2, we kind of had a thing in the team where we didn't know what to do anymore," says Rekkles. "We were in a really tough spot, and I feel it was really cool to see that we could, even at that moment, figure out what we would do next. And in that case, that was to make Oskar [note: Selfmade] the main guy of the team. It was nice to see that even in the toughest of times we could come together and make up good solutions for our issues."
Fnatic seem to have found their new style, and their signature now bears the mark of a Polish jungler with a playstyle as acrobatic as it is aggressive. Moreover, the team doesn't really have a leader, with each of the players agreeing to temporarily take the role when necessary.
"It's a team choice," Mithy explains, "and I think it works pretty well. It gives a lot more space and creativity to individuals."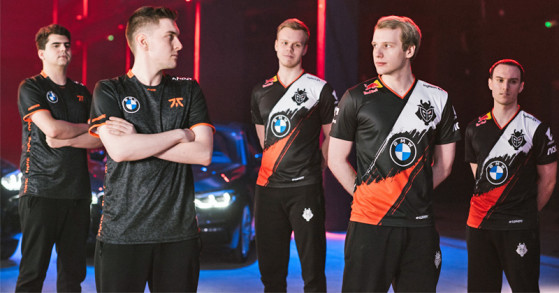 LEC teams need to be creative, because beyond the Summer Split Playoffs, Worlds are looming. Accustomed as they are now to the international scene, Jankos and Rekkles look forward to the tournament as much as they fear it.
The reason? Behind their qualification for the most important event in the competitive League scene is a reunion with their Asian counterparts. Whether Hung "Karsa" Hao-Hsuan, Seo "Kanavi" Jin-hyeok and Kim "Canyon" Geon-bu for Jankos; Kim "Deft" Hyuk-kyu and Yu "JackeyLove" Wen-Bo for Rekkles — the two European players are burning to once again compete against these exceptional opponents, who have dominated them in previous editions.
"Playing Deft this time would be much different than previously," Rekkles says. "Before, I always felt like I was sort of a level below him. [...] I think this time it might be different. For JackeyLove, it's kind of the same... I'd like to see now if I'm more on an equal footing."
Of course, in their speeches there remains an honest fear of facing players capable of playing pixel-perfect. Moreso, the defeats of years past simply seem to predict the pattern repeating the for the third year in a row. Whether Fnatic in 2018 or G2 in 2019, the LEC has twice cherished hopes of lifting the Summoner's Cup — and each time, a Chinese team came to extinguish the dream.
"We did have a bad experience with China last year, but we did beat RNG in 2018," Jankos begins. "You can say the style is different, but I don't really think it is. China as a region is particularly strong because [...] everyone is speaking through teamfights, and everyone is often playing pixel perfect. And that's something you don't often see in Europe. People choke, misplay... "
"One of the most fun parts of playing against Chinese teams, or Asian teams generally, is just how good the players are individually," confirms Rekkles. "I just think it's like super interesting to see every year if you're good enough at the game to face these guys. I think that's where they shine most of the time — a bit like Jankos said, always play pixel perfect in teamfights..."
Veteran players seem to be looking forward to Worlds with more excitement than fear, although the absence of MSI this year has put them in a dangerous situation. The lack of opportunity to measure themselves against the Asian teams means Fnatic, G2, MAD Lions and Rogue will have to face the unknown.
While Jankos and Rekkles can easily imagine what to expect, things are quite different for Rogue's midlaner and Worlds first-timer Emil "Larssen" Larsson. Last year, the Swedish player participated in the Polish Ultraliga with Rogue's Academy side — today he is competing for the LEC title, and soon he will fly to Shanghai to represent Europe.
"I've never played at Worlds so I'm not sure how good the Asian teams are," he explains, "but I've obviously heard how Damwon stomped G2 in scrims and all these stories about how good the Asians teams are."
Like his elders, Larssen ultimately dreams of being able to compare himself to Asian teams, even if it ends in bitter defeat. As he hesitates on how to conclude his speech, Jankos' voice emerges from the back of the Zoom conversation.
"If I may… Sorry to interrupt you but… If I can give you a bit of advice, just don't book Damwon two matches, you know... Just give yourself a break when you book Damwon. If you book them for scrims, you should scrim like two days, and maybe don't scrim during a week so you can get over it."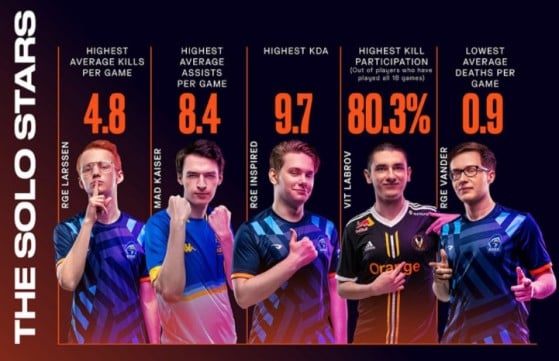 Larssen admits that his mind is not yet on Worlds, and he prefers to mentally prepare for his semifinal against G2 this Saturday — especially since Fnatic's masterful stomp of Rogue in the first round of the Playoffs forced the team to question themselves and adapt.
While Fnatic and G2 have between them claimed each LEC title since its founding, the Schalke 04 'Miracle Run' is actually less impressive than Rogue's LEC journey.
From finishing in last place in Spring 2019, they have slowly but surely earned their place at the top of the LEC — culminating in a first-place finish in the Summer Split regular season and an automatic spot at Worlds.
However, to really join the big leagues they still have to win an LEC title. Only then can we really compare them to the titans that are Fnatic or G2.
Will they pull off the grand robbery, seizing the crown from Fnatic and G2? Or are we on the verge of witnessing yet another final between the two Kings of Europe?
We'll find out this weekend.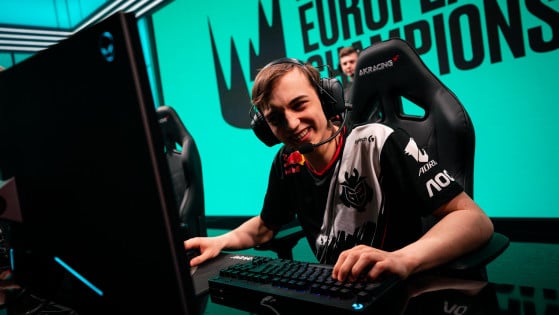 Six teams for just four places for the League of Legends World Championships, and a single LEC title: here are the 2020 end-of-season playoffs.