Image credit: LoL Esports
The League of Legends European Championship's #1 seed, G2 Esports, has qualified to the 2020 World Championship quarterfinals on Thursday, Oct. 8 after beating North America's Team Liquid and the Pacific Championship Series (PCS)'s Machi Esports.
Proactivity was on G2 Esports' menu as they showed better drafts, more consistency and a greater sense of initiative than they did in Week 1. The jitters that plagued them during Week 1 in the early game against Team Liquid and Machi Esports did not return.
Against Team Liquid, they limited the available champion pool in the jungle and built a sound skirmishing composition with the remaining champions, with Martin "Wunder" Hansen's Sylas (5/0/6 KDA) and Rasmus "Caps" Winther's Ekko (4/0/11) thriving in the ensuing chaos. The LCS squad's counterplay attempts backfired, as did Jo "CoreJJ" Yong-in's teamfight initiation attempt at the 26-minute mark, which ended in a 5-for-1 ace and two inhibitors for G2.
As for their game against Machi Esports' team fighting composition, Mihael "mikyx" Mehle's Rakan and Marcin "Jankos" Jankowski's Lillia opened the floodgates through initiations, allowing Caps's Lucian (9/1/3) to deactivate one of Machi's core components, Chen "M1ssion" Hsiao-Hsien's Orianna (1/4/5).
Although Team Liquid (1W-3L) are still in the running for a playoff spot, their chances at claiming first place have vanished with G2 rising to a 4W-1L record. The North American squad's chances hinge upon their ability to win their remaining games including the one against Suning (3W-1L), a task that proved impossible in Week 1 due to their faulty draft. Beyond that, they would need G2 to beat Suning in the final game of the day before tiebreakers.
As for Machi Esports, their hopes of a playoff run have been extinguished as they stand at 1W-4L and have a 0-2 record against Suning. However, they are still in play for a third-place finish should they beat Team Liquid, and should TL fall to Suning.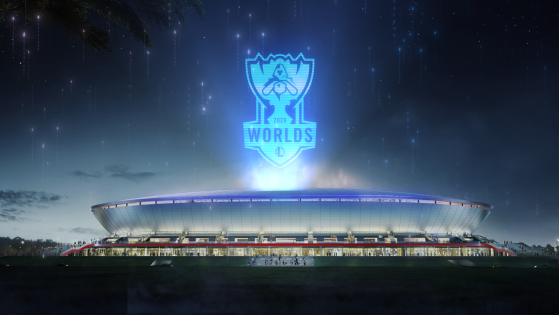 lolesports
Worlds 2020 is now over, and it's the Koreans of DAMWON Gaming who have claimed the Summoner's Cup! Find all the results from League of Legends' premier tournament right here.