Assassin's Creed Valhalla's Carolingian Longsword is an excellent weapon for causing considerable damage while maintaining good length and stability. Very pleasant to handle, this two-handed blade also has a bonus that is particularly conducive to barbarism: if you succeed in making a finishing move, the critical damage on your next attacks will be increased.
The effectiveness of the weapon was tested during a fight against a member of the Order who was passing by.
Where to get it?
You'll have to cross an entire enemy camp to reach the chest, and even if you manage to be discreet, the guard next to you will end up landing you with a sledgehammer anyway. Few options in the end, you'll have to empty the camp, or keep the bandits far enough away to have time to open the chest, but that wouldn't be very fair. Plus, another member of the Order, quite high-ranking, lives in this small forest hideout.
Like all the weapons in-game, it's obviously possible to improve it, for even more damage and rune locations. Of all the weapons we've been able to get our hands on, this longsword is clearly one of the best.
Weapon position
Location: West East Anglia

Recommended Level: 55 — a level around 40 can be enough
Original content by Bastien "Lloyd" Dubosq-Luyer.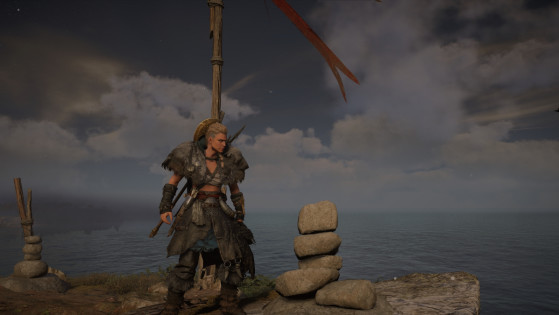 Cairns are part of the various mysteries to be solved in Assassin's Creed Valhalla with skill points up for rewards. In this guide, we explain all the good manners with these stones that defy the laws of gravity!