With four days of Play-Ins Leauge of Legends action wrapped up, EU Masters has found the four teams that advance to the main event's Group Stage: G2 Arctic, Illuminar Gaming, Schalke 04 Evolution, and Mkers stay alive in the race for the title. Each of them defeated their opponent in the crucial Knockout Stage with a 2-0 score. They were then drawn into the groups to join up with the top teams from European Regional Leagues, who by seeding had already claimed their spot in the Group Stage.
Most eyes will be on Group B. With AGO Rogue, Misfits Premier, and G2 Arctic, the group rocks three academy teams from organisations that are represented in the LEC as well. Furthermore, AGO Rogue is the reigning EU Masters champion, although they are playing with a completely different roster this year, with most of last year's roster picking up a starting position in the LEC.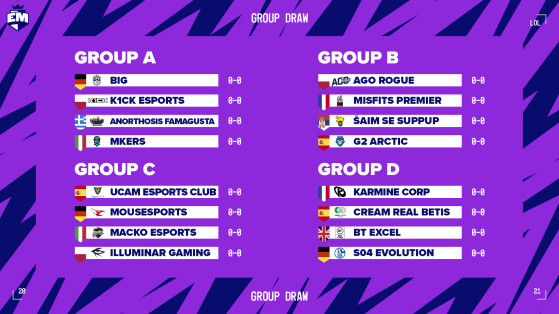 Group D is another one that promises a lot of action. French powerhouse Karmine Corp, Spanish silver medalist Cream Real Betis, and NLC winner BT Excel are joined by Schalke 04 Evolution. Only two teams of each group will advance to the Knockout Stage, where cross-group seeding will pair each team with a new opponent.
The EU Masters Group Stage kicks off on April 14th.
lolesports
The European Masters 2021 Main Event is finally upon us. Here's all you need to know.
Image courtesy of Riot Games.