Genshin Impact's new 1.5 update is still a bit away from Travelers — it will release on April 28. However, miHoYo has released a new web event that lets users earn rewards to use in-game. Some of the rewards are related to new features, such as the furnishings, so they will be unlocked after the update arrives.
To participate in the event, you must have at least Adventure Rank 10. If that's the case, you have to enter here, log in with your miHoYo account and start guiding the hilichurls. After a certain amount of furnishings crafted, you can claim Primogems and in-game furnishings.
Below are some important notes about the rewards and time needed between crafts.
Event Rewards
Crafting Rewards:
Each time a furnishing finishes crafting, you will receive an in-game reward. The size of the reward is based on the outcome of the crafting process.
Total Unlocks Reward:
Once you unlock a certain amount of furnishings, you can claim the corresponding rewards. In this way, you can earn 120 Primogems, the "Pine Folding Screen: Billowing Sails" furnishing, and the "Cloudy Haze Bed" furnishing.

Rewards for accumulating unlocked furnishings must be claimed manually. Rewards cannot be claimed after the event ends, so make sure to claim them in time.

*In-game rewards (excluding furnishings) are delivered via in-game mail. The mail is valid for 30 days, so make sure to claim them in time.

*The furnishing rewards "Pine Folding Screen: Billowing Sails" and ""Cloudy Haze Bed"" will be delivered separately via in-game mail after April 29, 12:00 (UTC+8).

*Furnishing rewards will be obtainable via other methods in-game in the future. Stay tuned, Travelers~
Things to Note
You can craft with multiples of the same material. The order in which you add materials does not affect the accuracy of the combination.

Each first crafting attempt of the day (refreshes at 00:00 each day according to your server time) does not require any time to complete. But from the second crafting attempt onward, you will have to wait a set amount of time for crafting to complete

*The timer will continue to count down as per normal after you leave the event page.

The only way to get materials is by completing event tasks. Select Get More Materials to open the task list.

There is a set schematic combination for each type of furnishing. In a small number of cases, a schematic combination may result in a Strange Product...

Once you start crafting a furnishing, the process cannot be canceled and the materials consumed cannot be retrieved.

*This web event is provided purely for entertainment. It is not indicative of any related gameplay features in Genshin Impact.
The "Hilidream Camp" web event will be live until April 27.
PS5 users can enjoy the update on April 28, while the 1.5 update promises a lot of content.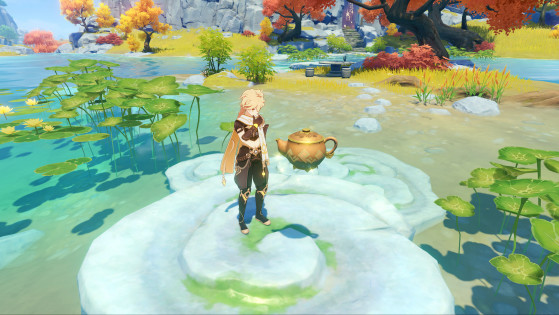 In this edition, the Q&A was focused on the new item called Serenitea Pot.