The Mid-Season Invitational kicks off this week, sending eleven teams from all across the world at each other's throat for a chance at eternal League of Legends esports glory. Two-and-a-half weeks of action is a lot to consume, but don't worry. We'll outline everything you need to know about MSI.
When and where?
MSI 2021 takes place from May 6th until May 23rd and will be played in Reykjavik, the capital of Iceland, without an audience. Split in three stages, the schedule is as follows:
Group Stage: May 6th - May 11th
Rumble Stage: May 14th - May 18th
Semi finals: May 21st - May 22nd
Grand finals: May 23rd
You can watch everything on Twitch, YouTube, or the official LoL Esports site.
Format
The 2021 Mid-Season Invitational uses a slightly different format than the format used in previous iterations. All teams now compete in a Group Stage, which is followed by a Rumble Stage, to end with a traditional Knockout Stage.
Group Stage: 11 teams are split across 3 groups and play each other in a Bo1 Double Round Robin format. (Group A plays a Quadruple Round Robin, more about that later). The top two teams from each group advance to the Rumble Stage.
Rumble Stage: The 6 qualified teams all play against each other in a Bo1 Double Round Robin format. The top four advances to the Knockout Stage.
Knockout Stage: The top 4 is seeded into a Single Elimination bracket, playing Bo5 series.
Teams & Groups
Due to GAM Esports, the VCS Spring Split Champions, not being able to attend the tournament, the Group Stage groups are uneven. Group A has three teams in it, whereas both Group B and Group C have four teams. The teams were first seeded into pools based on their region's international track record, and then drawn at random.
| Group A | Group B | Group C |
| --- | --- | --- |
| Royal Never Give Up (LPL) | MAD Lions (LEC) | DWG KIA (LCK) |
| Unicorns of Love (LCL) | PSG Talon (PCS) | Cloud9 (LCS) |
| Pentanet.GG (OCL) | Istanbul WIldcats (TCL) | Infinity Esports (LLA) |
| | paiN Gaming (CBLOL) | DetonatioN FocusMe (LJL) |
What's at stake?
The prize pool for MSI 2021 hasn't been revealed yet. However, money and prestige aren't the only things on the table. The winning team grants its region an additional slot at the 2021 World Championships. For example: should MAD Lions win the Mid-Season Invitational, the LEC gets to send 4 teams to Worlds instead of 3.
Additionally, at the end of MSI, Riot will chalk up its list of best-performing regions on the international stage. The region that tops that list will also receive an additional spot at Worlds. If the region that wins MSI also sits atop of Riot's power rankings, the extra slot of the power rankings will be given to the #2 region on that list.
Are there viewership rewards?
Yes, you can earn viewership rewards by watching MSI 2021 matches. You will have to watch the games on the official LoL Esports site, however, and make sure to log in on the account you want to receive the drops on.
For a breakdown of what you can earn, see the article below.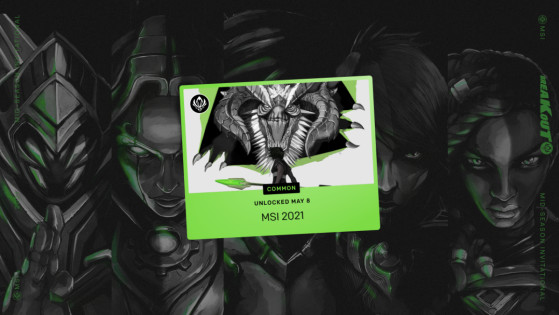 lolesports
Riot Games has revealed when and where you can watch the 2021 Mid-Season Invitational, and which in-game goodies you can earn by doing so.
Image courtesy of Riot Games.