With the parent football club undergoing severe financial difficulties, Schalke 04 Esports have sold their European League of Legends slot to Team BDS for the sum of €26.5 million.
However, fans of the org shouldn't despair too much, as S04 aren't disappearing from competitve League completely.
The organization has announced that it will keep its academy team, which currently competes in the DACH-focused Prime League ERL. 
Playing in an ERL is obviously less prestigious than playing in the LEC, but the costs are much lower, and it makes sense for the German football club to target its home market.
It's still unclear what the Schalke 04 squad will look like next year, but executives may well choose to keep Yoppa, Kynetic and Tolerant -- all of whom are under contract with Schalke 04 Evolution until the end of 2022.
It goes without saying, that like all ERL teams, S04 will also aspire to the European Masters title. The organization has already participated in the competition three times, without tasting overall victory.
As for the Prime League itself, the team has not won the title since the Sping 2020 split, so will be aiming to reclaom their crown from current holders BiG. 
Original Content: MGG France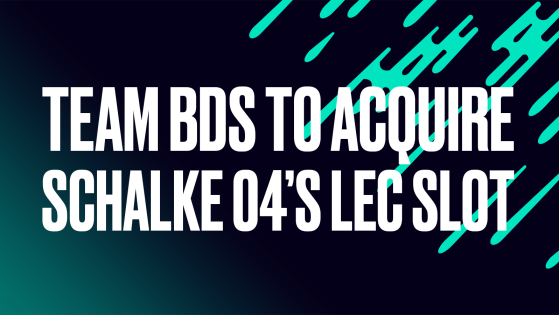 lolesports
After falling on hard times financially due to the COVID-19 Pandemic and the football club's relegation, Schalke 04 have been forced to sell their LEC spot. This one goes to Team BDS, for €26.5 million.