Wrath of the Lich King Classic will be deployed by the end of 2022 on World of Warcraft servers, it has been confirmed since last April. And, if we haven't had the slightest news about it for a while now, we know that its Beta is scheduled for the summer of 2022. This does not indicate much, but with the arrival of the summer season we offer you a summary in order to register quickly and serenely for the Beta of WotLK Classic. Beware of scams and don't succumb to impatience, it would cost you a lot for a simple early access!
Wrath of the Lich King Classic Beta is scheduled for Summer 2022
Avoid scams and frauds for WotLK Classic
As with every expansion announcement, we would like to inform you and remind you that no one is able to provide you with a key for the Beta since there is none; not only because as mentioned, nothing like this has been announced, but also because the players selected to participate in this type of event are chosen automatically during selection phases determined by Blizzard.
All emails, websites or anything else offering you a link to obtain access to this object of desire are pure scams for malicious purposes. Never click on this type of link, and, in the worst case if you have already done so, never enter the identifiers of your Battle.net account or any other confidential information (credit card, address, name Or other).
Only a few events organized by certain influencers and news sites hand-picked by Blizzard may take place on a very occasional basis. They usually take place in the form of a competition. Among the best known by French speakers, we find:
Site/Twitch

Twitter

Aido

Aido_tv

@Aido_Tweet

BigBadHater

BigBadHater_EN

@BigBad_Hater

BlizzSpirit

BlizzSpirit website

@YunalescaSpirit

ChoopChoop

ChoopChoop

@ChooChoopTV

Cruelladk

Cruelladk

@cruelladk

Evanessor

Evanessor

@Evanessor

Icy Veins

Icy Veins website

@Icyveins

JudgeHype

JudgeHype website

@JudgeHype

kusa

kusa

@kusa_alex

lapi

lapi

@LapiTV

Malganyr

Malganyr

@Malganyr

mamytwink

Mamytwink website

@karine_melody

MGG

MGG website (WoW)

@MGG_France

@MGG_WOW_EN

Osanguine

Osanguine

@Osanguine_Cos

Thankor

ThankorLeWar

@ThankorLeWar

uncle

uncle

@TontonTwitch

Troma

Troma

@TromaFR

wowhead

Wowhead website

@Wowhead

Yunathael

Yunathael

@Yunathael

Zoltan

Zoltan

@ZoltanTV
Others can of course be selected to offer access for WotLK, and we will keep you informed if this happens. We have only listed those that, to our knowledge, have been selected by Blizzard to organize one or more contests during the Beta of Shadowlands and The Burning Crusade Classic.
(If you or your favorite streamer or site that obtained keys for the Shadowlands or TBC Classic Beta is missing from this list, let us know so we can add it. We apologize in advance for any oversights!)
Participating in the Wrath of the Lich King Classic Beta: Procedure
In order to participate in the WotLK Classic beta, carefully follow the steps indicated below. This shouldn't take you more than a minute or two:
Go to the section of the Battle.net site dedicated to Wrath of the Lich King Classic by following

this link

Log in to your account using the " My Account " drop-down menu at the top right of the page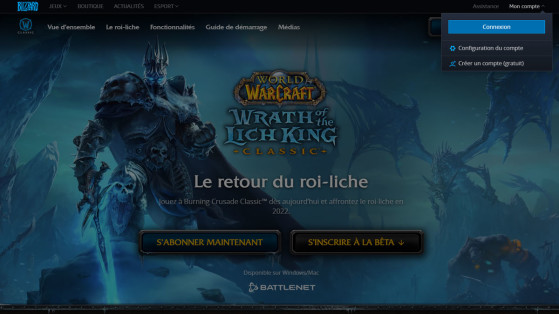 Then scroll down the page until you reach the " Register for Beta " section.
Click on " Register for beta "

You should normally be registered for the Wrath of the Lich King Classic beta!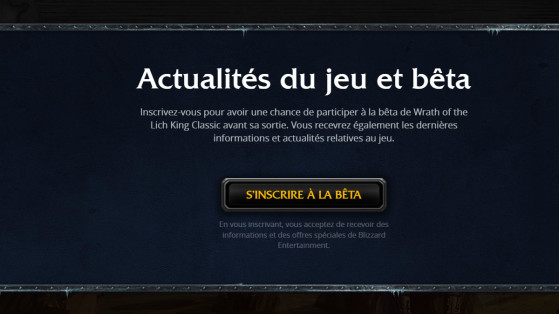 There is nothing more to do, the rest is automated. If you're lucky, you'll get access from the first announcements of the official Wrath of the Lich King Classic beta rollout. Otherwise... We are sorry in advance. Be careful, and stay on the lookout since many keys had been offered for The Burning Crusade (we had offered about fifty)!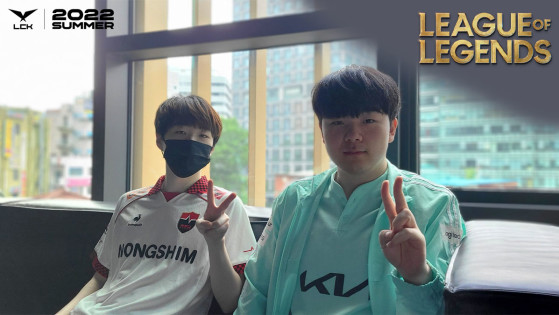 In League of Legends, everything can go very quickly and it's not uncommon to see real stomps, especially among professionals. But Korea obeys a different logic and we had the right to a somewhat long match with a very late First Blood... a bit broken, but very funny.