Photo: LCK
All over the world, competition resumes on League of Legends. The Summer Split has resumed well in the LCK (Korean league) and we have already had the right to several interesting matches. Among them, there is one who has taken on a rather special appearance... If certain parts stand out for their speed or their bloodbath, the meeting between DWG KIA and Fredit BRION was marked by First Blood (first blood ) particularly slow. The two teams indeed waited more than 34 minutes before finally claiming a victim. It's very rare, even in Korea. However, this is not a record among the pros!
Korea, another world
Not dropping a single drop of blood in 34 minutes may seem totally ridiculous to some. It must be said that in soloQ as with the pros, we regularly see games end before this mark. Karmine Corp's first 3 games in LFL this summer, for example, lasted 24.40 min (Team Oplon), 31.45 min (GameWard) and 29.57 min (Team GO), respectively. However, it should be noted that the context of this match between DWG KIA and Fredit Brion was a bit special. On the one hand, competitive games are often more organized and less bloody than the chaotic games of soloQ. On the other hand, Korea is a region famous for its macrogame, rotations and crossmap actions. The LCK likes immaculate efficiency and it's no coincidence that this type of quirk comes to them. China, on the contrary, is renowned for its aggressiveness and incessant skirmishes. But be careful not to fall into caricature. The two Korean teams did not wait patiently and do nothing. Before the First Blood was shed, there were still 5 Dragons, 6 Towers and 1 Nashor. Finally, it should also be noted that the two teams had very good scaling compositions in the late game. So they really weren't in a hurry.
34.31 min to get a first kill is a lot. But know that this is not the record in competition. After a quick search, we came across a game dating from 2018 between Jin Air and King Zone , still in LCK. This time, we had to wait almost 39 minutes to have a fight. At the time, the JAGs were notorious for dragging out games and playing extremely slowly.
To date, the fastest First Blood in competition appears to be held by a European. This is Finn " Finn " Wiestål who earned it while playing for Counter Logic Gaming in North America. He did not succeed in everything there and by his own admission, he stagnated or even regressed across the Atlantic. But he had still achieved the performance of killing an opponent after 34 seconds with his Irelia. However, the feat had not been individual but collective, since he had fully benefited from the help of his team on an invade with a very angry Smoothie who did not hesitate to Flash-In at sight with his Nautilus.
Before, the other reference dated back to 2013 with a match at Worlds between Lemondogs and SKT T1 for a First Blood obtained after 39 seconds . As competitive regions and leagues multiply, other records could quickly emerge. But for now, 34 seconds remains the mark to beat.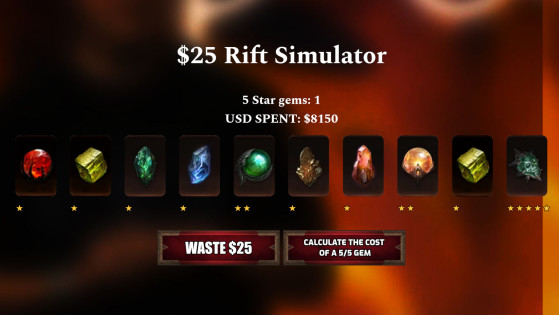 A player used the official numbers from the online store to create an Ancestral Rift Simulator with 10 Legendary Emblems, which cost around $25. This allows you to visualize your chances of getting one, and how much it would cost you.