Summary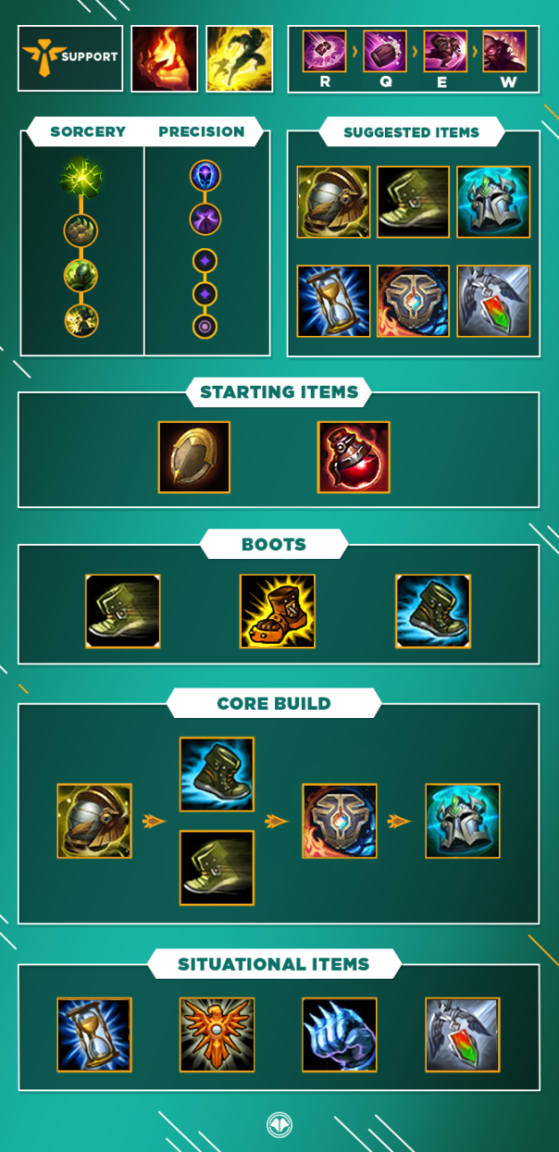 Items
Early game
Choose Relic Shield for mana regeneration and the power it brings, allowing you to poke in the lane phase.
Boots
Ninja Tabi and Mercury Threads are a good choice if you want more resistance.
Boots of Mobility is the choice for snowballing if you want to help other lanes and be more dynamic on the map.
Core Items
Pauldrons of Whiterock is your item to ward. It will also give you additional HPs and APs.
Zeke's Convergence offers a bonus on the attacks of your carry when you use R - Explosive Cask near it. It will be very useful if you use your spell to protect it.
Situational Items
Locket of the Iron Solari is an interesting choice because of its defensive stats and above all because of its active that gives a good shield to the team members close to you. The complementary item you need is Redemption: it allows you to heal your allies even while being far from them (or while being dead).
Iceborn Gauntlet can bring you damage and extra armor.
If you need to time out in teamfight, Zhonya's Hourglass will be a good option.
If you're looking for a lot of damage, go directly to AP items such as Luden's Echoes or Rabadon's Deathcap.
How to play Gragas ?
Gragas Support's primary goal in the lane phase will be to engage its opponents hard. He will also be able to poke effectively if no opportunity presents itself.
Level 1: Choose E - Body Slam, which allows you to invade the opponent's jungle if you wish and is your main spell on the line. Otherwise, take Q - Barrell Roll to help your ADC push the lane.
Level 2: Then take W - Drunken Rage if you wish to engage in combat with E - Body Slam.
Level 6: Using your Flash and E - Body Slam, you can blast a misplaced enemy target with R - Explosive Cask.
Match-ups
Tips & Tricks
Your main combo will be to use Flash during the animation of E - Body Slam to surprise your enemies. Try as much as possible to keep your Summoner spell to use this mechanic.
R - Explosive Cask can be used to bring opponents back to your allies but also to keep assassins away from your carry. Adapt as needed.
Launching R - Explosive Cask after hitting E - Body Slam will help you send your enemy wherever you want.