Summary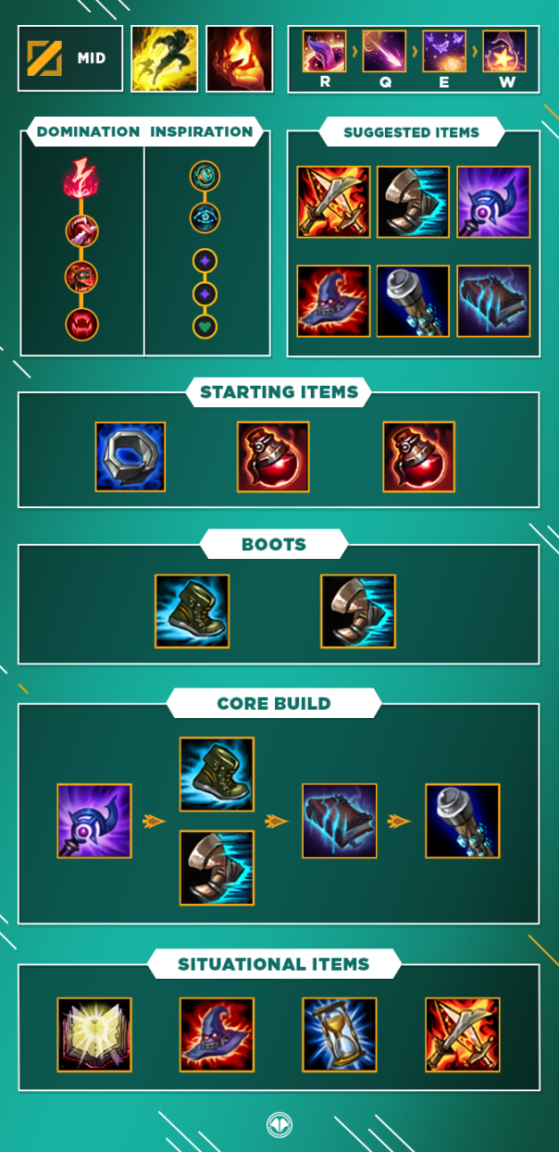 Items
Early game
With Zoe, as with most mages, you can start the game with Doran's Ring and two Healing Potions.
If you want to make sure you start the game, don't hesitate to go with Corrupting Potion.
Boots
In general, it is much better to take Sorcerer's Shoes than any other pair.
Mercury Threads can be a good choice if you're playing against an AP wizard or assassin that you have a problem with.
Core Items
Luden's Echo offers all the stats needed for Zoe to shine: power, mana and lots of payback time reduction.
Morellonomicon reduces the care of enemy champions affected by your spells. If you hit E - Sleepy Trouble Bubble on an opponent, the healing that might be given to him will often not be effective enough to prevent you from taking your kill.
Void Staff will allow you to burst resistant targets. With all the magic penetration you have, you also inflict almost brutal damage to targets that have no additional magic resistance.
Situational Items
Lich Bane allows you to greatly amplify the power of your combo if you are able to apply an automatic attack thanks to R - Portal Jump.
Rabadon's Deathcap will give you a huge amount of power, so you'll be able to remove your victims in a single combo if you couldn't before. If you're in good shape, Mejai's Soulstealer will turn you into an angel of death.
Against an AD assassin, don't neglect the Zhonya's Hourglass. Your R - Portal Jump makes you predictable when you return to your original position. Banshee's Veil will be a better option if a particular enemy spell frightens you.
How to play Zoe
At the beginning of the game, Zoe's strength lies in her ability to throw Q - Paddle Star into the fog of war and, by moving towards her opponent, inflict the maximum damage of her spell without the opponent being able to really dodge.
Level 1: With Q - Paddle Star, punish your opponents when they last hit a minion. Also, don't hesitate to send an automatic attack boosted with Passive: More Sparkles! to inflict even more damage.
Level 2: With E - Sleepy Trouble Bubble, put your opponents to sleep, follow with Q - Paddle Star and an automatic attack to inflict maximum damage and apply Rune - Electrocute.
First Back: Try to make your first comeback with over 1400 gold coins to buy Lost Chapter, Control Ward and at least one Health Potion.
It is during the siege phase that Zoe reveals her full potential. Roll E - Sleepy Trouble Bubble at key points to block the way to the enemies or catch one in the process!
Match-ups
Tips & Tricks
Passive - More Sparkles! increases the damage of your base attack after a spell. Alternate your spells and base attacks to maximize it.
Q - Paddle Star deals damage proportional to the distance it covers before hitting its target. Use R - Portal Jump to increase the distance traveled and the damage the spell will inflict.
Use the walls to greatly increase the range of E - Sleepy Trouble Bubble to hit opponents who are not expecting it.
In a duel with W - Spell Thief, reuse the summoner spells your opponent uses. Better yet, pay attention to the summoner spells he has to prepare you to use them against him.