The developers of Diablo 4 have insisted on the fact that their game will be an open world made up of 5 main regions, all connected without any transitions. It will be possible to visit everything, and each Sanctuary map will be a mini shared online server that can host an undetermined number of players. If their promises are kept, you should be able to find what you are looking for, whether you want to play solo, with friends, or do wild PvP.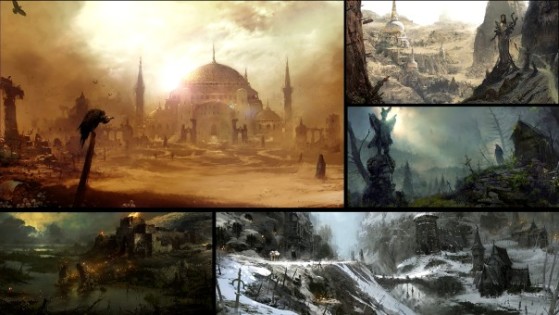 Hundreds (sic) of underground or above-ground dungeons with random structure will be placed on the map to fuel your adventures and offer great replayability. We are also promised a very large map, so much so that we need mounts in addition to the teleportation points.
You will be able to complete quests and progress through the campaign in the order you want, the level of the zones adapts to yours, or to that of the group leader. Content and rewards will never be trivial.
World events will occasionally take place, all players will then be notified of the position of the event, and they will only have to go there to participate.
Discover a brief overview of the different regions in the following pages, while waiting for more information on the content of Diablo 4.