Photo courtesy of Riot Games.
Last week, the League of Legends Championship Series resumed for our greatest pleasure and G2 Esports put its European championship title back at stake. This year, many new faces are appearing on the stage, so it is advisable to put some order in the performances of the different teams with this first Power Ranking.
S Rank

G2 Esports
Current score: 2 - 0
Standings: 1st place
Although their start to the week's two games left something to be desired, G2 Esports dominated their opponents. Rasmus "Caps" Borregaard Winther appeared to be excellent in teamfight as AD Carry despite the necessary running-in during the lane phase. Luka "Perkz" Perković is also very clean in his midlane realm.
Marcin "Jankos" Jankowski's incredible performance in the second match against SK Gaming should also be highlighted. He simply flew over the match with his Lee Sin.

Origen
Current score: 2 - 0
Standings: 2nd place
Like last year, Origen remain as a well-prepared team that plays cleanly, without unnecessary artifice. Against both Fnatic and Schalke 04, they were able to implement their game plan without rushing and hit the ball at just the right moment to conclude the match.
Overall dominant against two teams rated fairly well in the competition, Origen seem to be on course to go far this year too!
In terms of individual performances, Erlend "Nukeduck" Våtevik, Barney "Alphari" Morris and Andrei "Xerxe"Dragomir were the most successful during the matches.
The new botlane is still looking for their marks and, for now, they're just limiting themselves to hold the lane — letting the others win without having to worry about the health of the bot.
A Rank

Rogue
Current score: 2 - 0
Standings: 3rd place
Overall slow in their two games, Rogue finally managed to win in the first week. Against Misfits, although the team never completely dominated, they never let the advantage change hands.
Against Excel, the match was tighter and much bloodier. Steven "Hans Sama" Liv, author of a very good performance, and his teammates could have let the match slip away because of some big mistakes. However, they were able to remain calm, confident in their game plan and finally won after a few key teamfights.
It remains to be seen now, what they are worth against bigger names.

Excel
Current score: 1 - 1
Standings: 4th place
Clearly carried by Patrik "Patrik" Jírů, who was at the top of his form, Excel is quite the good surprise of this first week. At the end of an intense match against Schalke 04, the English team starts their 2020 season with a beautiful victory.
Against Rogue, things were a bit more complicated. The beginning of the game was very tight and Excel even managed to drop an inhibitor at the 19th minute after a very clever move. However, Rogue managed to regain the upper hand and never let go of the advantage, forcing Excel to settle for a very respectable 1-1 in the first week.

Fnatic
Current score: 1 - 1
Standings: 5th place
As usual, Fnatic starts the season slowly with a 1-1 score in their first week. Fans can rest assured, the season is still long...
Globally dominated by Origen in the first game, they made up for it against Misfits with a stunning win in just 20 minutes. Taking advantage of too many mistakes by their opponents, Fnatic let Rekkles destroy the game with a super fed Aphelios. On the Selfmade side, we are not yet convinced of the benefit of his arrival...
However, let's keep in mind that Misfits is clearly not yet at the level at the beginning of the season and that this victory is not necessarily a sign of Fnatic's good health.

MAD Lions
Current score: 1 - 1
Standings: 6th place
The MAD Lions have the very complicated task of facing the LEC with a lot of rookies in their roster. Against G2 Esports, they started the game very well and put the reigning champions in great difficulty. They will finally be caught up but the tone was set.
Against Vitality, the Spanish club was able to go a little more smoothly even though Duncan "Skeanz" Marquet was not to be denied. After a good teamfight in the 26th minute, the rest of the match was a walk in the park.
They still have a lot of work to do but this team seems to have some interesting things to offer this season.
B Rank

SK Gaming
Current score: 1 - 1
Standings: 7th place
SK Gaming didn't really stand out this week. Although their start against G2 Esports was promising, they failed to capitalize on their advantage and were literally nuked.
Their win of the week was against Vitality, after a game of almost 50 minutes. They might as well have lost it and it was a monumental mistake by the bees that gave them the win.

Schalke 04
Current score: 0 - 2
Standings: 8th place
The return of Konstantinos-Napoleon "FORG1VEN" Tzortziou and Erberk "Gilius" Demir doesn't necessarily mean a good start to the season for Schalke 04, who clearly need time to adapt. Even if Gilius succeeded the first baron steal of the year.
In both matches, Schalke 04 clings on at the start of the game but is generally dominated by its opponent. FORG1VEN is not at all impressive, without being bad. Fans expected more from, that's for sure.
As usual, Felix "Abbedagge" Braun is excellent, one match out of two... Unstoppable on Cassiopeia against Excel, he is mastered from start to finish by Erlend "Nukeduck" Våtevik's Leblanc against Origen.
C Rank

Vitality
Current score: 0 - 2
Standings: 9th place
Even though Lucas "Saken" Fayard and Duncan "Skeanz" Marquet have performed well and Vitality have fought with honor in both of their games, it is clear that they are not on a par with their opponents, who weren't among the best in the LEC. The bees can be considered too weak for the competition, at least for the time being.
Because of huge mistakes at the end of games, especially against SK Gaming, they had to give up the victory.
Misfits
Current score: 0 - 2
Standings: 10th place
Quietly dominated by Rogue, destroyed by Fnatic... In other words, Misfits don't start their season in the best possible way.
We were skeptical about their squad for 2020 and they gave us no reason to change our minds for now. But let's not sell the rabbit skin so early in the season, they can still surprise us.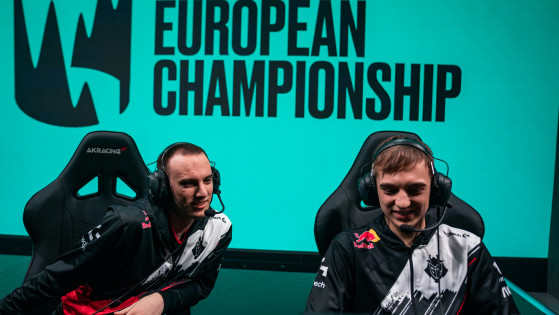 lolesports
In their opening two games of the League of Legends European Championship Spring Split, G2 Esports managed to look both rusty and utterly dominant at the same time — and that doesn't bode well for the rest of the LEC teams in 2020.