Photo courtesy of Riot Games.
S Rank

G2 Esports
Week Score: 2-0
Ranking: 1 (=)
This week, G2 Esports reminded us that they can play anything, including Soraka top! Martin "Wunder" Hansen delighted us with this out-of-space pick and yet devilishly efficient. With the help also of Luka "Perkz" Perković and Rasmus "Caps" Borregaard Winther, who came out with impressive scores, as usual, the samurais had a perfect second week.
They first won too easily against Vitality with a Lucian mid (Perkz didn't completely forget the ADC). Then it was Origen who had to give in, not without resistance. Globally, G2 Esports dominated the week.

Origen
Week Score: 1-1
Ranking: 2 (=)
Even if they lost one of their two games, Origen have not been undeserving and remain a team capable of controlling an end-to-end match like the one against Rogue. They defended very well in a difficult week and losing against G2 Esports is not a sign of weakness.
They are still in the S Rank, even if they don't have the level of the samurais, because they seem to be superior to the other teams and are starting their 2020 year in a remarkable way.
A Rank

Fnatic
Week Score: 2-0
Ranking: 3 (+2)
After a mixed start against Origen, Fnatic decide to specialize in speedrun style matches! 20 min against Vitality, 22 against Schalke 04 and 28 against SK Gaming. In view of their opponents, it's too early to move them up to rank S but they are clearly well on their way.
Martin "Rekkles" Larsson is once again the centre of attention of the team and receives a lot of resources. The Swedish player seems to be deserving it, with some very clean performances. In the midlane, Tim "Nemesis" Lipovšek was very impressive this week, especially against SK Gaming with his Ornn.

Rogue
Week Score: 1-1
Ranking: 4 (-1)
Rogue was able to control the dragons at the start of the game against Origen, but that was the only thing they were able to control during the match. The team loses a place in our power rankings, having failed to compete against better-ranked opponents.
However, against Vitality, Rogue simply dominated from start to finish. As a consequence, we can't avoid keeping them in a good position in these rankings. They played an almost perfect match and proved that it is possible to win quickly, even with a rather late game-oriented composition.

Excel
Week Score: 1-1
Ranking: 5 (-1)
The match against MAD Lions was decisive for our ranking because Excel was able to prove that they could win against a team that is theoretically close to their level. Even though having Pantheon helped a lot, it was a great team performance from them.
On the other hand, despite a really good management of objectievs in the early-game, Excel lost to Misfits after a long and painful 41-minute battle. It is because Misfits was supposed to be an easier opponent that we cannot move Excel higher up in our rankings.
B Rank

MAD Lions
Week Score: 1-1
Ranking: 6 (=)
The MAD Lions were pretty convincing in the first week, especially considering they are almost all rookies. However, this week, they fell against Excel and won against a suffering team: Schalke 04.
They keep their position but drop one place because they don't seem to be at the level of the mid-ranked teams yet. Especially as the match against Schalke 04 was very very close and it was determined by a few decisive actions of Marek "Humanoid" Brázda's Qiyana. So there's still work to be done, but for such a young team it's more than normal.

Misifts
Week Score: 2-0
Ranking: 7 (+3)
From hell to heaven, that's exactly the path Misfits has just taken this week. Their non-existent level of the first week has turned into an interesting one. They first won against SK Gaming thanks to Danny "Dan Dan" Le Comte's super performance on Sett. Then, the rabbits gave Excel a hard time and win at the very end of the game thanks, once again, to an incredible splitpush and teamfight performance from the Dutch toplaner.
Another Dutchman, Fabian "Febiven" Diepstraten, did a great job this week. The midlaner was pretty clean on Qiyana.
Misfits still have to confirm their level but they seem to be back in the competition.

SK Gaming
Week Score: 0-2
Ranking: 8 (-1)
SK Gaming is clearly not a strong opponent this week. If in their match they sometimes show some signs of life (they took longer than the others to lose against Fnatic), we can only note that the transfer window period has strongly hit the German structure.
Against Misfits, as well as against Fnatic, they simply couldn't take the lead at any point in either game. If they continue on this path, it will be difficult not to take them down to Rank C.
C Rank

Schalke 04
Week Score: 0-2
Ranking: 9 (-1)
When we saw the Schalke 04 squad at the start of the season, we all said to ourselves that it could either be very interesting or a huge flop. After two weeks, it's too early to say, but the flop is already close.
Annihilated by Fnatic and narrowly beaten by MAD Lions, Schalke 04 can easily be placed in the Power Ranking as a low-ranked team, without being set at the last place. The meme of Schalke 0-4 is funny but the German club will have to react quickly to avoid having to change its name to Schalke 0-18.

Vitality
Week Score: 0-2
Ranking: 10 (-1)
Vitality was announced as not being at the LEC level this year and the team can't deny it after the first two weeks of competition.
Against G2 Esports, we can hardly blame them because the samurais are above everyone's level at the moment. Even if we could have hoped that Vitality would resist a little bit.
Against Rogue, they took a team focused on early game and lost the game in only 30 minutes, dominated from start to finish by a late-game composition.
It will take more than one change to get the bees out of this situation...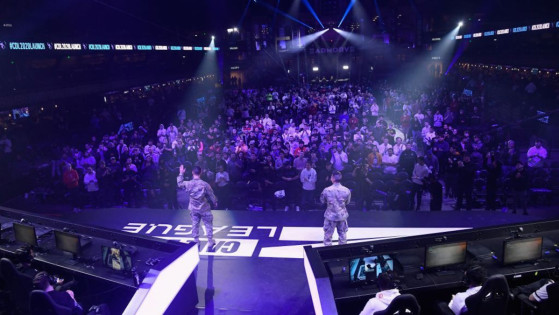 The Call of Duty League has begun. All 12 franchise teams have had their first taste of competitive Modern Warfare for the first time this season. Find out who's at the top of our post-Launch Weekend power rankings.