"Thank you @FortniteGame for everything. I was given the chance to achieve what only few have had the pleasure of accomplishing". These are the words of Psalm, the second-place finisher at Fortnite World Cup 2019, announcing his retirement from the competitive scene after two years at its peak.
Professional players have begun to show a growing resentment for several weeks now. A good number of them feel abandoned by developer's underwhelming methods of communication and undefined plan for the game. Nate Nazer, Fortnite's former Head of Competitive, has held the role of director of global partnerships since March. Epic have yet to announce his replacement, leaving no one officially in charge of Fortnite's esports division.
Recurring problems, a lack of responses, as well as the temptation of Valorant, which feels like a breath of fresh air, have led to a major turning point in Fortnite's brief but intense time in esports.
A Stoke of Genius
Let's go back to 2011. Fresh off the release of Gears of War 3, Epic Games employees celebrate by hosting a game jam in their office. This event gives developers free reign to create whatever kind of game they want within a set amount of time. This particular game jam would give birth to an idea: a game that mixes the construction aspect of games like minecraft with a shooter. In 2017, Fortnite: Save the World was released. Several months later, following the success of H1Z1 and PUBG, a free mode was added: Battle Royale. Two years later, the game featured a playerbase of 250 million. In 2019, Fortnite generated €1.6 Billion in sales. The game has been an almost unprecedented phenomenon in the industry.
Epic Games have certainly put a lot of resources into achieving this feat. The game is available on five different platforms and is based on a 'games as a service model'. That is to say that Fortnite free to play, with in-game cosmetics available for purchase. In the beginning, its cartoonish graphics attracted a younger playerbase, though its balance between combat and construction managed to convince FPS players and other experienced pros to try it out.
On paper, the recipe is simple. Strengthened by its huge popularity, the game attracted investors, teams, and pro players. An esports scene quickly began to take shape. Personal parties did not exist at the time, so competitors were forced to launch the game at the same time, cross their fingers, and hope they'd end up in the same game. This was how things were in the beginning. Yet despite a young title, poor training conditions, and unreliable servers, the initial results were promising: the game had a future in esports.
A Place for Esports
Some of Fortnite's immense casual playerbase may find esports appealing, but for the large majority of players, the competitive side of the game is a complete unknown. However, esports is increasingly becoming an essential part of online multiplayer titles. It allows the best to compete against one another and show off the game in the process. Esports professionals work tirelessly to challenge and overcome their limits, with their efforts acting as a showcase of what is possible at the highest level. Their efforts are a product of training, talent, time-investment, and sacrifice.The competitive side of any community serves to instil fundamentals and create an active and deeply passionate community around the game.
From a more grounded perspective, competition brings in sponsors, advertisements, and allows a solid economic circuit to take shape. The creation and development of tournaments not only allows fans to develop a closer bond with the game, but creates a community of high-levelplayers who then share their gameplay with the community, which goes a long way in promoting the game in itself. During Fortnite's early years, "World Record" videos and tournament streams were the most requested and viewed content.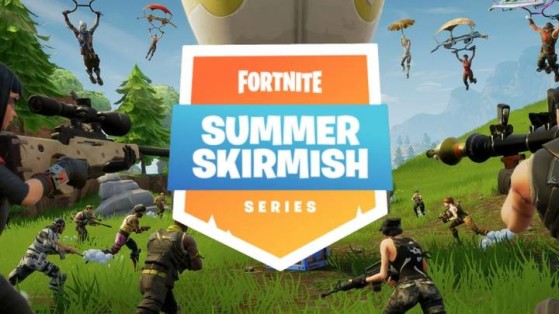 Cracks Begin To Show
As for Epic Games, few could have expected the extent of their response. Fortnite launched its Skirmish series: 8 weeks of competitions with a prizepool of $8 million. Players would compete for $2 million more than at that year's League of Legends Finals. Players from all sorts of different genres flocked to the title. Fortnite's popularity exploded, as did the number of streams and tournaments. Just a few months removed from its launch, the game had already become a key part of gaming culture. Yet this was also the start of a paradox.
Despite astronomical sums of money being invested into the game per week, the game was still plagued with a multitude of bugs. While the community worked tirelessly to keep Epic Games up to date with these flaws, the developers appeared uninterested, preferring to instead concentrate wholeheartedly on pumping money into the game. However, the community persevered; these weren't just glitches that you keep sweep under the rug, they needed to be resolved. At the end of the day, servers were simply unplayable: too many players found themselves in the restricted zone, fps was in free fall, and some players would be plagued by freezes, locking them helplessly in place for several seconds before being shot by other players.
And to make matters worse, the competitive scene was being used to show off new features to the detriment of game itself. There would be a new patch shortly after the conclusion of each tournament which consistently shake up the meta and completely change the viability of any strategies that teams had worked on that week.
2019's IEM Katowice is the perfect example of this. The 50 best duos in the world gathered in Poland to compete for their share of $500,000. Fortnite launched its pirate-themed new season, forcing the pros on play the major on that patch and completely ignoring their requests to use the previous update. Participants only had a few hours that evening to familiarise themselves with an entirely new map and its loot. Each time players made a new party, they were unable to return to the lobby. Players who used the cannons, a mechanic added to the game just a few hours earlier, found themselves frozen in the air with no solution at hand. Some players spawned without pickaxes, while other crashed completely.
In its current iteration, Fortnite has continued this dynamic. Epic Games seems to be doing its best to remove all elements of competitiveness from normal parties. This can also be said of tournaments where sparsely-available overpowered items were the deciding factor and severely disadvantaged those who were unable to access them (robots, swords, planes...). Pros have had to come to terms with the fact that Fortnite esports is used to show off these new features. And if you combine this with the eternal debate over controller aim assist, which continues to divide the community, an imbalanced hero mode, patch notes that are no longer published a day after the update... Despite it's short lifespan, Fortnite has racked up an impressive amount of blunders, all of which Epic Games would rather ignore than fix. Players feel let down, misunderstood, and even frustrated, leading to increasing criticism of the game.
Enjoyment & passion are often part and parcel of being a pro-player, sometimes to the extent that you might end up hating your game when things are said and done. Pros rallying against the developer has been a common occurrence for some time now. They understand the potential of Fortnite and are firmly against the direction Epic is taking the game. That's why, when the devs announced they were working on server stability, players finally began to see a light at the end of the tunnel.
But this doesn't take into account the looming arrival of Valorant. During its beta phase, Riot's new game has already begun to establish itself as a valid competitor, which has in turn pushed the Battle Royal to act. Epic announced the Fortnite Champion Series, all without fixing a single bug. This was without doubt the final straw for some, and has played its part in the departure of numerous high profile players, such as Poach, Hoppy, Deadra, and Psalm just to name a few. Others will continue to follow these big names out of the scene. What should have been the biggest event in the season has turned the game into a grind for a good number of players, with some even launching Valorant between competitive parties.
Does Fortnite Really Need a Competitive Scene?
This question may seem to go against everything we've discussed above, but it still merits a response. All of the problems that players have with the game seem to stem from one simple fact: Fortnite is no longer taking esports seriously. Whether Epic every truly did is another question entirely, as they are currently treating the competitive side of the game as a stepping stone. The game was able to draw in players thanks to the immense amounts of money that have been continually spent since early in the game's lifespan. Right now, Fortnite no longer has anything to prove, so there's no point for Epic's management to continue developing the sector.
But don't be confused, by no means is Fortnite on its last legs. The game presently has the highest playercount in its history, which is helped in no small part by the current quarantine. However, competitors are currently realising that things aren't as good as they seem within Fortnite's increasingly exasperated community. The game has a playerbase of 250 million unique players. In total, 2.3 million of them watched last year's Fortnite World Cup, a figure which translates to 0.92%. League of Legends, by comparison, which has 100 million unique players according to official sources, brought in 3.7 million unique viewers for its main event. More viewers, despite a smaller playerbase.
The majority of casual players still enjoy the game, even if it is indeed less than before. Fortnite is still a dynamic and often humorous experience. Since its launch, the title has been a victim of "Casualisation", where the game is dumbed down to achieve a widespread appeal. Whether it be on smartphone, Switch, or other consoles, players of any level can pick up the game and have fun. In 2018, one in two Switch owners had the game installed on their system. For Fortnite, the leading figure in the their genre, such growth is no longer the goal.
This fact is echoed by their treatment of their esports division. For the first main event, Winter Royale, Skite took home $75,000. The event, which was widely viewed by a large number of players from across the world, blew away all expectations when it came to the games. Yet this winter, the 2nd iteration of the event passed by without any notice. Epic put $15 million up for grabs, but the landscape had changed. Currently, Fortnite wants to reward all players equally. So whether you play by phone or computer, the prizepool is roughly the same. From a total $15 million, the highest-placing European player took home a mere $9,000. In total, 45,000 players received a cash payout. Fortinite no longer wants to reward its best players, it would rather give every player a participation trophy.
On a platform like Twitch, where esports is a major factor, everything depends on statistics. Once a perpetual shoe-in for the top rank, Fortnite is now only the 5th most watched game on the platform going off current viewing figures.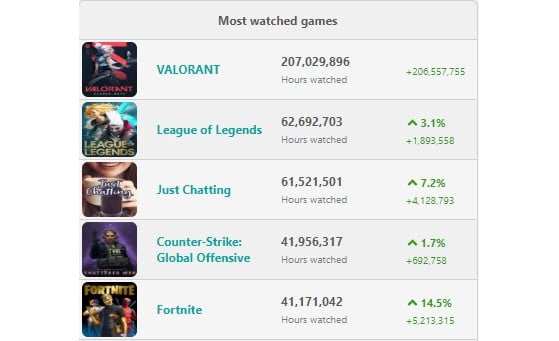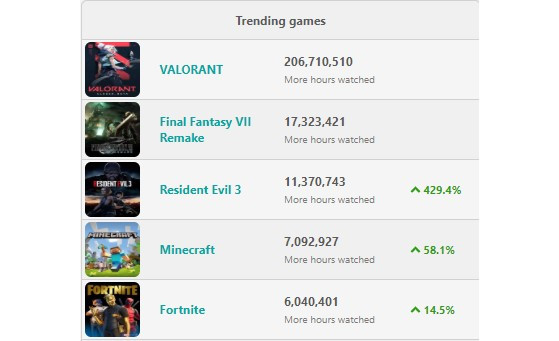 It's hard to say where future updates will take the game, but amongst the pros, Fortnite has been a daily source of increasing anger and frustration, and the arrival of Valorant promises to shake up the status quo. The announcement of the 2020 Fortnite World Cup would have given the community a second wind, but the current restrictions on daily life have made actually organising it an impossible task. Fortnite has reached the first major crossroads in its short history: either Epic decides to fund its esports division in a sustatinable manner, or it cuts ties with the competitive side of the game completely. Unless they want to risk further alienating their dwindling professional scene, Epic Games can no longer afford to stick their heads in the sand.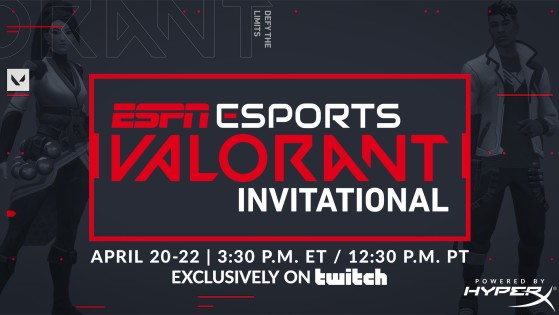 esports
ESPN Esports is organizing its Valorant Invitational this Monday, April 20. Professional players from seven different competitive scenes will play against each other.