We didn't quite want to believe it, but following news that the legendary botlaner wouldn't be part of the RNG roster for the LPL Summer Split, it's now been confirmed — Chinese League of Legends superstar Uzi is retiring from the professional game, due to medical advice surrounding his chronic injuries.
In an eight-year career, Uzi has achieved more than most. As well as being a two-time LPL winner with RNG, he's also a two-time Worlds finalist in 2013 and 2014, and reached the quarter-finals in 2016. Often considered second only to Lee "Faker" Sang-Hyeok in the legend stakes, in five appearances at Riot's showcase event, Uzi has repeatedly come agonizingly close to his ultimate dream — that of becoming world champion.
2018 was certainly the most significant year for Uzi. He finally won his first international trophy at the Mid-Season Invitational, defeating Kingzone DragonX in the Grand Final. Despite having been a pro since 2012, the Chinese carry dominated the event. In fact, in the run up to Worlds 2018 he was widely considered the best player in the game.
With two LPL titles, victory at MSI, and a win at Rift Rivals against South Korea, his trophy cabinet is missing only the title of world champion, but none would begrudge him his lofty status all the same. 
However, 2019 was a mixed year for Uzi and RNG. Unable to claim the LPL title, the team still managed to qualify for Worlds. However, they would exit at the Group Stage, ejected by SKT and Fnatic.
Away from the big stage, Uzi has been plagued by injury. As early as 2015, he spoke of severe shoulder pain and was considering ending his career. In 2018, the carry had to take a break from the Summer Split to rest, only to come back stronger than ever and carry his team to the LPL championship.
Uzi recently revealed in a documentary that he could not play for more than two hours at a time due to injuries to his hands and shoulders. A doctor reportedly told him that his arms looked like those of a 40- or 50-year-old man due to years of intense training.
Although his career as a professional player is now over, we can only hope to see him remain in the professional ecosystem in another position, passing on his years of experience to new young generation of players — and shining again in the biggest competitions.
It has been an exceptional career for a player whose big regret will surely remain that of never having become a World Champion in League of Legends, something, on balance, he probably deserved.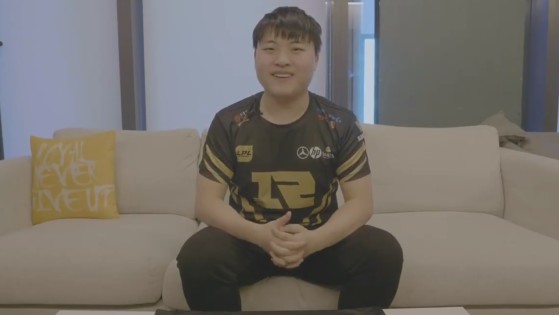 lolesports
RNG announce roster for Summer Split, Uzi not included
The competitive League of Legends scene wouldn't be the same without Jian Zihao — better known as Uzi — after his omission from Royal Never Give Up's starting roster for the LPL Summer Split. However, there's still time for the legendary carry to find a new team.