The first semi-final of the 2020 League of Legends World Championships sure was packed with energy as G2 Esports faced DAMWON Gaming.
According to Esports Charts, this Semi-Finals was the most popular match for the LCK team as they sent G2 Esports packing 3 to 1.
On top of breaking the previous audience record established during the match that opposed Top Esports to Fnatic DAMWON Gaming also broke the record of the fastest game in the history of words as they defeated G2 Esports in just over 19 minutes.
The match recorded audience peaks of over 2.7 million spectators (highest peak at 2,713,380), thus beating the previous record of 2.4 million.
It is important to note that the figures provided by Esports Charts do not include the audience of the various Chinese streaming sites surch as Bilibili or douyutv.
This is still very far from the record set during the G2 vs SKT semi-final of the 2019 Worlds that reached a peak of 3,985,787 viewers.
Will the Worlds Final manage to beat that historical record? See you on Saturday to find out!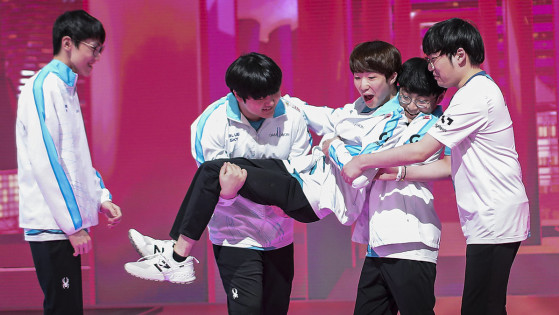 lolesports
2020 Worlds Semifinals: DAMWON Gaming crush G2 Esports, advance to Worlds finals setting record
The LCK's DAMWON Gaming has crushed the LEC's G2 Esports 3-1, setting a record for the fastest game time in Game 4 at 19:04. In doing so, the team avenged its loss in the 2019 Worlds quarterfinals and advanced to the finals, the first time an LCK advanced to that stage since 2017.