The League of Legends Mid-Season Invitational has rounded up its Group Stage. After another long day of competition, DWG KIA and Cloud9 grabbed the final tickets to the next stage, where they'll meet the four other teams that already qualified.
Group C's roundup day kicked off with a big upset. Reigning world champion DWG KIA bit the dust against Cloud9, who had had a worryingly shaky start to the tournament. Led by top laner Ibrahim "Fudge" Allami with a stellar Lee Sin performance, Cloud9 put DWG KIA with their backs against the wall and kicked off the day with a statement victory. Although DWG KIA did lock in their spot for the Rumble Stage by winning their second game against Infinity Esports, the team had to sweat more for it than many would've expected them to.
Despite the strong showing against DWG KIA, Cloud9 was far from securing its spot. It wasn't until direct competitors DetonatioN FocusMe were defeated that the LCS champions could breathe more freely. Once DWG KIA also defeated DetonatioN FocusMe, Cloud9 was guaranteed to make it through. Cloud9's train did not stop, however, as they also . They closed out the day with a 3-0 record and advanced to the next stage with a 4-2 record overall.
The Rumble Stage is up next at the Mid-Season Invitational, kicking off on Friday, May 14th. RNG, Pentanet.GG, MAD Lions, PSG Talon, DWG KIA, and Cloud9 enter another Double Round Robin, playing twice against each other in best-of-ones. At the end of the Double Round Robin, the top four teams advance to the semi finals.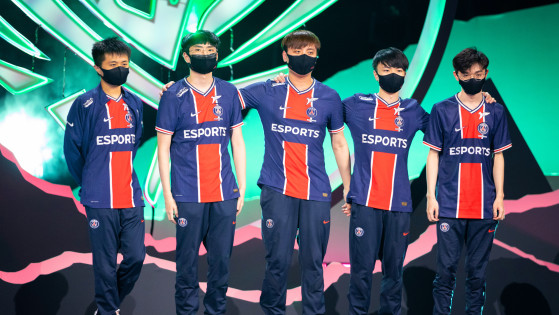 lolesports
Group B has rounded up its final games at the Mid-Season Invitational, sending MAD Lions and PSG Talon to the Rumble Stage.
Image courtesy of Riot Games.