Some days ago, we told you all about the Ruined Bundle, the new premium set of weapon skins that is now available in Valorant.
This bundle is part of a special collaboration with another popular Riot Games title, League of Legends. The "Sentinels of Light" event is a cross-game event featuring new content for every major creation from the studio.  
However, it seems that the collaboration with the team behind Valorant won't end with the Ruined Bundle. According to "Mike - Valorleaks" (@ValorLeaks), a pretty well-known leaker of everything related to Valorant (he was the one who showed the recent bundle for the first time), another bundle will be launched soon.
This one will be called "Sentinels of the Light" and it will feature brand new aspects of the Vandal, Operator, Sheriff, Ares and the Knife.
If you think about it, this makes complete sense. First of all, the new bundle would offer skins for almost every weapon left behind by the Ruined Bundle — it seems that Riot Games doesn't like Marshall, though.
Secondly, and most importantly, it will fit the lore presented by League of Legends. In a few words, the Sentinels of Lights are the brave warriors that fought against the Ruined King, Viego, and his allies. That's why it is logical that we will get these weapons in the near future.
However, there is still no official confirmation from the studio behind Valorant. There probably won't be one for weeks, because the other bundle has just been released and they will want to wait some time to reveal a new one. We'll let you know when that happens.
The Ruined Bundle is out now in Valorant, and it includes five weapon skins. You can purchase it for 8700 VP.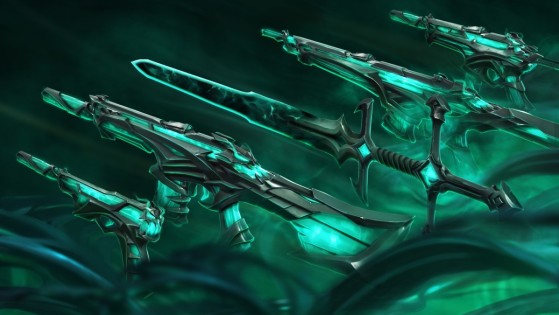 Valorant: A new video shows the upcoming Ruined Bundle in action
The collaboration with League of Legends will bring a bunch of brand new weapon skins, including one for the Ghost, Phantom and much more.