Valorant looks like CS:GO in many ways. If you started playing Riots Games' FPS without having gone through Valve's, getting started can be difficult. Whether you're new to FPS or come from Fortnite, Overwatch or CoD, here's a list of tips and tricks that will help you progress.
For those who want to go even further, there is a special section at the end of the article.
Basics
Learn how to place your scope correctly.

Taking this reflex will allow you to headshot your enemies much more easily. If your crosshair is already well positioned, you'll be much more effective during your duels than if it's placed on your enemy's feet.

You have to be ready to shoot no matter what.

Aiming isn't everything and concentration is also significant. Glancing at the map, radar, or killfeed should be done when you double your caution and concentration. Your peripheral vision will be enough to signal a problem in your scope.

In defence, hold a position. Don't make any unnecessary movements.

You can very quickly be caught out of position and punished. On defence, hold a position. If you leave it, it's only because your position is compromised or because an other site is urgently being taken by the enemy.

Only run for a good reason, otherwise walk all the time.

Running — and making noise in general — isn't trivial. Being discreet is essential and will often save your life. You can run if your position is compromised, if you have to get to another site very quickly, or if you're absolutely certain that you're far away from a possible enemy. Running gives all the necessary information to the enemy...

Listen carefully to all the sounds around you.

Taking information is half your duel. Knowing where an enemy is coming from gives you a few hundredths of a second ahead of him, who may not necessarily know where you are. Identifying footsteps or skill noises can give you a lot of information that is just as valuable for you as it's for your team.

Your radar is extremely useful.

Always check on your radar where your allies are and where enemies may be coming from. If they can come from a place you aren't looking at, put yourself back in place so you aren't surprised. Dying because you were caught on a side that you thought was guarded by an ally mustn't happen.

In attack, shift line by line methodically.

Even if you initiate the attack, you must look at each line. From the moment you advance by shifting line by line, you'll be heard. Remember to communicate with your team so that everyone has your back. Leave no room for doubt!

Don't store your weapon/Don't reload at any time.

You don't reload at any time, just as you don't change weapons without reason, just as you don't prepare a skill for nothing. These are all situations where the enemies may surprise you and you'll be vulnerable. Your skill kit should be an asset. Dying while using a skill or being surprised while you were about to use one isn't helping you.

"Knowledge is a weapon" is not just a quote.

Do you only know how to play two agents? Aren't you interested in the others? It's no problem. You still need to know each of the skills and their specifics. Knowing what kind of effects your opponent has is absolutely necessary.

Practice pays off.

Train your reflexes and your aim. Even if you just play without using the training mode, you'll make progress. Don't despair, and persevere, but always aim to have fun. Getting frustrated with a game will never put you in a good position to learn.

Be comfortable with your set-up.

It's important that you're comfortable with your set-up — correct position in front of the monitor, enough space to move your mouse or keys associated with specific controls in-game. If you repeatedly feel that a shortcut key is really not intuitive or practical for you, change it. Also, consider adjusting your scope in the game settings, same for your mouse sensitivity. Once you get used to your new configuration, you'll be much moreefficient.

Challenging and reflecting.

Always ask yourself when you die whether you could have done differently, whether you could have done better, whether dying here was really useful. It's important to understand the game to progress. Sometimes, some deaths are useful for your team if they lead to a site capture. If you die several times in a row because you were caught on the wrong side or because you lost a duel, you may have to change your gameplay.
Going further
If you have already mastered all the tips listed below, your improvement will be linked first and foremost to your aim.
You'll also have to work on your decision making and your duels. Learn to have instinctively a more or less precise idea of where your enemies are and guide your team. Doing two isolated kills on C is great, but if your team loses A and you have to retake the site alone against three enemies, the round will certainly be lost anyway.
Make your movements according to the sites.
Finally, maximize the control of your kit, the fluidity of the use of your skills and the timing of their activation depending on what you want to do. KIlling? Temporizing? Securing an area? Holding a position? All these objectives are different and will make you use your abilities according to what you want to do.
Original content by Benoît "Tyler" Pinot.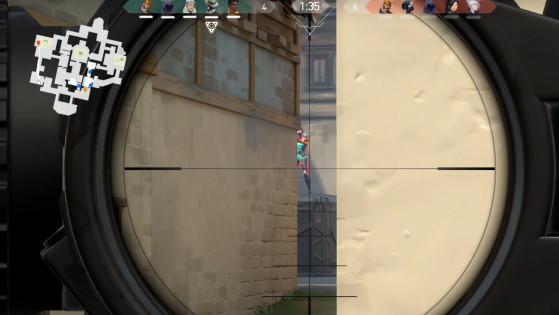 There are 17 weapons on Valorant at the launch of the Riot Games FPS. Which purchase should be favored and in which situation? It will depend on your economy, and your style of play. Dive into Valorant's in-game store to talk about damage, recoil and magazine capacity.