Every week, Tim Sweeney's firm showers players with a completely free game via its Epic Games Store platform. All you have to do is log in and download the precious gift to add a new title to your collection. Here is the list of games to download from the Epic Games Store during the month of May 2022 . Each new title overwrites the previous one on Thursdays at 5:00 p.m. every week. This article will be updated weekly with each change.
Just Die Already
Just Die Already is a sandbox game where old people wreak havoc from the designers of Goat Simulator. You're old, pissed off, and you got kicked out of your nursing home. How do you survive in a world that only wants you dead?
Duration of the offer : from April 28 to May 5, 2022
Initial game release : May 2020
Paradigm
Paradigm is a surreal adventure game set in the bizarre, post-apocalyptic Eastern European country of Krusz. You play as a seductive mutant, Paradigm, whose past comes back to haunt him in the form of a genetically modified sloth who vomits candy.
Duration of the offer : from April 28 to May 5, 2022
Initial game release : April 2017
Terraforming Mars
Synopsis : In Terraforming Mars, you lead a corporation that has special characteristics. Play Project cards, boost production, place your towns and green spaces on the map, and compete for rewards and objectives!
Initial Release : October 16, 2018
Regular price : €19.99
Available for free : May 5 to 12, 2022
Jotun: Valhalla Edition
Synopsis : Jotun is a hand-drawn action and exploration game set in Norse mythology. In Jotun, you play as Thora, a Viking warrior who, deprived of a glorious death, must show the gods that she is worthy to enter Valhalla. Impress the gods!
Initial release : December 6, 2019
Regular price : €14.99
Available for free : May 12 to 19, 2022
Prey
Synopsis : In Prey, you wake up in the year 2032, aboard Talos I, a space station orbiting the Moon. You are the key subject of an experiment meant to alter humanity forever, but the situation has turned into a nightmare.
Initial Release : May 5, 2017
Regular price : €39.99
Available for free : May 12 to 19, 2022
Redout: Enhanced Edition: next free game
Synopsis : Redout is a tribute to the behemoths of classic racing games. It was designed to deliver a fast, challenging, satisfying and uncompromising driving experience, imbued with a feeling of vertigo that stands at the heart of arcade racing games.
Initial release : September 2016
Regular price : €7.99
Available for free : May 19 to 26, 2022
The best free games on Steam
If you are not really keen on the idea of downloading the Epic Games Store launcher, the Valve store also offers an entire category of games reserved for free games. We pass the tenors of free-to-play who have been squatting at the top of the ranking of the most popular games for ages, with a selection of the best titles to be downloaded for free on Steam.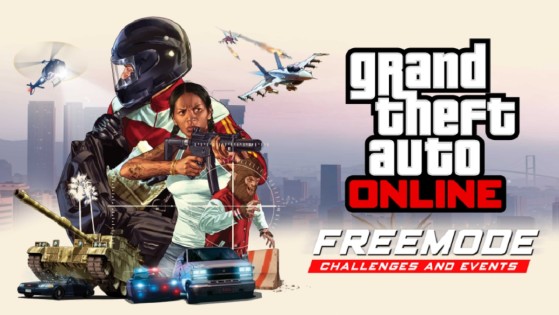 Weekly Updates are now available in GTA Online starting May 12. On the program for this new week, new bonuses, but also and above all vehicles to win, including the Bravado Verlierer.