Animal Crossing New Horizons, the famous "lockdown game", has managed to convince millions of people around the world to buy a Nintendo Switch just to play it. Today, it is the second best-selling Nintendo game of all time and that's not counting the profits of its DLC, Happy Home Paradise. However, the Japanese company decided, in November 2021, to stop content updates, thus abandoning poor Tom Nook and the more than 40 million fans still hoping for a surprise over the months.
Already well-stocked, ACNH could have offered twice as much content as the possibilities are endless and the players are eager for new features and new inhabitants to cherish (or hit with their net). But then, why? Why did Big N stop maintaining one of the most profitable titles of decades?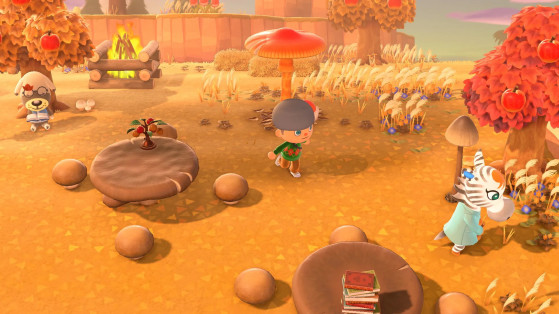 The crazy success of Animal Crossing New Horizons
A fanbase already present
The Animal Crossing story obviously doesn't start with New Horizons on Nintendo Switch. Fans of the license have been numerous since the release of the first opus on GameCube (2004) and especially Wild World on the DS. After a less convincing Let's Go to the City (Wii), it was New Leaf (3DS) which, in 2012, finished convincing players around the world that the franchise had incredible potential. From then on, we were treated to a few spin-offs like Happy Home Designer, Welcome Amiibo or even the Pocket Camp mobile game, but we were all expecting a new opus when the Switch was released in 2017.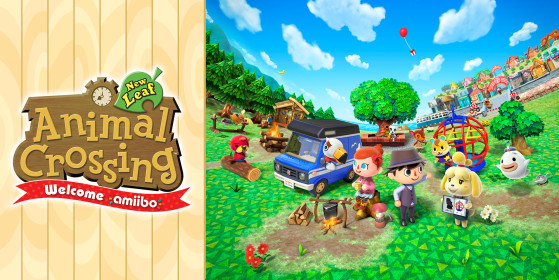 After many Nintendo Direct giving absolutely no news of Tom Nook and Marie, it was finally on September 13, 2018 that everything changed. Obviously Nintendo was not going to deprive itself of a new console to release yet another Animal Crossing, even more beautiful and entertaining. During this famous ND, the presenters had reserved a major One More Thing or rather a kind of emotional lift that all fans still remember today. We could then see Marie, in her office in New Leaf, completely exhausted. Everyone thought then that the time had come to announce the new opus but very quickly, we understood that it was in fact about his cinematic entry for Super Smash Bros. Ultimate. Leaving the town hall to join the fighting game roster, we thought that the announcement only concerned the latter but surprise: it was finally Tom Nook, behind his desk, who revealed that a new game was indeed in the works with an expected release in 2019.
A few months later, in June 2019, for E3, a real New Horizons trailer was released and the craze had started.
Containment: the main reason for success?
As you know, ACNH was not finally released in 2019 but rather on March 20, 2020 . At that time, almost all countries in the world were in lockdown due to the COVID-19 pandemic. A painful period for many but also synonymous with social distancing and boredom. New Horizons positioned itself as a kind of savior where players could enjoy a warm environment, socialize through online multiplayer features and more. The "cozy game" genre has never been as popular as at this time and it goes without saying that confinement has largely contributed to the success of Animal Crossing.
Impossible to know if the title would have sold as well without the COVID but it is certain that it would have been very well received despite everything.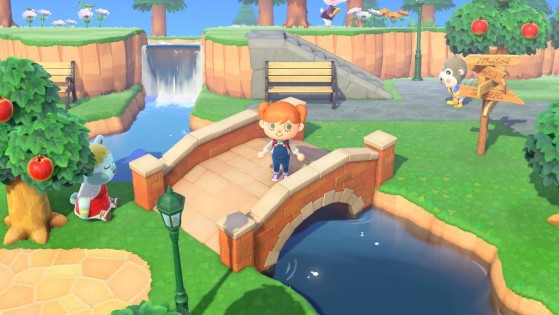 A still exceptional financial results in 2022
With colossal sales just in the first month of its release, Animal Crossing New Horizons is still positioned today in the Top 10 monthly sales of 2022. In total, more than 40 million copies have been sold in the world since March 2020 (data from 12/30/2022). ACNH is therefore currently the second best-selling game of all time at Nintendo, after Mario Kart 8 Deluxe.
Source of graphics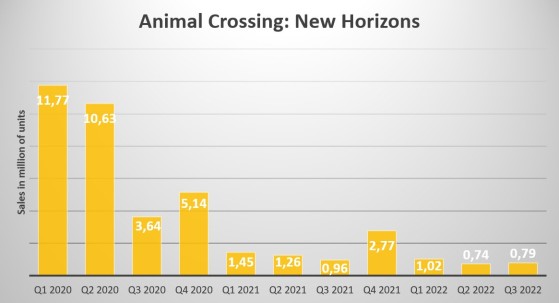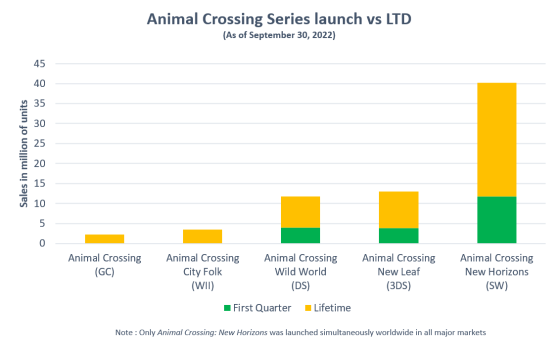 Endless potential
The winning bet of the Happy Home Paradise DLC
After a great year of updates adding events, diving and some seasonal furniture, it was finally in the fall of 2021 that Nintendo announced THE biggest update for the game but also a paid DLC called Happy Home Paradise. The 2.0 update then added new features such as the Kitchen or the restructuring of Joe's island, but also brought back highly appreciated NPCs from the old opuses such as Robusto and his Café, Admiral and his mystery islands or even Tortimer and Ginette!
For its part, the DLC included 80% of the gameplay of the spin-off Happy Home Designer on 3DS. Rolling it out as a paid ACNH expansion was a great idea from Nintendo, especially since the features and furniture could then be transferred into the main game.
An unexpected surprise that unfortunately hid some very sad news : 2.0 would be the last major free content update. Of course, the players had the time to take full advantage of this update as well as the DLC which made it possible to create dream houses for the inhabitants, but the reality is that no other update (apart from a few patches of bugs) has not been deployed since.
The Pocket Camp mobile game that continues to perform
By September 2021, more than 60 million people had already downloaded Animal Crossing Pocket Camp on their smartphones. If the possibilities are far fewer than on ACNH, the mobile title at least has the merit of being updated every month with new furniture to buy, new missions to complete to receive unique rewards or even inhabitants to invite. . The decoration content is so vast that it is sometimes frustrating to think that none of the objects have yet been added to New Horizons.
Both games are developed differently and it is even more frustrating for many to see that it continues to receive interesting regular updates after 5 years of existence. Downloadable for free, Pocket Camp's economic model is simply godsend for Nintendo. There is no obligation to purchase to advance in the game of course, but many subscriptions are available between 1€ and 20€ to obtain certain advantages, green tickets (premium currency) or even lucky cakes ( kind of lottery to get rare furniture).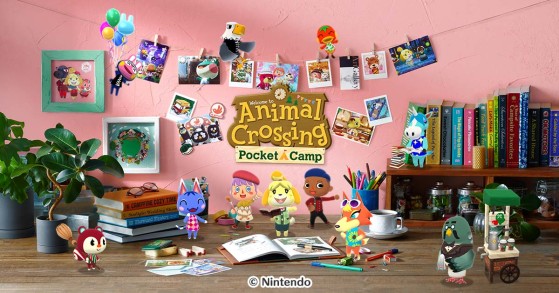 In short, a very profitable free-to-play which makes me think that Nintendo has the perfect model there. But why not transfer it to ACNH by offering other paid extensions?
The Forgotten Possibilities of ACNH
If New Horizons is absolutely wonderful, it does have a few flaws, one of which in particular saddens all fans of previous opuses: things are missing. So, of course, the games are all different and Nintendo has never wanted to make a copy of New Leaf or Wild World, but the truth is that most of the features added as updates are updates were deja vu . It was good to find them again, but many fans felt that nothing new would ever be added (except the Kitchen). Even the DLC is a sort of improved Home Designer.
Nintendo abandons the game despite everything, why?
After this long preamble that was necessary to get back in mind how successful ACNH has been from A to Z, it's time for me to look into the question that has been haunting me for months: why stop everything after such a enthusiasm and such profitability? When I see how Mario Kart is squeezed by all means with chain expansions and a roadmap pushed to 2023, why not do the same with the second best-selling Nintendo game of all time?
A lack of resources?
I really find it hard to believe that the reason lies in Nintendo's workforce or its means. The team that worked on ACNH certainly left for Splatoon 3 afterwards, but a few people (or new ones) could have taken on the task of adding content that already existed on Pocket Camp, for example, in order to transfer it to ACNH. Besides, if Splatoon 3 sold quite well this summer, we are far from the success of Animal Crossing and it might have been fashionable to form a new team to take over?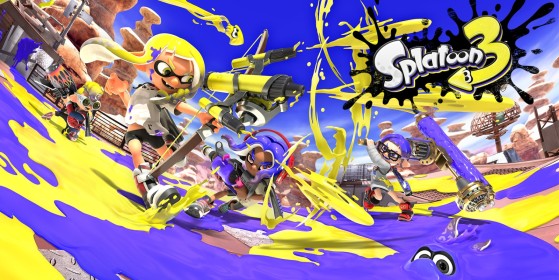 The limits of the Nintendo Switch
What if, in reality, it was all just a technical question? When you visit outrageously well-decorated islands, you see how much your console struggles to display the hundreds of pieces of furniture, right? What if ACNH was in fact already too heavy and greedy for the Switch to support it if we added new features to it? It is then impossible to publish any new major update.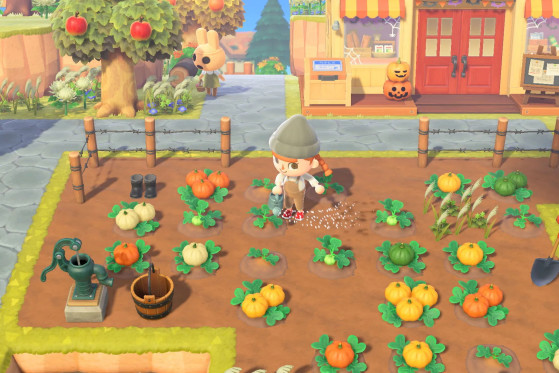 Nintendo is already preparing the next opus?
And if, finally, the abandonment of New Horizons was simply explained by the fact that the development team, having now finished Splatoon 3, was already dedicated to the next opus of the franchise? It is very likely that it will be more of a spin-off that will be released on Switch while waiting for the new console (and therefore the next main game). Nobody seems to want a Welcome Amiibo on Switch, Home Designer has already been released in DLC, and the mobile game is already working very well, no need to make a second one. So what could Nintendo have in store for us as a spin-off? The possibilities seem endless but then again I wonder why Happy Home Paradise is designated as the latest DLC on New Horizons. Why not make more? Players would definitely buy them just like Mario Kart or Super Smash.
Imagine, for example, €5 packs offering inhabitants and new furniture like on New Leaf with Amiibo cards?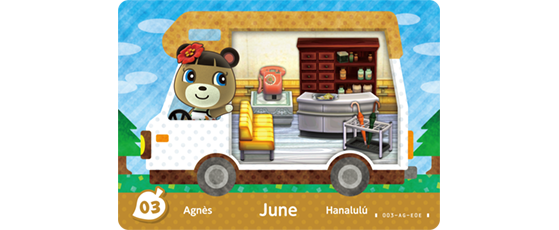 Unfortunately, I do not have the answer to this question. However, I did a lot of research to find a clue in the words of the team behind the development of New Horizons but I found nothing. Maybe Aya Kyogoku (game director) and Hisashi Nogami (producer) feel like they've done the trick and just don't want to work on this flagship title anymore? Anyway, one thing is certain: the advent of Animal Crossing has allowed tons of studios to create their own "cozy games" and, personally, I'm still looking for the title that will keep me waiting. until the release of a new album. Disney Dreamlight Valley is a very good example.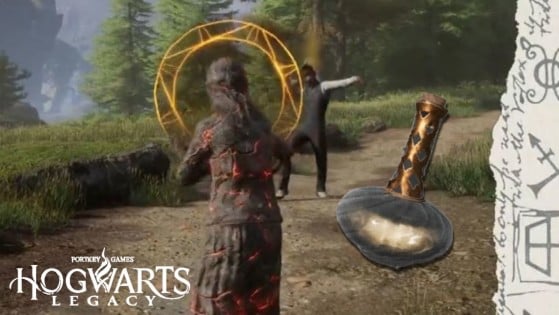 Hogwarts Legacy Hogwarts Legacy is only a few days away from its release and the communication around the game is intensifying. Here is a new potion never seen before in the Harry Potter saga that should help you defeat the tough enemies of the open world.