Devolver Digital has a long list of successful indie games behind it. Recently, Cult of the Lamb even celebrated 20 million sales. Not content with this success, Devolver Digital has just revealed that a new game will be announced later this week.
The Beans Team
The publisher simply tweeted on the official Devolver Digital account that a new game would be announced within the week. No other details were given: no date or clues about the game that will be unveiled.
According to the specialized site Gaming Bolt , the announcement could concern a game developed by a studio based in Toronto, The Beans Team . Indeed, a job posting from the development studio posted in July 2020 mentioned that she was working alongside Devolver Digital on "unannounced new intellectual property."
The job posting was for a Programmer , and it stated that the game in question was a first-person action-adventure title developed on the Unreal Engine .
Some things were also mentioned in the job posting, such as the possibility of the game being released on consoles , since "console development experience" was listed in the potential candidate's "required qualities" list.
Wacky assumptions
Fans didn't hesitate to make more or less realistic assumptions about the future announcement in the replies under Devolver's tweet. Among the (relatively) realistic speculations are Hotline Miami 3 , a sequel or DLC for Katana Zero , My Friend Pedro 2 , or even a sequel for Enter the Gungeon (cleverly called Exit the Gungeon?)
"Devolver Brawlers", a fighting game with the different heroes of the Devolver games, Cult of the Lamb 2, or even a remaster of the game Tarzan on S1, as suggested by some users, seems to us to be a little less down to earth hypotheses . Case to follow!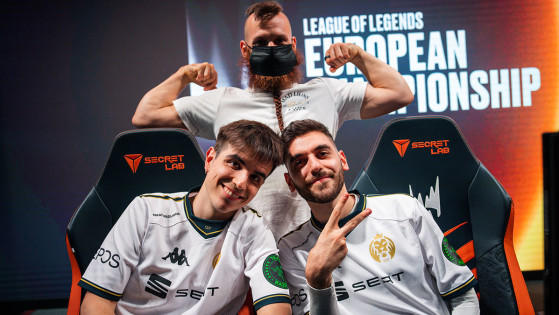 The Worlds of League of Legends are getting closer and closer and teams are booking their tickets one after the other. This weekend, we do not know if there was a promotion, but several competitors have validated their presence in North America.