A few weeks ago, Amouranth made a shock revelation on stream. While it offered various types of content on Twitch (including hot tubs), we recently learned that behind the scenes is unfortunately very sad and dark. In truth, hiding behind all this content none other than her husband who would force her to go ever further, sometimes forcing her to lie about her private life. Kaitlyn Siragusa, her real name, also made mention of domestic violence...
Since then, the haters have as usual made life difficult for the content creator, accusing her of having lied about her marital experience in order to make the buzz or even saying that this whole story would have made her lose money. . So, real info or fake data?
Amouranth shares down?
Since the streamer's revelations, many have been mocking her on the networks, saying her stocks are down. In response to all this, Amouranth said that these people have absolutely no idea what they are talking about, in addition to having no stable notion about investing in general. While there's no shame in seeing her shares go down, the content creator is clear: it's not.
"I've had a lot of people throwing me quips like 'lol, your stocks are down'. If my platforms and business interests were consolidated into one organization, I'd see 7-figure money inflows (after taxes) every month, regardless of interest rates or the economy. And my haters are going to imply that asset prices being dramatically lower when I'm a net buyer is a BAD thing??? No, I'm saying the lower the better."
The streamer adds that her purchasing power has even doubled in recent months. To knock out her haters, she ends by saying, "If you're trying to buy as much or something as possible, why would you want the price to be higher? To make a fancy number in a brokerage statement look higher ?" . Logical, right?
The fans of the streamer still as numerous
And the numbers prove it! Last weekend, she passed the threshold of 6 million followers on Twitch. Like what her community is always present, regardless of the adventures that the content creator has had to face. Once again, she will have shut down her haters and prefers to focus on those who support her rather than those who try to put her down through teasing.
As always, Kaitlyn is undeterred and prefers to focus on her future as well as her future career. Now free to create the content she wants, the streamer wants to spread her passion for animals through her networks. As for the haters or those who try to laugh at her misfortune, she prefers to ignore them as she always has.
"I'm positive for the future, I'm happy to be free. I'm happy that my dogs are doing well (...) I don't know what I'm going to do next. I hope there will be a lot no more animal streams. It's going to take time. I don't know if or when I'll go back to a full schedule. At least for now, I think I'll rest."
Amouranth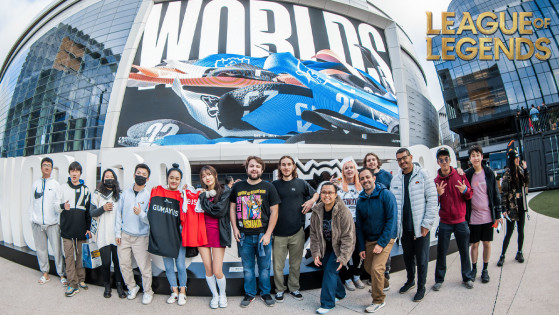 Breathtaking, incredible, majestic... There is no shortage of words when talking about the final of the League of Legends Worlds. The ceremony was exceptional and we had chills live from the Chase Center. We may be a little biased, but for us, it really is the best esport.