This weekend ended the twelfth edition of the Worlds League of Legends. At the end of a daunting final that kept us on our toes until the fifth game, it was finally DRX who won against T1 — a historic run for a team from Play In. take stock of the audiences for the biggest tournament of the year. Did the 2022 edition manage to surpass that of 2021?
A less followed tournament...
It is clear that the schedules were unfortunately unsuitable . In Europe as well as in Asia, it was either to have sleepless nights or not to go to work. It is therefore no surprise that overall, the Worlds 2022 recorded fewer hours of viewing over the entire duration of the tournament compared to the previous edition : 174,826,794 hours viewed in 2021 for "only" 141,943 946 this year, all with more airtime (144 compared to 135 hours in 2021).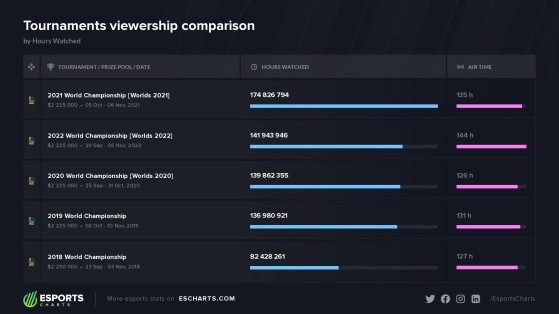 We can not say that the hype was not there. We have to be honest, the night or day schedules have surely discouraged a lot of fans, who may have simply preferred not to watch the play-in – a phase considered less important – to only focus on the main event. and the final stages.
.... But a new record for the final
However, if there was a match that no one wanted to miss, it was the grand final and its dream poster: T1, and Faker to conquer his fourth title, against those who could be presented as the ultimate challengers: DRX, and Deft in search of their first international title. And this year, the final clash did better than previous editions with a peak of viewers at 5,147,699 (about 4 million in 2021 and 3.9 million in 2020).
Despite this good figure, the League of Legends Worlds 2022 final is not the event that will have gathered the most spectators in history . Among all tournaments (all games combined) the 2022 World Championships ranks second in terms of concurrent viewership. The Free Fire World Series event, organized in 2021 in Singapore, continues to hold the record with a peak of 5.4 million simultaneous viewers.
It should also be remembered that these figures do not take into account the Chinese public - but it is a safe bet that they were fewer than in 2021 since no Chinese team managed to qualify for the final ( JD Gaming, the last Chinese team, lost in the semi-final against T1, and is also the second game with the highest peak in viewers).
Source: escharts.com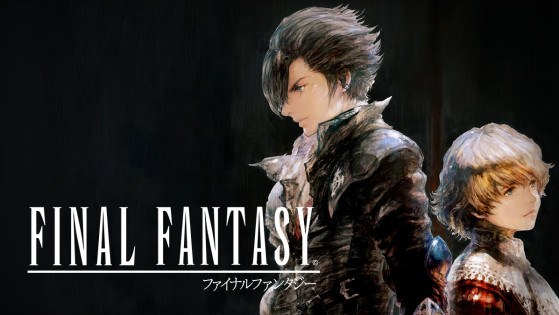 New round of some world publications for the team at the bedside of FF16 led by the charismatic Naoki Yoshida. On the program, a lot of new information on Square Enix's PS5 exclusivity scheduled for next summer and a communication hiccup.