As September's big Switch release, Link's Awakening brings joy to owners of Nintendo's hybrid console. But how does this new take on a cult Game Boy classic shape up?
Genre: Adventure

Release Date: 20 September, 2019

Platform: NIntendo Switch

Developer: Nintendo EPD / Grezzo

Publisher: Nintendo

Price: $59.99
Rocked by a brutal storm on the high seas, LInk struggles to keep control of his ship. He ends up falling overboard, only to be found by a mysterious young woman, herself stranded on the edge of a beach paradise.
The island itself is very particular, a huge egg sitting atop a volcano at its core. Link will have to figure out a way to leave the island, making new allies and friends along the way to help him accomplish this quest.
As with on the Game Boy version, the atmosphere of Koholint Island is everything, and we're glad to see it replicated here. Everything is (obviously) so much more colourful now, and the perky, re-orchestrated soundtrack could lead some to feel something of the original's identity was lost in this update.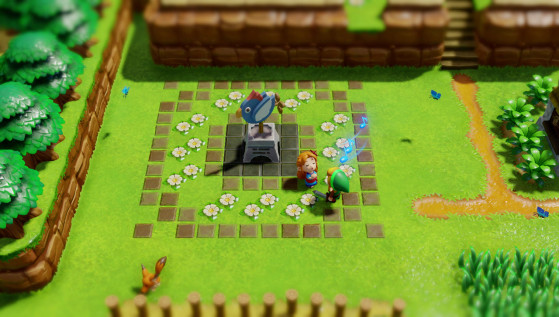 The construction of Link's Awakening is identical to that of the other 2D games in the series (not including Zelda II: The Adventure of Link). Between searching for keys to enter dungeons and the Instruments of the Sirens to wake the Wind Fish, fans of the series won't be disappointed.
This episode does have some peculiarities, as in the 1993 version - dungeons are played in profile, like in 2D Mario games, with some platform phases. Also, Link's Awakening doesn't hesitate to reference other licenses - nods and winks to the Mario franchise rain down, while "Mr Write" owes his existence to the same character in the Super Nintendo version of Will Wright's SimCity.
Link's Awakening is played like a fairy-tale. It's never too complicated — Hero Mode is available from the start — and is a game that can be enjoyed calmly. Pop on your headset, shut yourself away from the real world and find peace of mind on Koholint Island.
Nintendo has tried to innovate a little in this remake by offering Chamber Dungeon, a new customisable dungeon mechanic. Those who may be expecting a 'Zelda Maker' will be disappointed — this mode is not particularly deep, and is quickly sampled, quickly forgotten.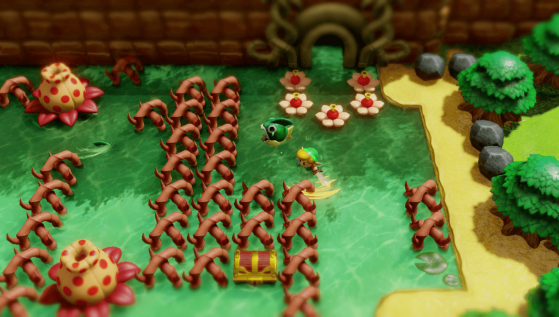 Even just by watching the trailer and seeing the images in this review, you can see that Link's Awakening adopts a style markedly different from the rather melancholy atmosphere of the monochrome original. However, the artistic direction of the remake makes you want to play with figures for real — and doesn't diminish from the character of the original.
Sadly, Link's Awakening is riddled with issues, most prominent the drops in frame rate in both the exploration of larger areas and in screen transitions. It's a shame, but these issues can be overlooked thanks to the rest of the game being magnificent.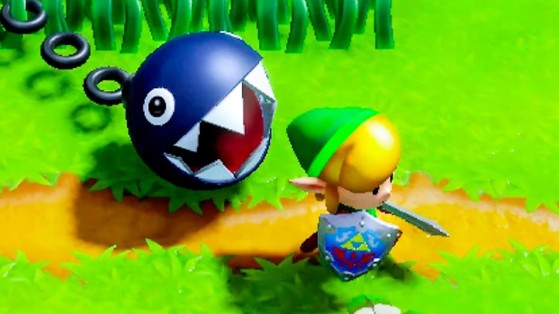 This cute remake of the excellent Link's Awakening does exactly what we expected of it, namely allow us to relive the Game Boy adventure many experienced more than a quarter of a century ago.
Be careful though, this is strictly a remake. The only innovation — the Chamber Dungeon customization tool — is not really worthwhile.
With its diorama-style artistic direction, it is nevertheless a very good pretext for new generations to discover this classic — even despite the many framerate drops, which are difficult to justify.
Diorama-style artistic direction
Sublime orchestrated soundtrack
Chamber Dungeon mode is anecdotal at best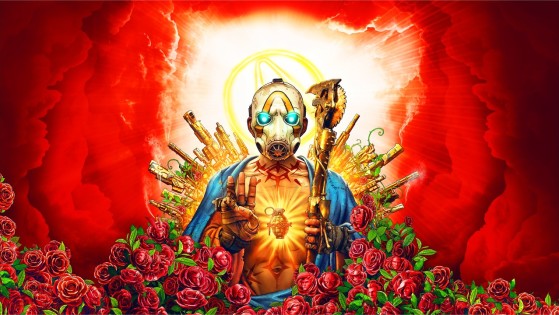 Check out our verdict on Gearbox Software's loot-shooter, available now on PC, PlayStation 4 and Xbox One.
Written by Bastien "Lloyd" Dubosq-Luyer. Translated from the French by Millenium.