Summary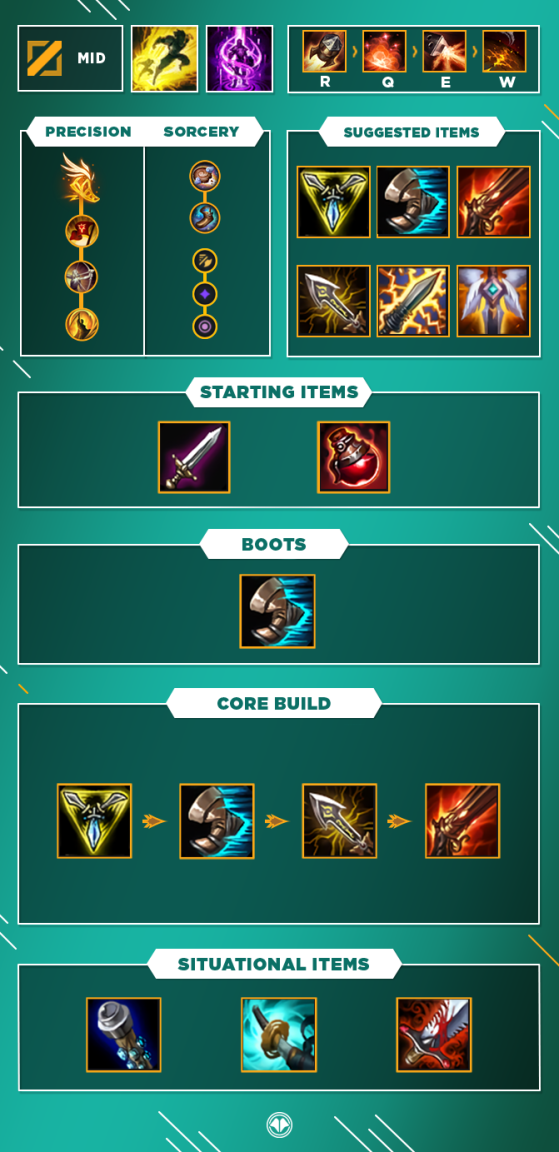 Items
Early game
Doran's Blade is the best option to start the game because it brings you life, AD and lifesteal. You can take a second one to accumulate stats and have a good start to the game.
Boots
The Sorcerer's Shoes make your spells more impactful, especially your ultimate which inflicts magical damage.
Core Items
The Trinity Force is a must on Corki, as the effect of the Sheen plays a lot around his spells and increases his damage considerably.
Then go with Infinity Edge. Corki remains a champion with physical damage and benefits very well from this item stats.
If there isn't a lot of magic damage in the opposing team, go for a Statikk Shiv. Otherwise, go for a Maw of
Malmortius, to favor a little magic resistance at the expense of attack speed.
Corki is a champion who needs attack speed, so take a Rapid Firecannon. Once loaded, your range is more important, as your damages, which is very interesting coupled with the effect of your Sheen.
Situational items
Mercurial Scimitar brings you lifesteal and a way to escape crowd control.
Guardian Angel will effectively protect you from assassins, who will think twice before engaging you.
Bloodthirster will be a good option if neither of the other two items seem necessary. You will have more physical damage and more life draining.
Match-ups
Tips & Tricks
Make the most of your Q - Phosphorus bomb in lane to poke your opponents. Also, it grants sight, so you can check for enemies in the bushes with it.
You can use the Package, from your Passive - Hextech Munitions, from a distance. Use it to surprise your opponents.
Even if your E - Gatling Gun seems a bit strange because of its range, it inflicts an armor reduction. Don't neglect it during damage exchanges.
Your R - Missile Barrage is a great poke force. Try to use it as much as possible to poke your opponent at long distance. Also, every 3 uses, you have a Big One that increases your damage even more.
Your W - Valkyrie is a channeled spell, so it's not instantaneous and can be interrupted.