Summary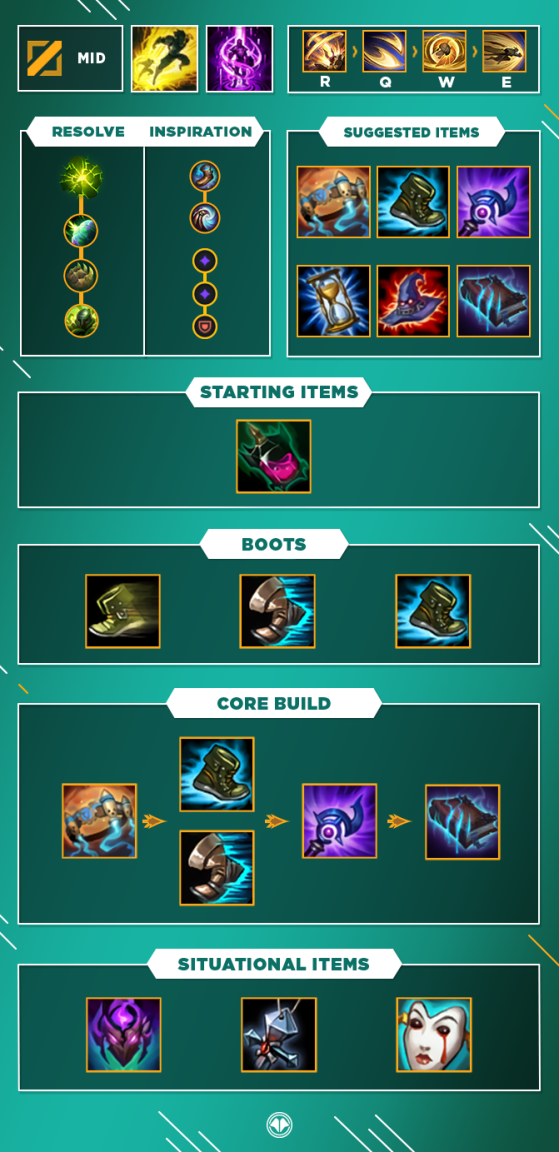 Items
Early game
The Corrupting Potion is a good asset in the lane phase. You can spam your spells to push a wave when when you get the opportunity, return to base, then TP on your lane to make its use profitable.
Boots
Sorcerer's Shoes is recommended if you aim to go on the offensive in order to maximize the impact of your spells.
Mercury Treads is a good pick when you fear a match-up with heavy magical damage.
Choose Ninja Tabi, on the other hand, against physical damage (against Zed or Talon for example).
Core items
Hextech Protobelt-01 is the item you absolutely must get as soon as possible. It will allow you to get closer to your targets and clear the waves quickly if needed.
Luden's Echo will give you a considerable powerspike of damage, and it's easy to proc his passive with an Q - Winds of War at maximum range.
Situational items
Void Staff is highly recommended when magical resistance builds up within the enemy.
Zhonya's Hourglass can be used to temporize.
Morellonomicon offers some magic penetration and counter healing and regeneration.
Rabadon's Deathcap can prevent the champion from running out of steam at the end of the game.
Match-ups
Tips & Tricks
E - Justice Punch does not allow you to go through walls.
The recovery time of Passive - Colossal Smash is reduced each time one of your spells hits an enemy champion (only once per spell).
W - Shield of Durand cannot be interrupted by enemy control.
The more you channel W - Shield of Durand, the longer the provocation takes.
R - Hero's Entrance lands you on the target's position during launch.
Keep one of your two controls available to block your targets in your Q - Winds of War.
Wait until you get the passive shield back from W - Shield of Durand to take advantage of more advantageous exchanges.
Be careful not to use your Flash while channeling W - Shield of Durand, or the spell will dissipate.