Summary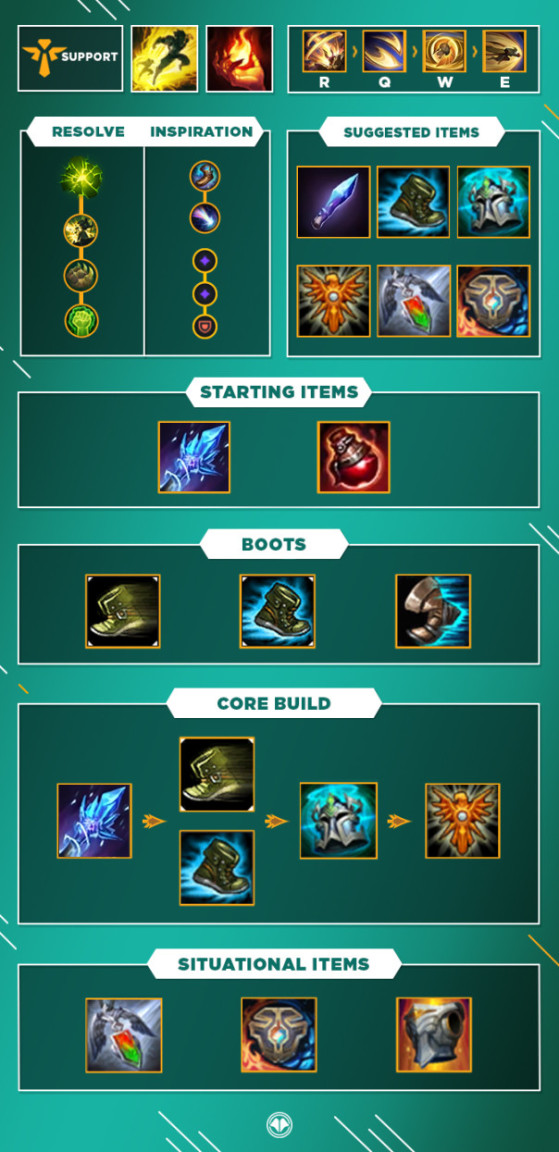 Items
Galio is an AP offtank with a lot of crowd control and a good amount of damage. It allows him to ensure elimination when he catches an enemy in the presence of his ADC. Its build will be rather practical, with however, a minimum of power.
Early game
Get Spellthief's Edge. It will allow you to do more damage during the lane phase, so that you can potentially kill your opponents. Include two Healing Potions with this item.
Boots
Take Ninja Tabi against a massively AD team, or Mercury Treads against a team with heavy AP damage. Pick Sorcerer's Shoes when you are very advanced and are looking to increase your damage at the expense of your ability to take it.
Core items
Knight's Vow is a very interesting starter item as it allows you to have good statistics for a tank but especially a passive which will offer survivability to your carry.
Locket of the Iron Solari will allow you to be stronger thanks to its defensive statistics, while giving you, and your allies, a shield which will be very effective in a teamfight, combined with the Redemption active.
Redemption will give you CDR, as well as HP and Mana regeneration, which will allow Galio to hold his ground in a lane, not to mention his active that will heal allies and injure enemies over a wide area, making fighting easier. In addition, Redemption is an inexpensive item, making it ideal for the support role.
How to play Galio?
Galio is not very efficient before level 3, he'll have to be played quite passively until you can catch an enemy with his combo.
Level 1: You will take Q - Winds of War to be able to poke early while waiting for your level 3. Use it to do some damage to the enemy ADC when he last hits a minion.
Level 2: Continue to play passively and poke with your first spell while waiting for your level 3, because you'll need all three spells to catch and eliminate a target. Use W - Shield of Durand to save you and your ADC in case of an enemy aggression.
Level 3: It is now time to take E - Justice Punch, with which you will now be able to pick up one of your enemies, immobilize him for a while with W - Shield of Durand and inflict heavy damage with the help of Passive - Colossal Smash and Q - Winds of War.
Match-ups
Tips & Tricks
Passive - Colossal Smash cooldown time is reduced when one of your spells hits an enemy champion. So, catch an enemy with E - Justice Punch, strike him with Colossal Smash, then use W - Shield of Durand and Q - Winds of War to reset Colossal Smash in order to re-use it and deal maximum damage.
E - Justice Punch makes Galio move backwards before charging him forward. Use this recoil to reach a nearby enemy with less time to react by casting your spell the other way around.
You can use Flash while channeling W - Shield of Durand to surprise your enemies out of range and provoke them, often resulting in an elimination of your target.
The channeling of W - Shield of Durand can't be interrupted by enemy control, so you can release your spell at the right time in all circumstances.
R - Hero's Entrance will land you on the targeted ally's position at the moment you cast the spell: so there's no need to use it to catch the runaways your ally is chasing.