Summary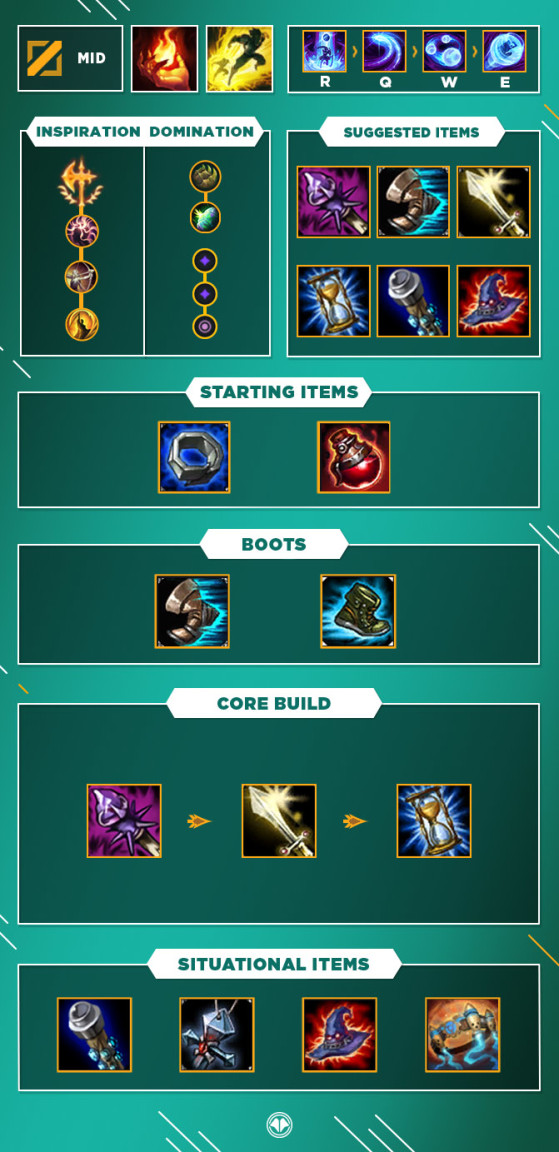 Itemization
Early Game
Doran's Ring and two potions will give you the regeneration you need to get over Diana's weak start.
Boots
In most cases choose Sorcerer's Shoes. Mercury's Treads are a good alternative if your opponents have multiple crowd controls and heavy magic damage.
Core Items
Rod of Ages makes you quite tanky while offering you some sustain. That's enough to make Diana very effective early in the game without sacrificing too much power.
Nashor's Tooth gives CDR and attack speed which drastically increases Diana's DPS.
Zhonya's Hourglass is an excellent choice if you want to temporize after jumping into the opposing team.
Situational Items
The magical penetration brought by Void Staff allows inflicting more damage to the enemy tanks.
Choose Banshee's Veil if you need resistance and for its passive that will be able to protect you from the controls.
Rabadon's Deathcap greatly increases your AP and consequently the effectiveness of your spells.
Hextech Protobelt-01 allows you to have an extra burst and a very interesting dash which makes it easier to catch your prey.
How to play Diana
Diana has a very aggressive kit, which excels in hand-to-hand and teamfighting. Although she is sensitive to poke at the beginning of the game, she is able to punish her opponent as early as level 3 if he positions himself too aggressively.
Early Game
Level 1: Q - Crescent Strike allows you to poke your opponent without putting yourself in danger. If you are in a difficult match-up, start with W - Pale Cascade to absorb enemy damage.
Level 3: Once your three spells have been unlocked, Diana has high kill potential on her opponent. When Q - Crescent Strike reaches its target, don't hesitate to use a full rotation of your spells to put pressure on your opponent.
Level 6: R - Moonfall allows you to inflict excellent damage in duels and team combat. Try to push your midlane and start roaming to help your jungler, or to gank the other lanes.
In teamfight :
Diana can play two major roles to play in teamfights.
The initiating role: if the opposing team is regrouped, throw yourself into the melee with a full combo and regroup the opponents with R - Moonfall so that your team can easily decimate them.
The role of an assassin: if a carry is fed, it's up to you to go and assassinate it. For that, make sure you have hit Q - Crescent Strike before throwing yourself on your prey.
Match-Ups
Tips & Tricks
You can use E - Lunar Rush before Q - Crescent Strike hits its target. E - Lunar Rush will still be reset when Q - Crescent Strike hits the target.
To escape, you can cast Q - Crescent Strike on the monsters of the jungle to have the vision on them and be able to use E - Lunar Rush to escape.
W - Pale Cascade offers a shield again if the three spheres explode. This mechanism will help you at the beginning of the game to kill the minions without suffering any damage.
R - Moonfall works like Orianna's Shockwave, you can flash during the animation of this one to surprise the whole team.