Summary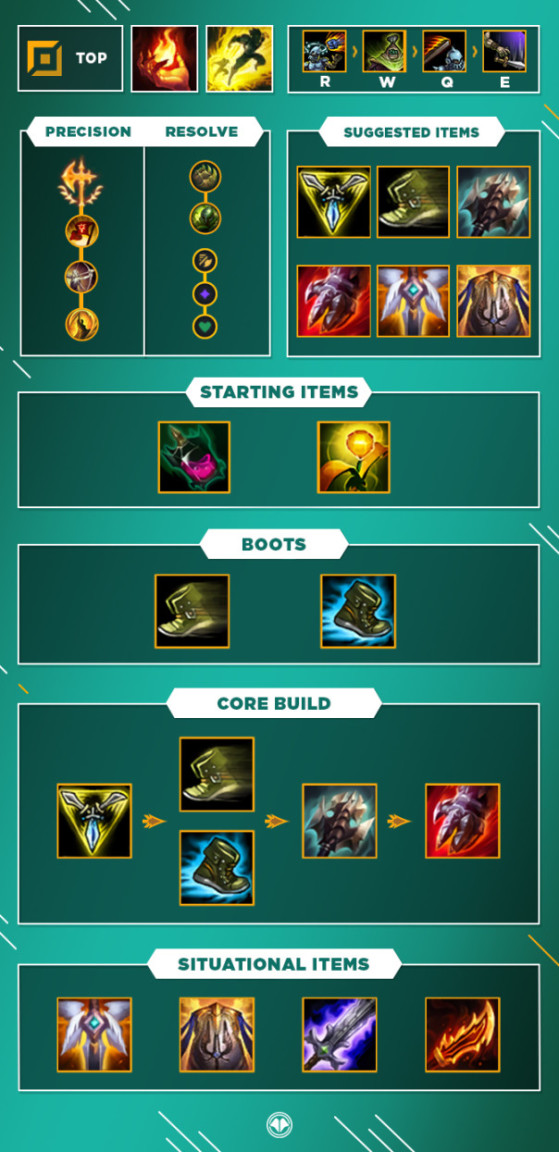 Early game
With Jax, you'll ideally start with a Corrupting Potion to get more health regeneration and poke strength. However, you can also start with a Doran Blade to get more damage and a little regeneration via Life Steal.
Boots
Mercury's Treads is the best choice for a difficult heavy AP match-up.
Ninja Tabi if you fear an heavy AD game.
Core items
Trinity Force is the must-have item on Jax, with all the stats it provides and the Passive - SpellBlade that amplifies the damage of basic attacks after using a spell. Once purchased, Jax becomes a huge threat to the opposing team.
Titanic Hydra offers a lot of health and has an active that allows you to reset an auto-attack. But most importantly, with Passive - Crescent, your auto-attacks inflict area damage, giving you the ability to destroy entire waves of minions in a very short period of time.
Sterak's Gage is the last object of the winning trinity on Jax, with more attack damage, hit points and a liability providing a shield proportional to your health points, you'll have all the cards in hand to crush your opponents. All by yourself, 1v5.
Situational items
Randuin's Omen is the object of choice if at least two champions of the opposing team base their damage on critical strikes.
Adaptive Helm allows you to reduce the damage done by spells with very low cooldowns, such as Cassiopeia's E - Fatal Bite.
Jax deals additional damage every 3 auto-attacks with his Passive - Relentless Assault. With Guinsoo's Rageblade, on the other hand, your passive will activate every two auto-attacks.
Playing Jax
All of Jax's power lies in E - Counter Strike, which has a particularly high cooldown and mana cost. Therefore, make sure not to use it without good reason even if you are the target of an opponent's engagement.
Level 1: With E - Counter Strike and the Conqueror rune, ensure a winning trade; when the Conqueror rune is activated, send an automatic attack on the enemy champion followed by E - Counter Strike, and attack him until E - Counter Strike stuns him. Take advantage of the stun to put an additional automatic attack on the enemy champion and disengage the fight before the momentum is reversed.
Level 2: You can do the same thing as you did at level 1 with the only difference that now that you have Q - Leap Strike, you can jump on the enemy if he flashes or on a creep if you want to disengage the fight.
First back: Ideally, make your first back to base with at least 1300 gold to buy Tiamat, some Healing Potions and a Control Ward.
Match-ups
Tips & Tricks
Use the brushes or Flash to surprise your opponents with your E - Counter Strike.
Q - Leap Strike inflicts effects on hit, W - Empower and the passive of your Trinity Force will therefore be applied, perfect for inflicting heavy damage to remove a target quickly.
If possible, use W - Enpower after a basic attack to ignore the attack speed and thus link two automatic attacks together very quickly, allowing you to apply your passive more effectively.
Q - Leap Strike can be used on allies and enemies as well as wards; keeping one on you at all times can allow you to jump over a wall and get out of tricky situations.