"Sports are off, so it's game on for a good cause."
This is the mantra displayed by the Twitch Rivals SuperGames, which will take place in Fortnite on April 16, 21 and 22. This special edition will be purely charitable, with one million dollars to be donated to various associations. About 100 famous American athletes (football, baseball, basketball, US football...) will be joined by Fortnite streamers during the Finals.
Overview
Format: Duos

Dates: April 16, 20 & 22

Prizepool: 1 million dollars

Stream:

Twitch.TV
Schedule
This competition will be held in three stages:
Semi-finals: April 13-16, 1:00 PM PDT
Draft: April 20, 5:00 PM PDT
Finals: April 22, 5:00 PM PDT
Semi-finals
Top athletes from the NBA, NFL, MLB, NHL, and MLS will pair up as duos to compete in a two-day qualifier tournament.
Draft
Pre-selected streamer captains will draft the qualified athletes (20 duos) into four-person squads consisting of the captain, a streamer teammate, and two athletes.
Finals
The 20 squads will play a series of matches to determine the champion.
The list of all athletes competing in this event is available on the official Twitch Rivals page.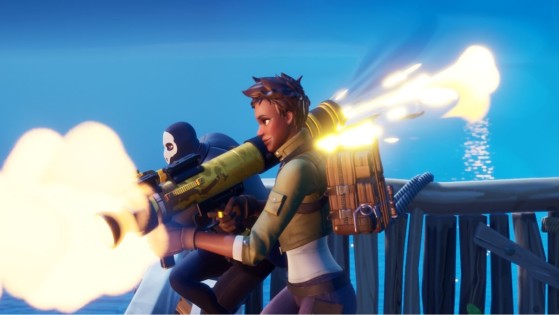 Fortnite's arsenal may well be expanded with a new weapon. The dataminers got their hands on files relating to a future rocket launcher to shoot down Choppas!