Photo courtesy of Riot Games.
Who from Fnatic, MAD Lions or G2 Esports will be crowned champions of the League of Legends European Championship at the outcome of this Spring Split 2020?
We will have the answer this weekend in a double confrontation: G2 will have the possibility to take revenge against MAD Lions, and the winner of their battle will end facing Fnatic for a shot at the title. Without audience, this final will have a particular taste, and we can hope that teams will be ready to make the show.
Samurai Revenge
After being sent to the Losers' Bracket, G2 Esports had only one desire: to prove that their defeat against MAD Lions was only an off day and that they still deserve the title of champions. What better way to do it than to face MAD Lions in a final meeting to reach the final? Suffice to say that there is much more at stake for Caps and his teammates than just a ticket to face Fnatic.
After G2's defeat, many people announced the end of a reign and the rise to the top of MAD Lions. It is clear that this team of rookies has largely impressed everyone by their ability to stay focused within the chaos created by their opponents — and especially to capitalize on mistakes. However, since G2 won in a convincing way against Origen and MAD Lions were defeated by Fnatic, everything still seems possible.
Should we expect the traditional Fnatic vs. G2 in finals? It is very likely.
Don't sell the lion's skin until it's dead. Indeed, the young Spanish team still has many resources and has practically nothing to lose. Third place and a victory against the defending champions is already enough to leave the competition under applauses. In addition, the online mode changes a lot in terms of pressure and MAD Lions will not have to learn concentration in a stadium. These elements make this team a very realistic candidate for the grand finale.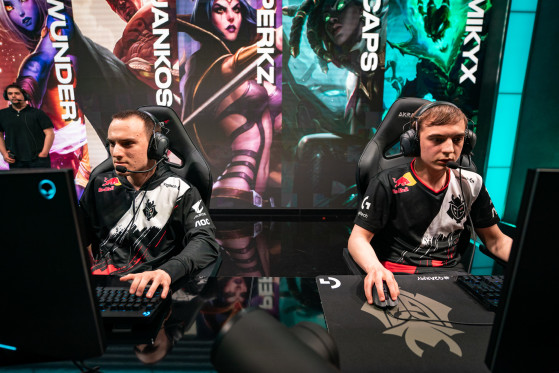 However, G2 Esports aren't immune to defeat — even though Caps managed to prove he had everything needed to be a good ADC with his recent Pentakill.
Against Origen, they made big mistakes and won because their opponents couldn't end the game rather than because they performed well. The question of the swap between Perkz and Caps remains whole as the young Danish is not at all close to the level of his predecessor at this role.
Fnatic to be crowned?
Without a doubt, the most impressive and convincing team in these playoffs is Fnatic. With only one loss to their credit in a slightly troll-match, Mithy's men are flying over the competition. They also made many mistakes, especially in some dubious drafts. However, just like G2 Esports, they manage to capitalize on their opponents' mistakes to win matches they shouldn't.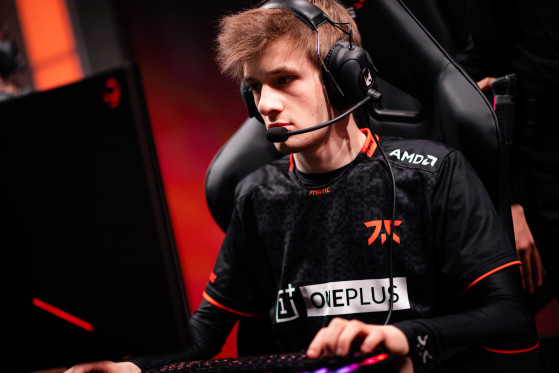 They are favorites for this final — but nothing is written yet as they can still crumble under the pressure. Although they might face G2, we can only give the advantage to Fnatic, as the team is simply in better shape than the defending champions. Most players are on the right streak at the end of the season and some even seem much better, especially Nemesis who is becoming more and more a key member of the team this season.
Players to follow
If we had only one piece of advice to give you, it's to keep an eye on the jungle during this weekend of the final. Each of the three teams in the running strongly relies on their junglers to build their strategies, meaning this specific role can be the key to their success — or their failure.
Jankos, Selfmade, Shad0w — these three players are all very aggressive and play the same kind of champions: Gragas, Lee Sin, Olaf, Elise, Rek'sai... Suffice to say that the fight will start in the draft phase. In a meta where the early game is decisive, especially for these three teams who favor teamfights more than scaling, having a jungler in top form is essential. 
But there will be many other interesting confrontations than that of the junglers, especially if G2 Esports joins Fnatic in the final. Nemesis would face Perkz and may even have the opportunity to play Yasuo against him. The G2 midlaner is also in pretty good shape and Nemesis leaving his tank role a bit, we would no doubt have a good fight.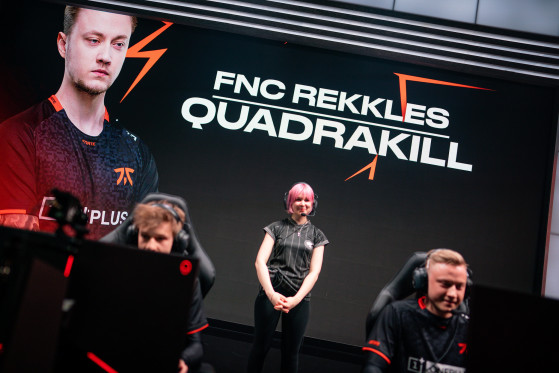 In the botlane, all eyes will be on Caps: will he be able to prove that he has his place in this role? T
To do this, he will have to win against one of the best ADC in Europe: Rekkles.
The task will be arduous but will be worth a look, for sure. In addition, there is always an additional tension when two former teammates compete. But the fight of Caps will not only be against Rekkles: Fnatic tends to roam a lot at the bot and press on what he judges to be the weak point of the opponent.
The Danish player sometimes has trouble positioning himself correctly and when we see the treatment reserved by Bwipo for Carrzy when he was badly placed, we can only imagine that what Caps will experience in the final will be far from funny.
Our forecast
Given the rather particular format of this "double final", we cannot give an exact score because very many scenarios are possible. We will decide on a percentage chance of winning the title:
Fnatic seems to be much fitter than their opponents this season and very little affected by the "online" mode. So we give them a 60% chance of winning the title.
G2 Esports is not at the top and the swap is starting to raise questions. So we give them a 30% chance.
MAD Lions have already gone much further than expected and have defied all predictions, but can they do even more? We doubt it but we still reserve them a 10% chance.
Answer this weekend with the Losers' Bracket semi-final on Saturday opposing G2 Esports to MAD Lions. Follow the action right here.
lolesports
LEC Spring Split Playoffs: G2 Esports dominate to win their seventh LEC title
In a series clean sweep, G2 Esports stomped Fnatic to become the Spring Split League of Legends European champions!