He's one of the most recognizable and beloved celebrities of our time. He's had a storied career, graduating from 90's teen heartthrob to steamy older guy heartthrob.
Keanu Reeves is one of the selling points for the upcoming and heavily anticipated science-fiction epic Cyberpunk 2077, out on December 10 (who knows if that date can be trusted, it's been moved so many times).
No doubt the addition of Reeves as Johnny Silverhand is meant to move units. While fans of CD Projekt Red's previous work will flock to the title, Reeves' addition is meant to attract the more casual gamer. That wholly unknowable demographic that just picks something up because it looks cool and caught their eye.
The developers released a behind the scenes video featuring the John Wick actor to build more hype.
Time will tell how this strategy plays out. At the moment things are looking up for the Polish team based on Internet buzz, overwhelmingly positive reception, and a lot of preorders, but this is by no means the first time a developer hired a celebrity to help promote their title. The question is does it translate to success? Let's take a look at some notable examples and find out.
Terry Crews in Crackdown 3
Crews, the guy from those Old Spice commercials who could make his Christmas ham-sized biceps bounce on command, was enlisted to spice up the third edition of this futuristic super cop saga.
Crews is the main playable character: Agent Commander Jaxon. He runs through a futuristic cityscape with an oversized gun, blasts bad guys, and jumps over buildings.
If that last part sounded a bit confusing, here's some gameplay to paint a better picture of how it works.
Did it work?
Kind of? Crews got a lot of press out of the announcement, and the game definitely garnered more attention than it would have otherwise. If the point of hiring a celebrity is to get eyeballs on the project, then mission accomplished.
However, it's not a great game. Reviews were lukewarm, but not terrible. It's a mediocre game that probably would have already been forgotten if not for Crews' star power.
Shaq Fu
Sometimes it's hard to remember just how popular Shaq was at his peak. He starred in movies, hawked pain relief patches, sold soda, and dazzled fans in the paint (but not on the free throw line).
In the mid-90s, fighting games were everywhere. Street Fighter and Mortal Kombat were kings, although there were numerous lesser-known games too.
Shaq Fu was one that was 100 percent built around its star. There is no other reason to buy this game other than the likeness of its main character.
The game came even came out on the Game Boy and Game Gear. The story is fairly rote. Shaq stops in a dojo and goes to another dimension to rescue a kid from a mummy, you know, regular stuff.
Did it work?
Um no. This is a travesty – one of the worst games ever made, even though some publications at the time gave it almost middling reviews. It's clunky and terrible and... it somehow got a sequel.
Also, it's still being talked about today and is considered by many to be a cult classic. So there's something to be said about that.
50 Cent: Bulletproof
Rapper 50 Cent had one of the biggest runs of any music artist ever, and it seemed like there was nothing he wouldn't attach his name to. This isn't necessarily the most surprising thing, considering his breakthrough album was called Get Rich or Die Trying.
In this action title, 50 Cent, also known as Curtis Jackson, is somehow "dragged" back into the criminal underworld and forced to put a crew together to.. well I'm not sure but it involves a lot of murder. The game featured other famous rappers like Dr. Dre and Eminem.
Not to miss an opportunity to cash in, the Playstation Portable version of the game featured a Vitamin Water minigame, a product Jackson endorses.
Did it work?
It did! The game was released at just the right time, as a lot of his fans were into video games. It wasn't a smash hit, but it sold well enough despite poor reviews. Sometimes the timing is just right, and that's what happened here.
It was so popular that eventually a sequel was made, called Blood in the Sand, but perhaps the time wasn't right for another title, because even though it was a better game, it flopped.
Tiger Woods PGA Tour
Pre-2009, golfer Tiger Woods was one of the most recognizable, rich, and lucrative sports figures. That year, however, everything broke apart in a sex scandal that forever tarnished his image.
He was the golden boy, pristine, and ready for mass consumption. He was also for many years the face of the EA Sports marquee golf game.
Tiger Woods PGA Tour came out yearly and sold well before the scandal. Sales weren't drastically impacted after it either.
Did it work?
Tiger Woods was on the cover of this game from 1998 through 2013. His scandal was in 2009, and the only change was he wasn't on the cover for the 2012 version, which came out in 2011.
After that, he was on every version until the final game in the series, which featured Rory Mcllroy. So yes, it worked. The game sold well, but less, after the scandal, but not enough that EA Sports parted ways with Woods.
The Verdict
While this is only a small sample size, a case can be made that celebrities, at the very least, draw more attention to video games and help sales.
If the game is good, then that's even better. But a terrible game with a celebrity will likely make more money than a horrible game without one. Another fact worth noting is unlike the movie industry, developers tend to not blow their budget hiring big-name actors.
Even 'interactive films' like David Cage's Beyond: Two Souls — starring Ellen Page and Willem Dafoe — show that the medium continues to be defined first and foremost by gameplay and graphics.
Image Source: CD Projekt Red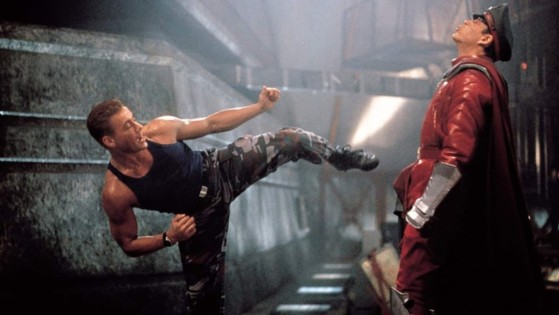 Let's count down some of the best fighting game movies ever made in light of the MK movie delay.