Just in time for the holidays, Nintendo showcased a number of indie titles coming soon to the Nintendo Switch during its Indie World Showcase livestream.
The biggest news to come out of the stream was a big one – Among Us, the social whodunnit phenomenon, is coming to the Nintendo Switch today.
A popular roguelike game, Spelunky and its sequel Spelunky 2, are also coming to the system in the Summer of 2021.
Here's a list of the rest of the games.
Fisti-Fluffs
This game is a physics-based cat fighting game. That's right, a bunch of cats duke it out using yarn, boots, and coffee cups. It's chaotic and looks hilarious. Players can dress up their cats too. It comes out in early 2021.
Very Very Valet
This fun parking simulator from Toyful Games is reminiscent of the fast-paced action of Overcooked!, except instead of serving food you're parking cars. The colorful and over-the-top action comes out in early 2021.
Tunche
Tunche is a game set in the Amazonian rainforest and it has a particular hand-drawn style that looks like a children's cartoon. It's a hack and slash multiplayer game that's playful and loose. Indie darling Hat Kid from A Hat in Time will also be playable when Tunche releases next March.
Cyber Shadow
Cyber Shadow is a retro throwback platformer that looks like a Shinobi tribute, with a little old-school Contra thrown in for good measure. It's from Mechanical Head Studios and Yacht Club Games, the creators of Shovel Knight, so this one should be good. In fact, Shovel Knight amiibos can be used in the game. It comes out on January 26.
Calico
Are you thinking that one indie game involving cats just isn't enough to satisfy your video game cat craving? You're in luck because Calico is a cat cafe management game, equal parts Animal Crossing and well, cat lady. This game is available today.
Alba: A Wildlife Adventure
From the studio behind Monument, one of the most celebrated mobile games ever, comes Alba, a game about exploring wildlife and terrain. It has a tropical vibe and is reminiscent of the Legend of Zelda: The Wind Waker. That's not a bad thing at all.
Happy Game
Ironically titled Happy Game is a psychedelic horror game with an unsettlingly dark art style. You play a young boy who has to solve puzzles in his nightmares. Not for the faint of heart. This game comes out in Spring of 2021.
Super Meat Boy Forever
Everyone's favorite meat superhero is back in Super Meat Boy Forever with legions of new levels and gameplay. Avoid death using jumps and dodges while escaping from buzzsaws and pits in this classic platformer releasing on December 23.
For a full list of all the games, or to watch the complete livestream, check out the video below.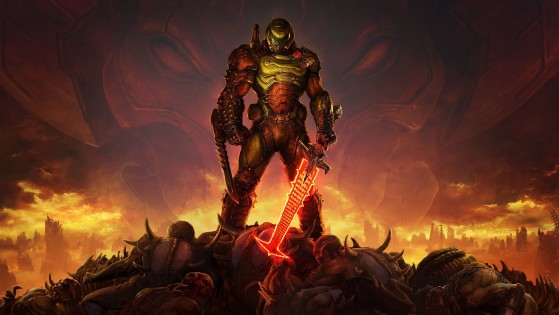 nintendo
Doom Eternal is making its way to Switch, and it light of the news we're reviewing the system's best FPS games.