Thanks to recent interviews by different websites, there has been a lot of new details about PlayStation's next big exclusive, Horizon Forbidden West. We already told you about some significant gameplay changes and world design, but there is still more to know.
During last week's State of Play, the game was showcased at 4K 30 FPS. Tim Augustin, from Hardware Zone, asked Guerrilla Games developers if Horizon II was going to have a 60 FPS mode. Game Director Mathijs de Jonge answered the following:
"For the PlayStation 5 version, we are supporting two modes. One is Performance Mode. And another is something like a Quality Mode. The Quality Mode is 4K 30 FPS, but the Performance Mode is indeed 60 FPS. So yes, we do have a 60 FPS version for the PlayStation 5."
Mathijs de Jonge
(
Source
)
It's interesting to notice that de Jonge said "60 FPS" without any resolution, which might mean that they are still figuring it out.
Furthermore, the interview also revealed more details about destructible environments and the ability to ride certain machines. Regarding destruction, it will be mostly presented in certain set pieces, but you will be able to destroy trees, rocks and small ruins, too.
About the second topic, de Jonge explained that Aloy can only ride some specific machines, such as the Clawstrider (the one showed at the trailer). While there isn't any other confirmed creature, it was already said that the Tremortusk (the mammoth) won't be available because it "broke the experience with some camera issues". Such a pity.
You can read the rest of Augustin's interview here.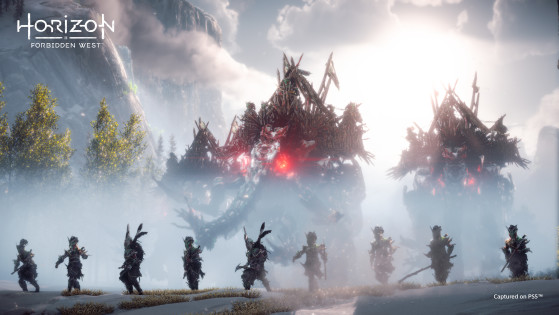 playstation
New details about Horizon Forbidden West have arrived
Two developers from Horizon Forbidden West were interviewed by different journalists and they revealed new information about combat, world design and more.