Konami is saying goodbye to PES, one of the most beloved and realistic football video game sagas in history. The Japanese publisher is now betting on a new approach with eFootball, which will be free-to-play and available as digital-only on PS5, PS4, Xbox Series X|S, Xbox One and PC. 
It'll be available this fall, with versions for iOS and Android too. All versions will have cross-play although mobile users will need a controller.
Seitaro Kimura, producer of the series, eFootball spoke to IGN and said that "eFootball is aiming to take a 'platform' approach with regular updates – there will no longer be annual paid releases of eFootball, but the platform will get free, yearly updates for new seasons." 
The game will arrive with exhibition matches and a selection of nine clubs to play with: Barça, Bayern Munich, Juventus, Manchester United, Arsenal, Corinthians, Flamengo, Sao Paolo and River Plate.
Other modes will be sold as optional DLC, allowing players to pay for what they want. Konami has drawn up an initial roadmap that you can see below.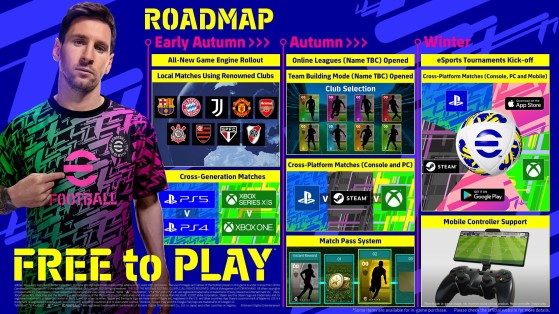 There has been no mention of the MyClub section so far, which would be the equivalent of FIFA Ultimate Team or the Master League — but it could be added closer to launch.
eFootball will use a new graphics engine, Unreal Engine 4 and Motion Matching, which should allow for similar experiences on all consoles regardless of which generation. They have renewed the system of animations and controls and the Japanese publisher indicates that "the result is more impressive than they had initially conceived".
We'll keep you updated as we learn more about eFootball.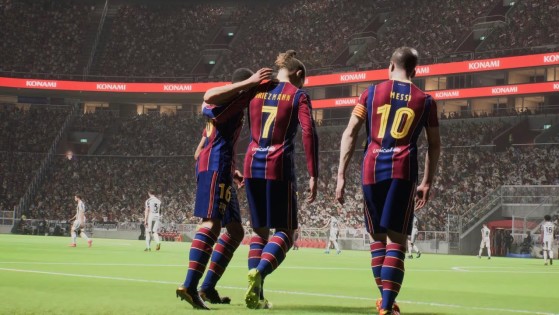 According to rumors, the upcoming football simulator from Konami could be free. This would be in response to FIFA, the franchise developed by EA.