1. SantaCraft
Set in a pixelated universe similar to Stardew Valley, SantaCraft puts you into Santa's shoes.
Your job is to dig paths through the snow, cut down gingerbread trees, and even mine barley sugar to try to save your missing reindeer. All this is in service of rebuilding your village, and in the process saving Christmas.
With the latest free update, you can now drive trains and try to collect new items through new quests.
Be mindful that the game is available only in English.
Available on Steam for $3.74.
2. Roman's Christmas
If you're into puzzle games, Roman's Christmas might just be for you.
You play as a wolf detective who, although planning to spend his hard-earned Christmas vacation at his favorite tavern, finds himself having to work on several murder cases.
Thirteen travelers have stopped at the tavern because of a huge storm, but since their arrival, there have been several suspicious cases. It's up to you to restore order by solving these inquiries, which could all be linked to one other…
Don't be fooled by the furry animals. The game, although having a Christmas background, turns out to be quite violent and mature.
Available on Steam for $8.24.
3. Watch Over Christmas
The theme of saving Christmas is a classic, whether in cinema or in video games. Watch Over Christmas is no exception to the rule.
In this 2D point-and-click adventure game, you play Cisco, a twelve-year-old boy. He quickly discovers a strange light, telling him that Santa Claus has unfortunately been kidnapped.
He must embark on a mission in which he has to solve a multitude of puzzles, each more complex than the next.
The game features hand-drawn graphics and an original soundtrack, and thanks to multiple difficulty modes is suitable for players of all ages.
Available on Steam for $10.39.
4. Santa Claus in Trouble
Santa Claus in Trouble is a 3D platform game that the whole family can play.
It's another with a classic story of saving Christmas, this time recovering a bunch of presents that have been stolen by monsters in the run up to the holiday. 
There are twenty levels divided into five different chapters, and you'll need to collect all of the presents. This includes specials, which are particularly well hidden.
Also, there's no saving your game. If you lose all of your lives, you'll have to start all over again!
Available on Steam for $9.99.
5. Overcooked - The Festive Seasoning
This holiday-themed DLC requires the base Overcooked game to play, but once you have it the extra content is free.
Your objective is to make a real feast for Christmas. You'll have to make as many dishes as possible in a given time, while taking into account each other's requirements.
Being coordinated as a team is the name of the game, but naturally things will get pretty chaotic, and probably lead to more than one conflict. However, that's what makes it so much fun.
DLC available on Steam for free.
Overcooked base game available on Steam for $3.99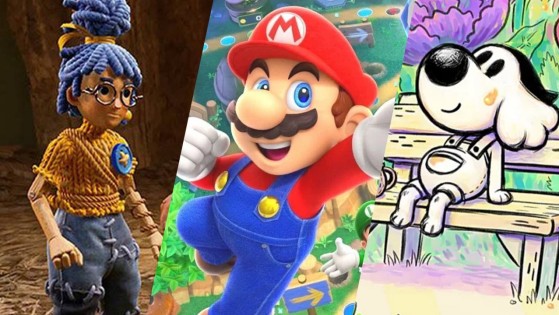 With families coming together for the holiday season, there's nothing better than a good session together. Here are some of the best local multiplayer games for the occasion.