The last State of Play did not really have enough to leave an imperishable memory, with a multitude of announcements of course, but which concerned all of the targets of very niche players . There are big questions around the release schedule of the Playstation 5 and since Horizon Forbidden West, released last February, the appearances of other big cartridges from Sony studios are somewhat desired: where are God of War Ragnarok or Spiderman 2 again? A priori it is still too early to know. That did not prevent the Japanese manufacturer from giving us some great third-party announcements, with Final Fantasy 16, Resident Evil and Street Fighter 6 as headliners.
FF16 finally shows up with gameplay
We were sure he would be there and yet we weren't ready for what we were going to see. With Final Fantasy XVI , Naoki Yoshida seems to want to take the series in a new direction, with what looks more or less like nasty fights between summons. Despite a particularly impressive and generous trailer with gameplay sequences, it's hard to see how it will all work out, controller in hand. In any case, it only bodes well, but we will have to be very patient, since the game is now scheduled for the summer of 2023.
Street Fighter 6 flexes the muscles with a first trailer
Revealed on the sly in a tweet a few weeks ago, Street Fighter 6 has finally been unveiled in good and hard form, with a gameplay video of more than three minutes. The most intriguing in the story: this kind of central hub in which the player can explore what still looks a lot like the stages of Street Fighter V. On the gameplay side, we could see a new visually well-styled counter system and new cast entries . The game does not yet have a date, but it should also be released on PC and Xbox.
Resident Evil 4 Remake is looking good
Announced for a little while now, the episode of the series which has surely had the right to the greatest number of reissues will once again come back from the dead , but with something a little more interesting than usual. . And casually we are already at the third remake of Resident Evil made in Capcom in a short time and like the two previous games, RE4 will go through the mill of the RE Engine, the Swiss army knife engine of the Japanese publisher. It's all well and good, and it should be the perfect opportunity to introduce this cornerstone of survival-horror to new generations.
All release dates and announcements
Resident Evil 4 Remake has a first gameplay trailer and a release date of March 24, 2023 . It's very beautiful and PSVR 2 content is in development.
Resident Evil Village in VR , it was expected and it will happen on PSVR 2, but no date was communicated during the State of Play.
The excellent The Walking Dead Saints & Sinner will be entitled to a sequel this year, and it will also be released on PSVR 2 in 2022 .
No Man's Sky , already available in virtual reality for a few months already, will be equipped with a PSVR 2 port which should improve the visual comfort of this mode.
Horizon Call of the Mountain was there as expected and for virtual reality, it must be admitted that it looked pretty darn solid. No release date for the moment , but great promises on the gameplay side.
Updated Horizon Forbidden West with new content and tweaks to polish Aloy's latest adventures and it's available now .
Spider-Man Remastered hits PC on August 12 . While waiting for Spider Man 2, peceists will therefore be able to taste the title of Insomniac which made the good days of the PS4 when it was released.
Stray , the cyberpunk alley cat simulator, will be released on July 19 on PS5 and PS4 . Small subtlety: the game will be offered for Playstation Plus Premium and Deluxe subscribers.
Callisto Protocol , a very violent survival-horror, was announced for December 2 on PS5 and PS4 and it looks quite promising judging by this first trailer.
Roller skating shoot in skate-park morning of an artistic direction penciled with the most beautiful effect, the Rollerdrome curiosity has been unveiled and should be released on August 16 PS4 / PS5 .
A quintessentially Japanese A-RPG, Eternights will be available in early 2023 on PS4 and PS5 .
Street Fighter 6 finally unveiled with a trailer in good and due form: a whole new generation of fighters arrives to succeed Daron Ryu.
Tunic and the Adventures of the Cute Fox will be available on September 27 on PS4 and PS5 , 6 months after its arrival on the game pass.
Season a Letter to the Future will deliver its zen adventure and colorful art direction for Fall 2022 .
Final Fantasy 16 has finally had its new trailer and it had the merit of concluding this State of Play in an explosive way. Naoki Yohida also promised a series of interviews with the press for more details on the future of Square Enix's flagship series, scheduled for summer 2023 .
Our opinion on the State of Play of June 2
A well-paced State of Play with a good dose of punchy trailers: seeing Resident Evil 4 Remake, Street Fighter 6 and Final Fantasy 16 aligned in this way is a great pleasure and proves that all of its projects are taking their course nicely. Big chunks, but not only, since Stray came to show off his little face via a new trailer that makes you want to cuddle like never before. On the PSVR 2 side, it is above all Horizon Call of the Mountain that caught our attention, with a particularly classy technique for a VR game and gameplay that seems to take advantage of the new controllers presented by Sony a few weeks ago.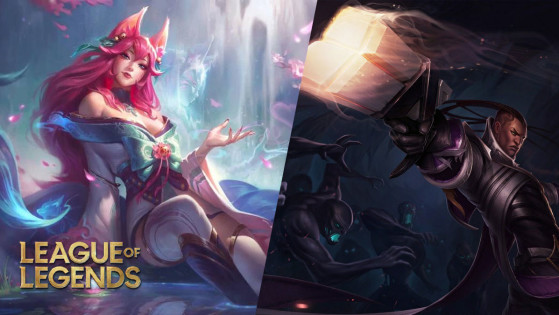 The MSI is over and if some will especially remember the victory of the Chinese in RNG, graphics card eaters and stats lovers will also notice that two champions finished the tournament with 100% attendance. Are Ahri and Lucian that strong in League of Legends?