If you follow the news of the young streamer Amouranth , you are not unaware that Kaitlyn Michelle Siragusa of her real name is a real businesswoman. If it has been at the heart of several controversies because of its very ole ole content on the Twitch platform, it has managed to pull out of the game and become number 1 in the very fresh Hot Tub category.
His success ? She does not hesitate to say that she owes it to her haters but also to her plastic which can leave some and some dreamers, and she has since created a real empire and multiplies the steps to amplify it. A few months ago, she announced that she had invested no less than $ 2 million in shares in Activision Blizzard, and this time, she says she is leaving for the competition by coming to lend a hand to a brand new platform. adult content .
Amouranth abandons OnlyFans for a new project?
She does not hide it, but if Twitch brings her a lot of money, her main resource remains to this day OnlyFans with no less than 1.5 million dollars in income per month. Yes but now, a few weeks ago, Amouranth announced that it wanted to stop offering content on OF, and now this time, it is going directly to the competition to help develop a new platform under the name of Shush Club.
I am very happy to work with Shush Club. With instant payouts, and a marketing portal that will allow content creators to land marketing deals and affiliate ads, Shush Club is a game-changer.
At the time of writing these lines, it is very difficult to know what exactly Shush Club will be, but we can imagine that it will be a social network à la OnlyFans but with many more advantages. and security for people who would like to offer content there . However, the road will be long for our Amouranth since to date, OnlyFans has no less than 170 million users (registered in September 2021), and we can easily imagine that the latter must have increased since then.
Be that as it may, we can only wish her success in this new project, and whether we like Amouranth or not, we must admit that despite the appearances and the content she offers, which can sometimes be perplexing, we we are dealing with a real entrepreneur who does not give up. Who knows what the future holds for us with this streamer, she could very well announce a totally unexpected new project in a few days!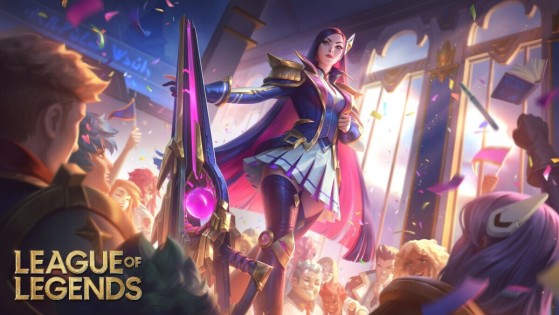 For the past few weeks, the list of annoying bugs in League of Legends has been growing. But today, on this holiday Monday, we offer you a funny bug, which hardly interferes with the progress of the game. Here's a bit of freshness in Summoner's Rift.