The summer of 2022 is now behind us, and all good things come to an end. All? Nope ! There are free to play games that are continuously supplied with new content, and even as early as September some of them shine brightly. If your whole budget has been gobbled up on school supplies, hold on; there is always a way to have fun for less in the world of gaming.
The MGG editorial team has concocted a small list of five f2p titles that it is good to (re)take in hand to survive the start of the school year.
Genshin Impact
Deployed at the end of August, the big update of Genshin Impact which inaugurates the new region of Sumeru keeps all its promises. It is up to you to discover the mysteries of this region, divided between lush forest and arid desert. miHoyo's game, which had been sleeping a little on its laurels for months, suddenly receives hours and hours of new content and new puzzles. And the icing on the cake is that this virtuous cycle seems set to last; the publisher has accelerated its rate of deployment of patches, and we are heading towards one of the most beautiful lines of new 5-star characters in the history of the game, starting this month of September.
Pokemon Unite
The moba Pokémon was sometimes criticized for its somewhat skinny line up. When it was released, the game only had about twenty playable pokemon, which was a bit light, given the density of the license. A year later, Pokemon Unite contains around forty playable specimens, and has rolled over. The game is balanced, and still fun. It remains very pleasant in the hand, even if you are not a fan of mobas. And as the game celebrates its first anniversary this month, the developers are pushing hard to release new playable pokemon, including a certain Mew !
Fortnite
It's in September that Fortnite launches its brand new season! Epic Games never disappoints when it releases a new installment of its flagship game, and it's always nice to pick up Fortnite then. The matchmaking is much more pleasant (since all types of players and players generally get back to Fortnite during these special weeks), and we discover a whole bunch of brand new features. To put it more simply; the start of a new season on Fortnite, it's quite simply a new Fortnite. So hop, we take our parachute and we warm up before jumping from the combat bus.
Tower of Fantasy
Because it plans to both catch up to its Chinese equivalence AND compete with Genshin Impact, the global version of Tower of Fantasy is running full steam ahead. Frequent patches, new 5-star characters every 15 days... The futuristic RPG has swept away its little start-up problems and is moving forward. There is still a very nice surprise at the end of the year, especially if you like RPGs that are played with friends.
Fall Guys
Under the Epic Games umbrella, Fall Guys went free this summer! And if it's not the perfect game to decompress and have a good laugh after weeks of back-to-school not always easy, we don't know what you need. The party game is back with new maps that are even more fun, and it's even tastier when you play it with friends.
The title has become 100% free to play and, under the impetus of Epic Games there too, it is starting to swarm with skins from famous franchises, which makes each game even more funny.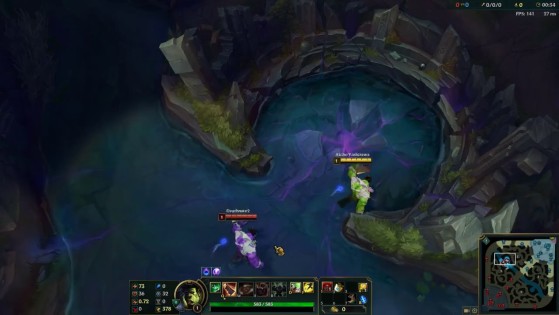 You may have heard about it in the past few days, but a new game mode is coming... to Wild Rift. A special mode, probably permanent: 1v1. An addition that did not go over very well with the League of Legends community.