For the past few years, Twitch has seemed to welcome a whole new genre of content that is all the rage, so much so that the Amazon platform had to create a category dedicated to this type of stream. We are of course talking about the very popular hot-tub lives which consist of broadcasting from a kind of jacuzzi… in a bathing suit of course. While many content creators are trying their hand at this growing category, some sometimes flirt with the limits of decency and therefore Twitch's terms and conditions.
This is particularly the case of TheDanDangler , Call of Duty streamer and hot tub in her spare time, who recently recorded her seventh ban!
The queen of the Twitch ban
TheDanDangler is an English-speaking content creator who, in recent years, has made a real name for herself in the Twitch streaming world thanks to her broadcasts on Call of Duty or her hot-tub streams from her swimming pool. It is precisely the latter that have earned him most of his previous bans, and in particular a bikini that was a little too revealing according to Twitch.
With this symbolic seventh ban, TheDanDangler becomes the most banned English-speaking streamer and thus surpasses (although this is not a competition) Indiefoxx, who had seen his account deleted after a decisive sixth ban.
But what worried TheDanDangler's community was a rather mysterious post that the streamer shared on her Twitter shortly after...
"I have mental health issues"
Here is what the streamer said on her Twitter account shortly after the announcement of her ban. Although the precise reasons for the latter are unknown, it is likely that this time it is definitive. A blow for TheDanDangler who still reassured his fans by telling them: "I'm alive and well" ( source ).
She also apologizes for causing concern to her community after she reacted strongly to her ban, saying she has mental health issues. It is true that after this umpteenth period of dip in one of its main sources of income, the streamer seems to be quite helpless.
Now, TheDanDangler is considering turning to YouTube Gaming for its broadcasts, on the advice of some users in its community. However, she hopes that her ban will not be permanent and that she will be able to live again on Twitch very soon. Despite the many haters, the streamer does not let herself down and focuses on those who support her.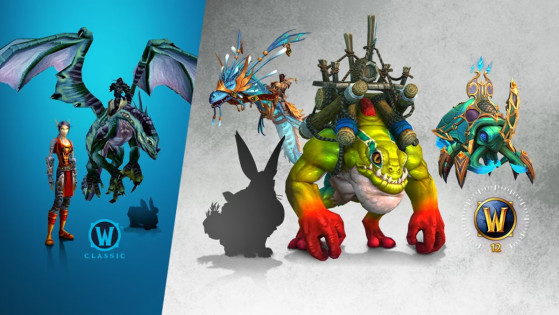 Blizzard has launched an exclusive new Promotional Pack in the World of Warcraft store featuring multiple mounts and more for Dragonflight and Wrath of the Lich King Classic for the purchase of one year of game time. not miss!