If you haven't heard of Abandoned , it's a horror game developed by Dutch indie studio Blue Box Game Studios . Announced in April 2021 , Abandoned had garnered media and public attention due to the trailer's similarities to the original Silent Hill .
It was around this time that rumors of Kojima 's potential involvement began to grow. The development of Abandoned was subsequently disrupted, with the concept and design of the game being changed several times, to the point where people wondered if the project — and the creator and CEO of the development studio, Hasan Kahraman — really existed.
True conspiracy theories
It is in his podcast, Brain Structure , that Hideo Kojima spoke on the subject. In an episode focusing on video game rumors, along with Geoff Knightley , the director of Death Stranding addressed speculation that he would be involved in Abandoned.
"[Twitter] users kept sending me pictures of this Hasan [Kahraman, the creator of Abandoned]. They're still sending me collages and deepfake images - about 20 a day. That's really boring!" Kojima said on the latest episode of his podcast.
"I've never spoken with Hasan, the game hasn't been released yet. I don't think he can do or say much at this point. But if he releases the game, people might understand, so maybe he should hurry and get it out." he adds, laughing.
"Stop harassing Kojima!"
"We want to thank @Kojima_Hideo for openly addressing the conspiracies. It's been a burden and it's uncool for fans and developers. We hope everyone can close this case for good. We're working hard on Abandoned and we want to thank you all for your patience!" tweeted studio Blue Box Game Studios.
"We also ask fans to stop harassing Hideo Kojima over the posts on Abandoned. It's not acceptable and it's not fun."
Hasan Karaman previously appeared in a video last year to debunk theories that he was actually Kojima working on a Silent Hill game.
"I just wanted to do a really quick video to show that I'm a real person," he said. "I'm not really associated with Hideo Kojima, I'm not an actor, I don't work on Silent Hill [...].
Will Abandoned ever be released?
Whatever anyone says, Abandoned has enjoyed a huge buzz thanks to all these storylines, which is still quite surprising for a game announced more than a year ago and of which we have not seen a single one. second of gameplay.
Moreover, as noted modder and hacker Lance McDonald, the stories around Blue Box Game Studios, which emerged last summer thanks to the work of a Gamespot journalist, Mark Delaney, are a priori far from be completed.
Indeed, people close to Kahraman told GameSpot that despite Kahraman's public claims that the game's development is moving forward, he has privately admitted that Abandoned is on hold and needs to fund its development first. with a playable prologue, which he doesn't seem to be in a hurry to create according to said sources.
Kahraman is, it seems, a bit of a con man, and he's reportedly taking advantage of and even fueling Kojima rumors, including sharing a since-deleted tweet that said a reveal was "near" and hinted that the real game name started with S and ended with L.
"This guy literally started a conspiracy theory which ended up annoying Kojima, then when Kojima expressed his displeasure, he tried to kick him out to the fans. Absolute jerk." explains Lance McDonald without mincing words. Case to follow.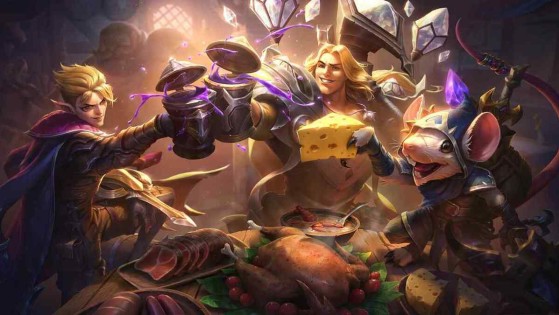 Taric leaves the list of champions with the most days without a skin in League of Legends after approaching 1000 days without a new appearance. The Astro groove theme kills two birds with one stone, since Ornn, close to 700 days, will also have a new cosmetic.