It is 2009 and few could have imagined the global success that would become the firstborn of Riot Games' Studio: League of Legends. On October 27, League of Legends: Clash of Fates left its beta phase and finally opened up to the world. Over the past decade, the Rift has changed considerably and has developed enormously.
A blast from the past...
Developed for more than three years by Brandon "Ryze" Beck and Marc "Tryndamere" Merril, founders of Riot Games, League of Legends left its beta phase on October 27, 2009, in Europe and North America.
At launch, the game only featured 40 champions and two game modes: the 5v5 mode with an automatic matchmaking system on the Summoner's Rift and the 3v3 mode on the Twisted Treeline map. The revolution came a few months later, on July 13, 2010 to be more precise. The ranked mode, reserved for players of level 30, is created.
In July 2011, the game reached more than 30 million registered players, including 4 million active players. That's a real success that will not be denied over the years. In 2013, there are no less than 70 million registered players with 32 million active players. Although a little bit low on statistics, Riot Games last month revealed the presence of nearly 8 million simultaneous players at League of Legends audience peaks, making it the most important PC game in the world.
To celebrate the 10 years of the game, Riot Games went all out with 10 days of celebration in the Rift but above all a great evening that took place on October 16, the opportunity for the studio to present all the new releases to come on the game... but also their many new projects.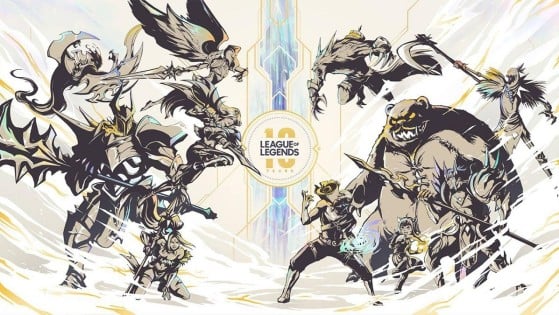 The special event to celebrate ten years of League of Legends is now over, and there's a lot to digest. Here you'll find a summary of everything, including Legends of Runeterra, Wild Rift, Project A, the new FPS and fighting game, and LoL's new champion.