What could be better than taking care of your brothers after a battle filled with blood and sweat? Assassin's Creed Valhalla allows players to take over the stewardship of Ravensthorpe, a growing settlement thanks to your efforts and those of your fellow warriors. In this guide, we go through all of its possibilities, with many guides associated with more precise points of the management of your base. It's ultimately a fairly simple system, but which fits perfectly into the heart of your exploration, since the scenario will regularly ask you to return there to choose the terrain of your next conquest.
Related quests
The settlement isn't just a side activity of Assassin's Creed Valhalla: through your installations, you will unlock new areas of gameplay or story, very important for the continuation of Eivor's adventure. Whenever you have the chance, stop your conquest of England and simply take the time to visit your home.
Anyone is likely to ask you something for a favor, and there are often nice rewards to be found, like active skills, the ones you usually get from Books of Knowledge. It's also recommended that you consult the mail, it's not only there to do and they are also likely to lead you on other adventures.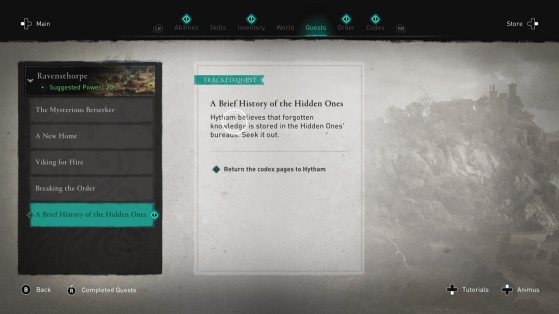 Raids and Resources Needed
The progress of your base is somewhat "controlled" by your propensity to win raiding battles. The treasures of these coastal villages indeed contain all the raw materials for the expansion of Ravensthorpe. Two main resources: raw materials represented by crates, and materials, represented by barrels. To succeed in your raid to the end, you will have to empty the premises of all its golden chests, containing the famous ingredients. Only, their power score is that associated with the area.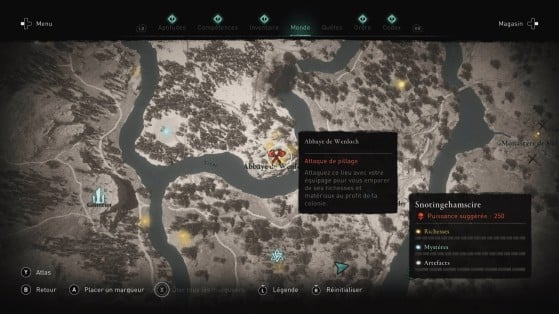 Buildings to unlock
The list of the main buildings that we currently have in our base.
Hidden One's Bureau
One of the first buildings to be built with the Blacksmith Shop. By completing the quest for the introduction of the building, you will gain the leap of faith, but also access to the Order of the Ancients. Don't forget to bring your medallions back to the assassin, they will reward you with a new unique ability.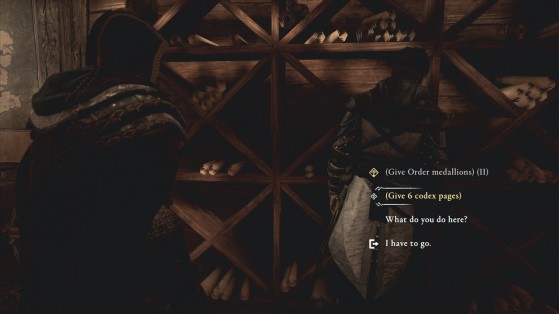 Blacksmith Shop
It's obviously here that you will come to improve your equipment, thanks to the many ingots that you will find in the world. These Wealth are easily accessible, at least for carbon ingots, to further improve your coins, you will have to give yourself a little more trouble.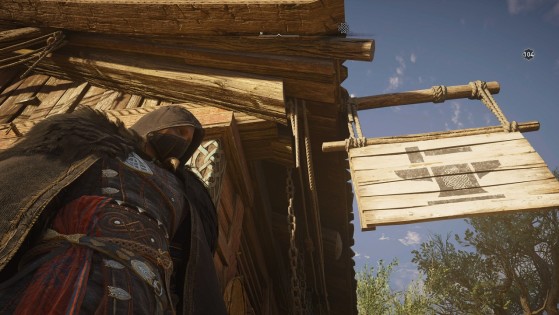 No more amazing weapons dropped like in Odyssey, you'll have to work a bit if you want good equipment in AC Valhalla. In this new guide, we tell you about Gunnar's blacksmithing shop, ingots, and everything you will need to properly use it.
Thousand Eyes Contract
Thanks to this counter, you will be able to request and validate contracts in exchange for opals, a very rare currency, which it's still possible to find in exploration. Completing contracts regularly is still the best way to collect them.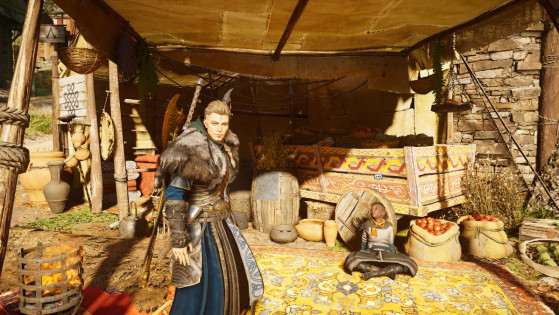 The Thousand Eyes guild is a small stand that will be available in Ravensthorpe, but also in other cities in England. They will offer limited daily quests with opals and valuable items as a reward.
Seer's Hut
The house of the shaman of your tribe is very important to the fate of Eivor. We aren't necessarily going to explain to you how, in order not to spoil, simply, do the necessary to drink his potion as soon as you can.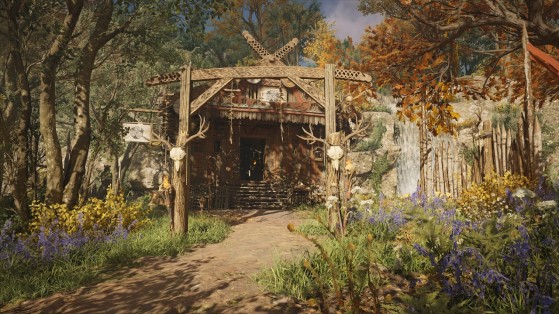 Fishing hut
Fishing is indeed present and it's even at the heart of some secondary activities. By fishing in English waters, it will indeed be possible to go in search of legendary fish. To begin with, we recommend about ten sculpins, you will need them for an offering altar.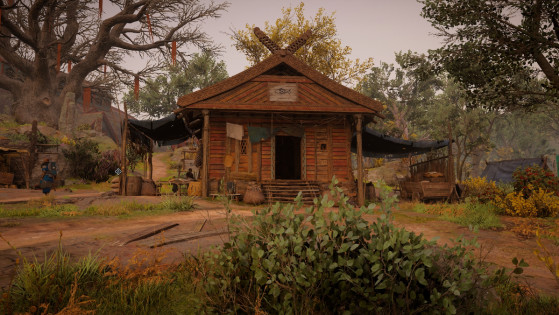 Big news for the franchise: it's possible to fish in Assassin's Creed Valhalla. If you don't know how to unlock the fishing hut or what to do with these fish, in this guide we will tell you everything!
General store
A store that sells absolutely everything, weapons, shields, cosmetics... and even the list of legendary fish from England. This shop is linked to a delivery quest: search the barrels at the back of the building to nab the list, then go talk to the merchant inside.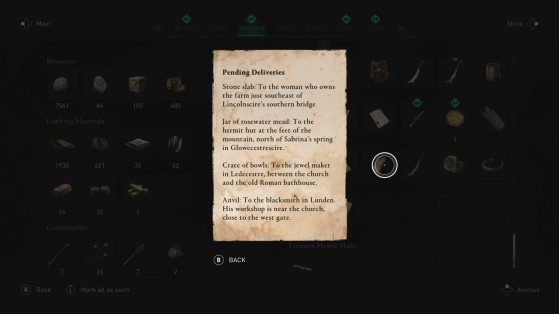 Hunter's hut
As with fish, the owner will very quickly suggest you go hunting for legendary animals. You can also craft special items there using the fruits of your hunt.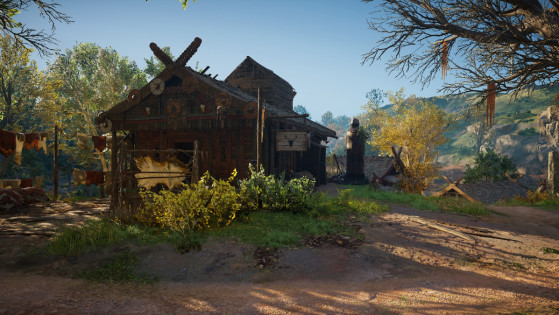 You can build the Hunter's Hut within your colony in Assassin's Creed Valhalla. There you'll be able to make hunting deliveries or to return legendary animals.
Tattoo shop
If you want a bald, beardless Eivor this is it. The tattoo shop is also a hairdresser, it's also here that the very many tattoos to be discovered in the game will be selectable.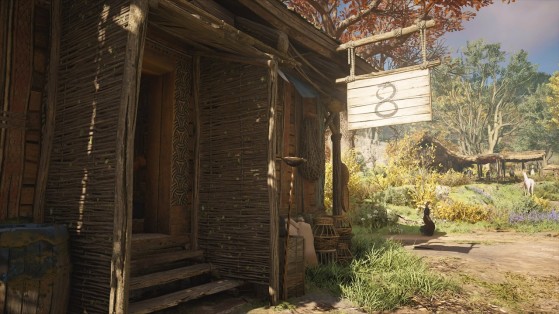 Stable
Learn how to handle your horse expertly, to the point of instilling swimming, improving its stamina, or changing the appearance of your dog, your raven or your wolf.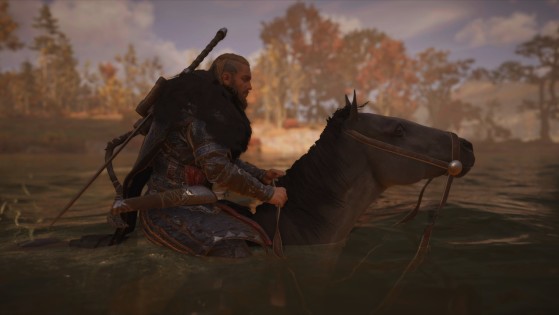 Fortunately, horses are present in Assassin's Creed Valhalla. Without them, journeys in the medieval outback would be much more tedious.
Museum
As you progress through your colony, you will come across a passing Roman who wishes to exhibit your finds from the old days. It's in the museum that you can give your masks and your Roman artifacts.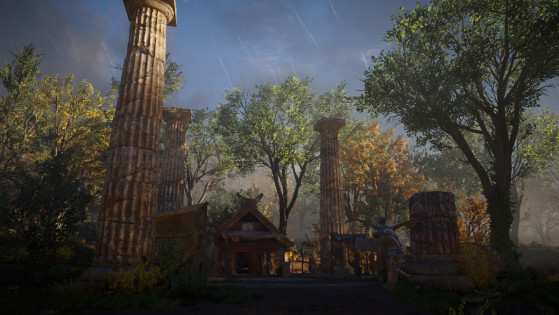 The expansion of your colony may allow you to open the doors of a Roman museum in Assassin's Creed Valhalla. You'll be able to receive decorations for Ravensthorpe by exchanging artifacts with Octavian.
Shipyard
Everything for customizing your drakkar is here. You can change the appearance of many parts of your boat. there are no stat enhancements to unlock, we're here for your viewing pleasure.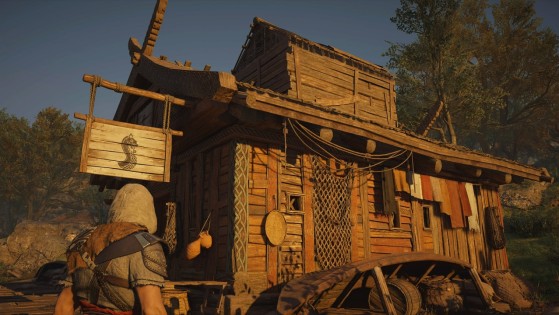 Continue the expansion of your colony in Assassin's Creed Valhalla by building the shipyard, a place that will allow you to change the elements of your drakkar.
Feast buff and how to improve buildings
Near the longhouse, you can organize a feast in the company of your settlers. organizing a meal will give you a temporary buff that you will need to improve by constructing specific buildings. Below, you can find the list of buildings that help strengthen the effect of the improvement.
Buildings to improve
Bakery: +25 health
Brewery: +25 health
Fowl Farm: +3.0 melee damage
Karis House: +3.8 assassination damage
Alvis and Holger's House: +3.8 Assassination Damage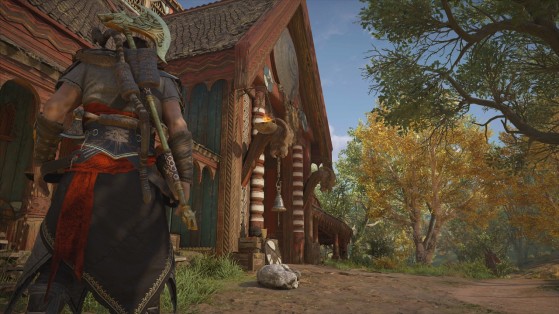 About cosmetics
The lists of cosmetics that you find in your settlement can be expanded through exploration. There are many ways to collect new blueprints, so we suggest you discover the solution to several dozen small puzzles in our guides below: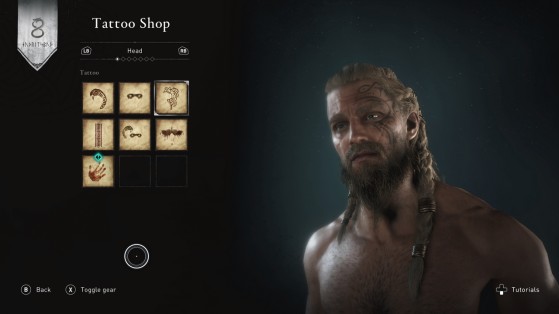 Original content by Bastien "Lloyd" Dubosq-Luyer.